ABOUT OUR EUPHORBIA CANARIENSIS
Hello, I'm Lord Prickle. I'm not as prickly a character as I might seem; in fact, I'm a bit of a sun worshipper - I live for vitamin D and I'm committed to keeping my tan topped up! Wherever you place me, make sure to keep me away from any hungry pets or young children. I promise I'm a good guy, but I do produce a milky sap that's very toxic if ingested, so keep your teeth to yourself and we'll get on just fine.
While I might look like a cactus, I'm actually a succulent shrub that's usually known as the Canary Island spurge, which, you've guessed it, is where I come from. You can find me growing in large clusters on sides of rocky, mountainous terrain where I spend my days bathing in glorious sunshine.
Place me on a windowsill near a south facing window or in a conservatory that gets sun all day and I'll be the happiest houseplant you've ever owned.
Medium height (including nursery pot) 70-80cm; pot diameter 21cm.
With enough bright light, Lord Prickle will flower small, tightly clustered red flowers that resemble a head of hair.
Lord Prickle's tolerance to the sun means he can be placed in the spots where your other houseplants may burn. Seriously, this guy just can't get enough of those rays!

QUICK EUPHORBIA CANARIENSIS PLANT CARE

Just like any other succulent, Lord Prickle will thrive in a well-lit room and he'll look effortlessly cool without any input from you.

I prefer full, direct sunlight. Place me on your windowsill or in a bright conservatory.

It's good to check the first two inches of my soil; you'll want it to have dried out in between each watering.

I'm happy in normal household humidity and can thrive in dry air.

You can use succulent fertiliser twice over the growing season. I don't need fertiliser in the winter months.

FAST FACTS ABOUT LORD PRICKLE

In a sunny conservatory or any south facing window with plenty of sunlight.
No. Lord Prickle produces a milky sap that can be very toxic if ingested.
THINGS WE ALWAYS GET ASKED

How fast does the Euphorbia ingens plant grow?
Lord Prickle is a fast growing succulent that can reach a height of three to four metres in the wild. As a houseplant, Lord Prickle will reach a maximum height of one metres as he grows at a slower rate when exposed to less direct light. If you're looking for a giant indoor cactus, he practically fits the bill, even if he isn't actually a cactus - a fact that no one else needs to know!
How do you take care of a Euphorbia Ingens plant?
Lord Prickle is perfectly happy being left to his own devices. Ensure he has access to a well-lit room or is placed close to a south facing window and he'll be as happy as can be. In the summer, water once every few weeks or whenever the first few inches of his soil dries out. It's also worth being aware that, as he's able to withstand full direct sun and drought, he is sensitive to overwatering, so it's best to always keep his soil on the drier side. As a result, he's a perfect houseplant for the frequent traveller or forgetful waterer.
Is the Euphorbia Ingens poisonous to humans?

The Euphorbia Ingens has a milky sap within his leaves which can be very poisonous if ingested. Take extra caution by washing your hands thoroughly after propagating and pruning and keep Lord Prickle on a high surface away from any four legged friends or small children.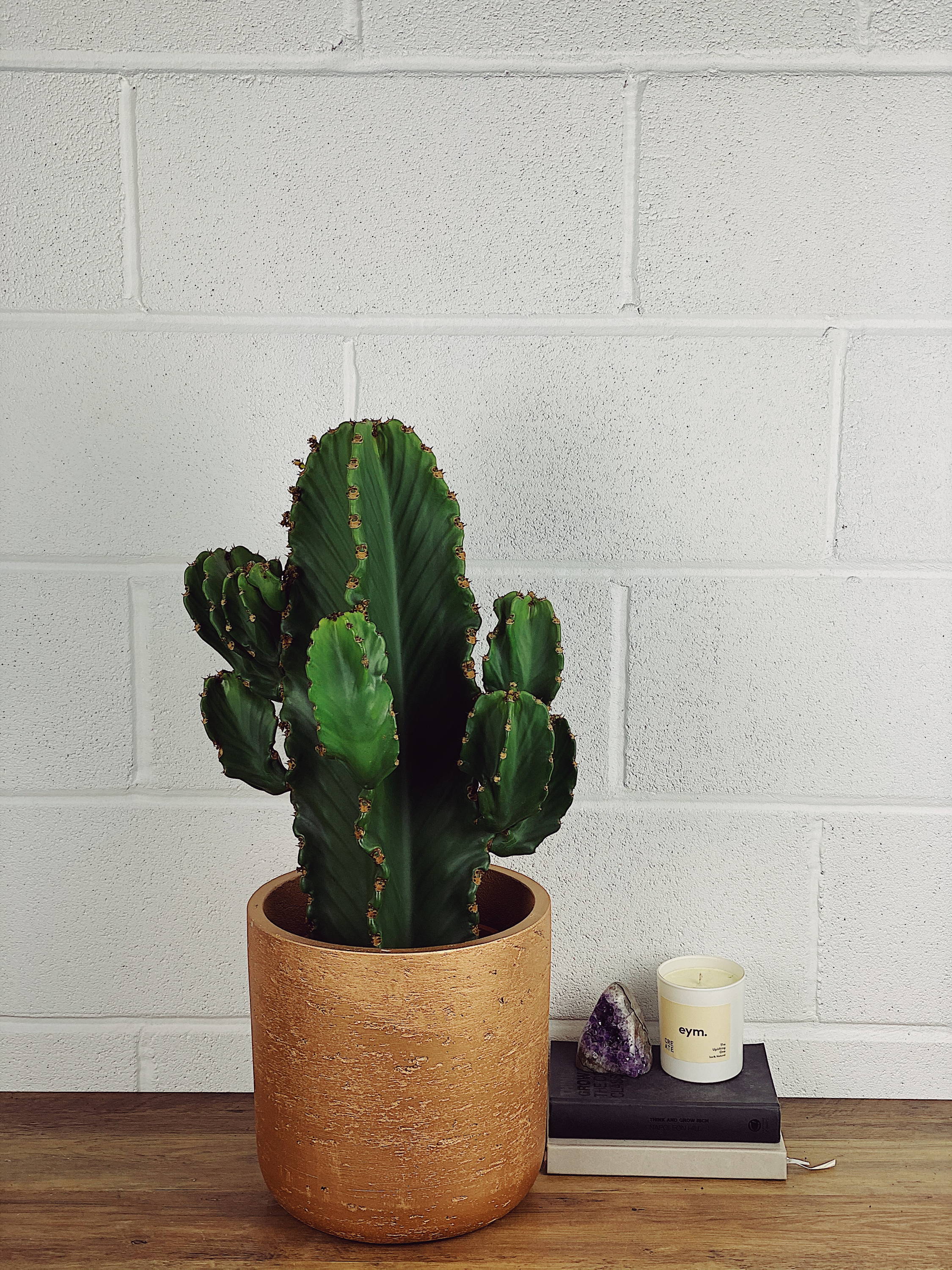 Lord Prickle is versatile and will look stylish in any room provided there's plenty of light. He's certainly unique in style and we recommend pairing him with an urban metallic clay pot for a desert ambiance that'll make Lord Prickle feel right at home.
Match Lord Prickle's exotic leaves with the energy crystal and wanderlust reed diffuser to bring a warm and welcoming energy into your home.
We use a next day delivery service with one of our trusted couriers. Please allow a little bit of packing time. During COVID and busy times this can be up to 5 days.
Your personal information and data is secure with us. This is our website platform providers bread and butter. Uncompromised safety & security.
If you have received a damaged plant or within 15 days you have any trouble after following our care guidance we will offer you a replacement.
WE PLANT 5 TREES FOR EVERY ORDER
Our goal is to plant 1 million trees by 2025 to help save our environment.