ABOUT OUR CHLOROPHYTUM BONNIE
Hello, I'm Bonnie the Chlorophytum comosum but people know me as the curly spider plant. My personality is just as fun as my bouncy curls. I'm a happy-go-lucky plant who isn't one to make a fuss or take up too much of your time. I'll be happy to add some personality to your home or office without demanding much attention.
I'm a particularly popular houseplant for the office as I will grow in artificial light and don't need to be watered that frequently, which is handy if you're a little on the forgetful side. I'm just the right size that my uplifting long and thin leaves will boost your mood throughout the work day but not so big I will take up your entire desk. Take a look at my friend Fiona if you're looking for a larger office plant.
My bright colours and low maintenance reputation has made me an attractive option for any beginner who's looking to bring some nature to their office or home. I also make a brilliant gift for someone just starting their plant collection.
Small height (including nursery pot) 20-25cm; pot diameter 12cm.(Fits a 13-15cm Pot)
Her leaf tips will turn brown and crisp if watered with tap water. She prefers filtered or rain water to keep her foliage fresh.
Bonnie is decorated in the home and office, her small compact leaves make it easy for her to be placed in any small nook.
Bonnie is an easy going houseplant and her bright colours will brighten up any office or home.

 I will prefer a brighter light, although I can survive in a medium light in the winter months.

I don't like my soil to dry out completely before I'm watered again. Keep my soil moist but not soggy.

I can tolerate normal household humidity but prefer and grow better in higher levels of humidity.

Fertilise me once every four to six weeks in the growth season, which is from March to September.
The home office or living room.
THINGS WE ALWAYS GET ASKED

How do you take care of a spider plant?
The best way to take care of Bonnie is by placing her away from any direct sunlight, give her warmer temperatures of above 18°C, keeping the humidity levels high by regular misting and by watering her with distilled or rainwater to avoid any crisp tips. If given enough bright indirect light, Bonnie will produce babies or pups from the ends of her leaves which can be cut off and propagated to make more spider plants. In the growth season you may notice small white flowers on the tips of Bonnie's leaves; this is a sign that Bonnie is happy and healthy!
How much sun does a spider plant need?
Bonnie is a sun-loving plant who will grow faster in brighter light; however, avoid placing her in a room with harsh direct sunlight. A bright room will be enough for her to grow.
Is Chlorophytum comosum poisonous?
Spider plants are not poisonous and are perfectly safe to have around pets and young children. She will also purify the air in your home, so she's best placed in the kitchen or living room when she can absorb any common household toxins.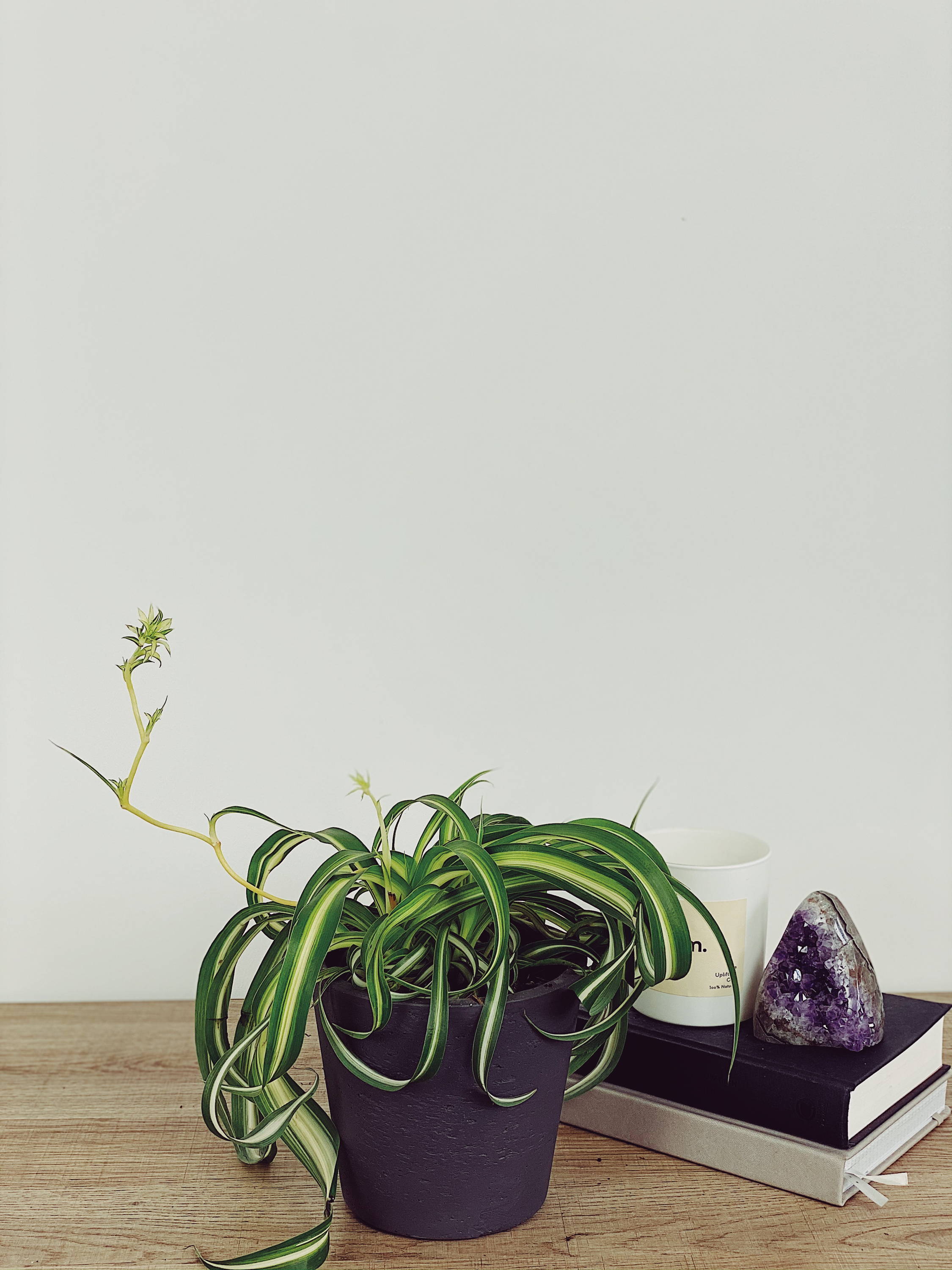 Bonnie will complete any style look. Place her on your coffee table in the living room to be enjoyed in the evening or pop her on a bookshelf in the study and she will add some colour to your work space.
Pair our colourful Bonnie with our heart crystal or joyful candle for a happy and positive home or office.
We use a next day delivery service with one of our trusted couriers. Please allow a little bit of packing time. During COVID and busy times this can be up to 5 days.
Your personal information and data is secure with us. This is our website platform providers bread and butter. Uncompromised safety & security.
If you have received a damaged plant or within 15 days you have any trouble after following our care guidance we will offer you a replacement.
WE PLANT 5 TREES FOR EVERY ORDER
Our goal is to plant 1 million trees by 2025 to help save our environment.