ABOUT OUR CALATHEA LANCIFOLIA
Hey, my name's Freddie the Calathea Lancifolia. Yes I know I'm absolutely stunning. I have all the usual beauty that comes with being part of the Calathea family but with a twist. I have long and slender leaves - unlike the usual shape of your typical Calathea. My foliage has shimmer and shine that's just dying to be placed as a dining table centerpiece.
Although some call me the Calathea rattlesnake, don't let my name put you off, I won't bite. I'm part of the prayer plant family and can be found in the tropics of South America. I really enjoy a shady spot. I will object to a cold or chilly room as I prefer temperatures over 20°C. I'm best kept away from open windows as it could cause my leaves to curl. In my natural habitat I thrive under the shadows of larger trees and love high levels of moisture on my leaves. To keep me looking my best place me near a humidifier or in a steamy warm bathroom.
I'm a cool and funky plant that's ready to draw in the attention of your friends and family. Don't worry if your home is on the shadier side, that will suit me just fine.
Small Height (including nursery pot) 30-35cm; pot diameter 12cm. Fits a 13-15cm decorative pot.
Medium Height (including nursery pot) 40cm; pot diameter 14cm. Fits a 15-17cm decorative pot .

Big Height (including nursery pot) 65-75cm; pot diameter 17cm. Fits a 18-20cm decorative pot.
In early spring the Calathea rattlesnake will bloom big bright yellow flowers. These can be encouraged by placing Freddie in a humid room.
Freddie is bouncing with pepp and vibrance. There is no doubt his foliage will go unnoticed by those passing by.

QUICK CALATHEA LANCIFOLIA PLANT CARE

Freddie likes a shady spot, high humidity and regular watering.

I do prefer medium light, bright light will scorch my leaves and will cause my variegation to fade.

Check my soil every week and only water if the first inch of soil is dry. I don't like my soil to dry out too much.

The more humidity the better! Place me close to a humidifier or in a bathroom.

You can use a diluted fertiliser once a month in the growing season, I don't need any fertiliser in the winter.
The best room is a humid shady spot where Freddie can enjoy high levels of humidity like a bathroom or near a humidifier in the living room.
THINGS WE ALWAYS GET ASKED

How do you care for a Calathea?

Freddie has simply gorgeous foliage. He will grow plenty of new leaves over the spring and summer months.
Keep Freddie's soil on the moist side and never let his soil get too dry. If his soil dries out you will notice Freddie start to droop. He loves high levels of humidity and needs to be placed near a humidifier. Misting your Calathea will not be enough to keep the humidity levels consistently high.
If possible use filtered or rain water to help keep Freddie's foliage brown and crispy free. Tap water could cause Freddies foliage to crisp up and damage his sensitive root system.
Why is my Calathea turning brown?
Calatheas adore humidity and very often will turn brown or become very crispy when they're in a dry environment. To increase humidity use a humidifier or place them in a bathroom. Check out our 7 ways to help increase humidity in your home to help prevent crispy leaves.
It's also good practise to use filtered or rain water as Freddie has sensitive roots and can crisp up when watered with tap water that contains many harsh chemicals.
How often should you water a Calathea?

Water Freddie whenever the first/second inch of soil starts to dry. Freddie prefers his soil on the moist side and will need watering up to twice a week in the summer months. When the weather is cooler, reduce how often you water. He will let you know when he needs watering by drooping his foliage a little.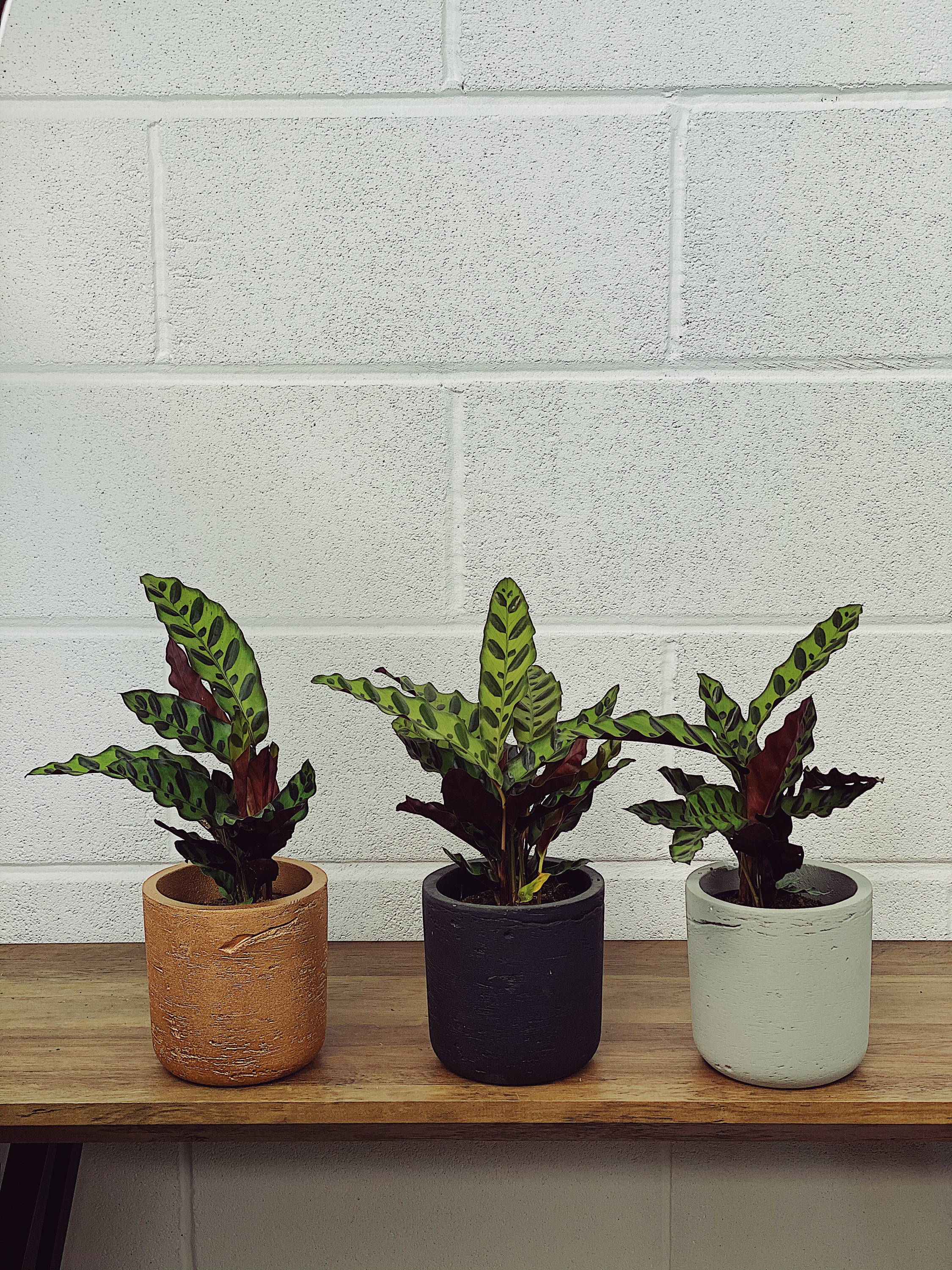 ​Freddie's foliage will be a small trip to the tropics every time you look at him. He's the ideal size to be used as an ornamental piece. Use his brightly coloured foliage to decorate a shady room.
Use our striking Guard crystal to protect Freddie's colourful foliage or relax and unwind with the grounding candle.
We use a next day delivery service with one of our trusted couriers. Please allow a little bit of packing time. During COVID and busy times this can be up to 5 days.
Your personal information and data is secure with us. This is our website platform providers bread and butter. Uncompromised safety & security.
If you have received a damaged plant or within 15 days you have any trouble after following our care guidance we will offer you a replacement.
WE PLANT 5 TREES FOR EVERY ORDER
Our goal is to plant 1 million trees by 2025 to help save our environment.