ABOUT OUR CALATHEA MAKOYANA
Hello, I'm Kai the Calathea Makoyana also known as the peacock plant (for obvious reasons). My captivating foliage is out of this world beautiful, wouldn't you agree? I think it's best if you find a prime spot for me in your home so I've got an audience to show off to.
In the wild you can find me enjoying the warm and humid climate of the Brazilian rainforest with the other 100s of prayer plant species. Being part of the prayer plant family, you'll notice my terrific leaves moving up and down throughout the day as I follow the light. I'm not the kind of houseplant that will fuss over bright light but I will thank you endlessly if you were to place me in a bathroom or near a humidifier. As a humidity-loving houseplant I may start developing brown edges if placed in a room with dry air. Find out how you can increase houseplant humidity here.
Take me home and place me on display for all to enjoy. My spectacular Calathea look will undoubtedly look stunning in a bright, warm and humid bathroom.
Small Calathea Makoyana Height (including nursery pot) 25-30cm; pot diameter 12cm.
Big Calathea Makoyana Height (including nursery pot) 65-70cm; pot diameter 21cm.
The Calathea species grow underneath the canopy of the Brazilian jungle. Like most houseplants they prefer filtered or rain water that is free from common chemicals found in tap water.
The Calathea Makoyana has a look like no other. Her mood-boosting foliage will help to uplift your home houseplant jungle.

QUICK CALATHEA MAKOYANA PLANT CARE

The Calathea Makoyana should be placed in a warm, humid and draught free spot.

Keep me shielded away from any bright or direct light. Just like other tropical houseplants, my foliage can burn easily.

Check my soil regularly and only water if the first inch of soil is dry. I hate dry soil and should be kept on the moist side at all times.

Place me in a humid room or by a humidifier. Find out how you can increase houseplant humidity here.


FAST FACTS ABOUT THE CALATHEA MAKOYANA

Find a warm humid room for the Calathea Makoyana. A steamy bathroom or living room with a humidifier is ideal.
THINGS WE ALWAYS GET ASKED

How do you care for a Calathea Makoyana?
The Calathea Makoyana should be placed in a warm, humid and draught-free room. Keep the Calathea Makoyana in a room between 18ºC-25ºC and away from open windows, radiators or frequently used doors. The Calathea Makoyana just like most houseplants, prefers high humidity, filtered water and medium or indirect light. If the Calathea Makoyana starts curling its leaves this may be a sign that she is stressed from under watering or is being exposed to a cold draught.
Can Calatheas grow in low light?

The Calathea Makoyana is not high-maintenance when it comes to the amount of light it receives. The Calathea Makoyana will tolerate low and medium light provided there is at least one window in the room.
How do you know if Calathea Makoyana is getting too much light?

If the Calathea Makoyana is getting too much light the variegation and patterned foliage will start to fade. We recommend placing the Calathea Makoyana a metre away from an east or west-facing room. This will help to protect the foliage from the hot sun. You may also notice some yellowing or crispy leaves on the plant. This is a sign that the sun is drying out and burning the foliage. Take extra care in the hot months when the sun is at its strongest.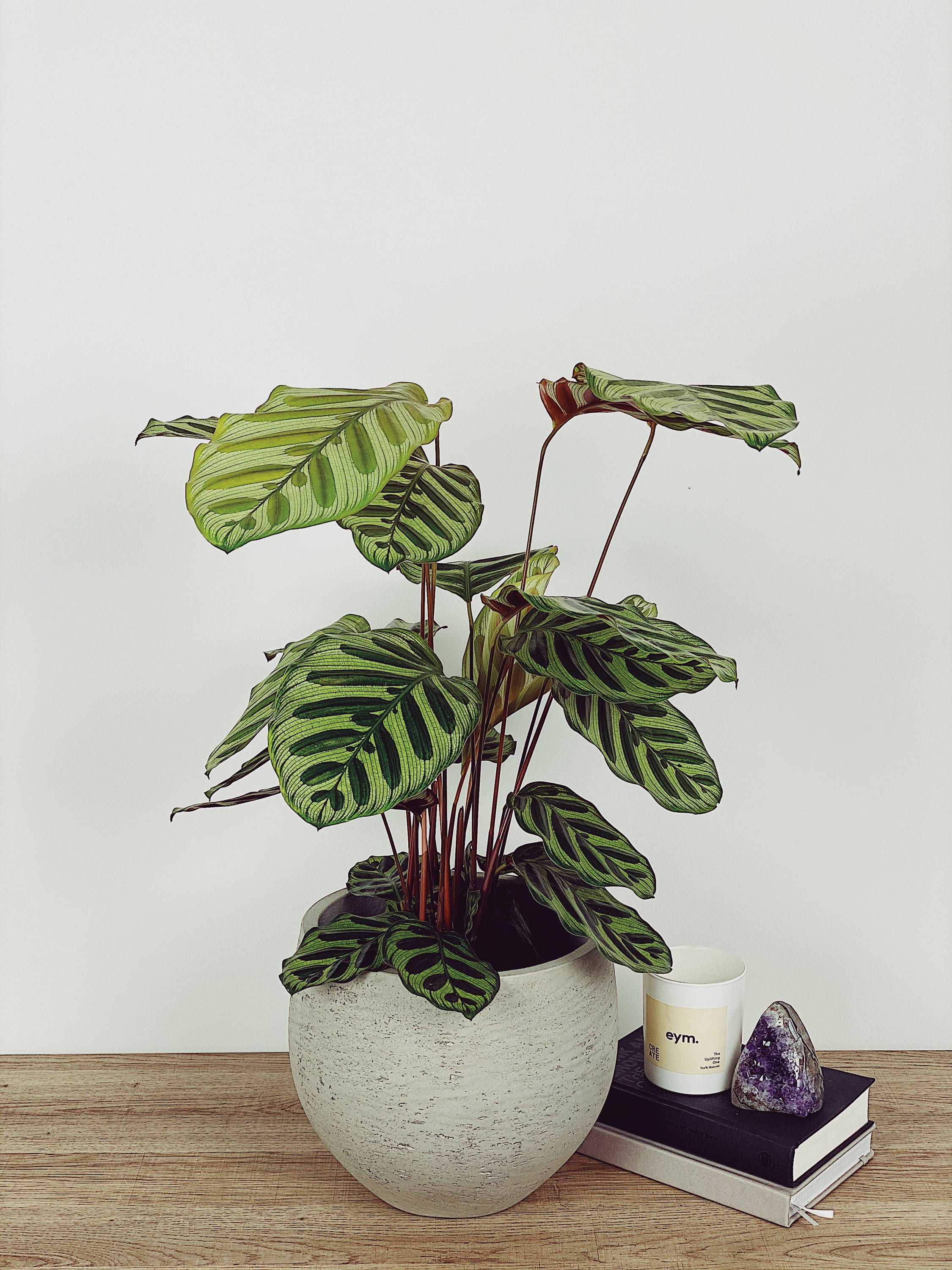 The Calathea Makoyana should be paired with the coffee plant, Andy the Yucca and Maya the parlour palm to compliment but not overshadow Kai's magnificent foliage.
Use Kai the Calathea Makoyana as a way of adding a splash of colour to a bookcase, mantelpiece or console table. Add some pink with the crystal point, heart and compassion crystals for positive vibes for you and your plant.
We use a next day delivery service with one of our trusted couriers. Please allow a little bit of packing time. During COVID and busy times this can be up to 5 days.
Your personal information and data is secure with us. This is our website platform providers bread and butter. Uncompromised safety & security.
If you have received a damaged plant or within 15 days you have any trouble after following our care guidance we will offer you a replacement.
WE PLANT 5 TREES FOR EVERY ORDER
Our goal is to plant 1 million trees by 2025 to help save our environment.