ABOUT OUR CALATHEA WHITE FUSION
Hello, I'm Charlotte the Calathea. I'm known as the Calathea white fusion or Calathea white star because of my beautiful patterned variation. My stunning foliage boasts colours of white, green and pink making me rather easy on the eyes. I'm not as widely cultivated as some of my Calathea siblings which makes me one of the more rare species of Calathea. I'm a rare find.
You'll find me within the subtopics of South America where I enjoy a cool and shady environment. I belong to a massive family of over 500 species but you won't find many that look like me. I'm a one of a kind houseplant. Due to my tropical background I much prefer high levels of humidity. You can place me in your bathroom or near a humidifier to keep my leaves looking their best.
My variegated leaves are simply stunning. Allow my variegation to be an instant mood booster and stunning addition to your indoor jungle.
Small Height (including nursery pot) 40-45cm; pot diameter 14cm. (Fits a 15-17cm Pot)
The Calathea species is very sensitive to the cold. If possible keep your Calathea away from open windows, radiators and frequently used doors.
Charlotte's bright foliage has tons of personality. Her unique patterns will bring joy and happiness into your space.

QUICK CALATHEA WHITE FUSION PLANT CARE

Charlotte likes warm temperatures, high humidity and filtered water

Keep my beautiful foliage safe from any direct sunlight. Any bright light will cause my variegation to fade.

Check my soil regularly and only water when the first inch of my soil is dry. Use filtered or rainwater. Tap water is too harsh for my root system.

Keep my humidity levels high by placing me near a humidifier.

Once a month use a diluted fertiliser in the growing season. Don't fertilise me in the winter.

FAST FACTS ABOUT CHARLOTTE

The best room for Charlotte is a steamy bathroom for high levels of humidity.
THINGS WE ALWAYS GET ASKED

How do you care for a Calathea?
Charlotte is a very beautiful plant but does need a little extra care. She is fine in a medium light and should be placed at least a metre away from any window. Keep the humidity levels high by using a humidifier. If you notice any brown edges this could be from lack of humidity. It's good to use filtered or rain water as the chemicals found in tap water can be too harsh for Charlotte. This will also help to keep any crispy brown leaves at bay.
Is Calathea White Fusion rare?

Yes, the Calathea white fusion is a rare beauty that can be hard to get your hands on. They're not as widely cultivated as other types of Calathea which makes them a very sought after plant.
Why does my Calathea have brown tips?
There could be a couple of reasons why your Calathea has brown tips. The most common is from lack of humidity. The Calathea species prefer at least 60% humidity which will keep their pretty foliage crisp free. It's also good practice to only use filtered or rain water. Tap water could be one of the reasons that their leaves are starting to brown or crisp.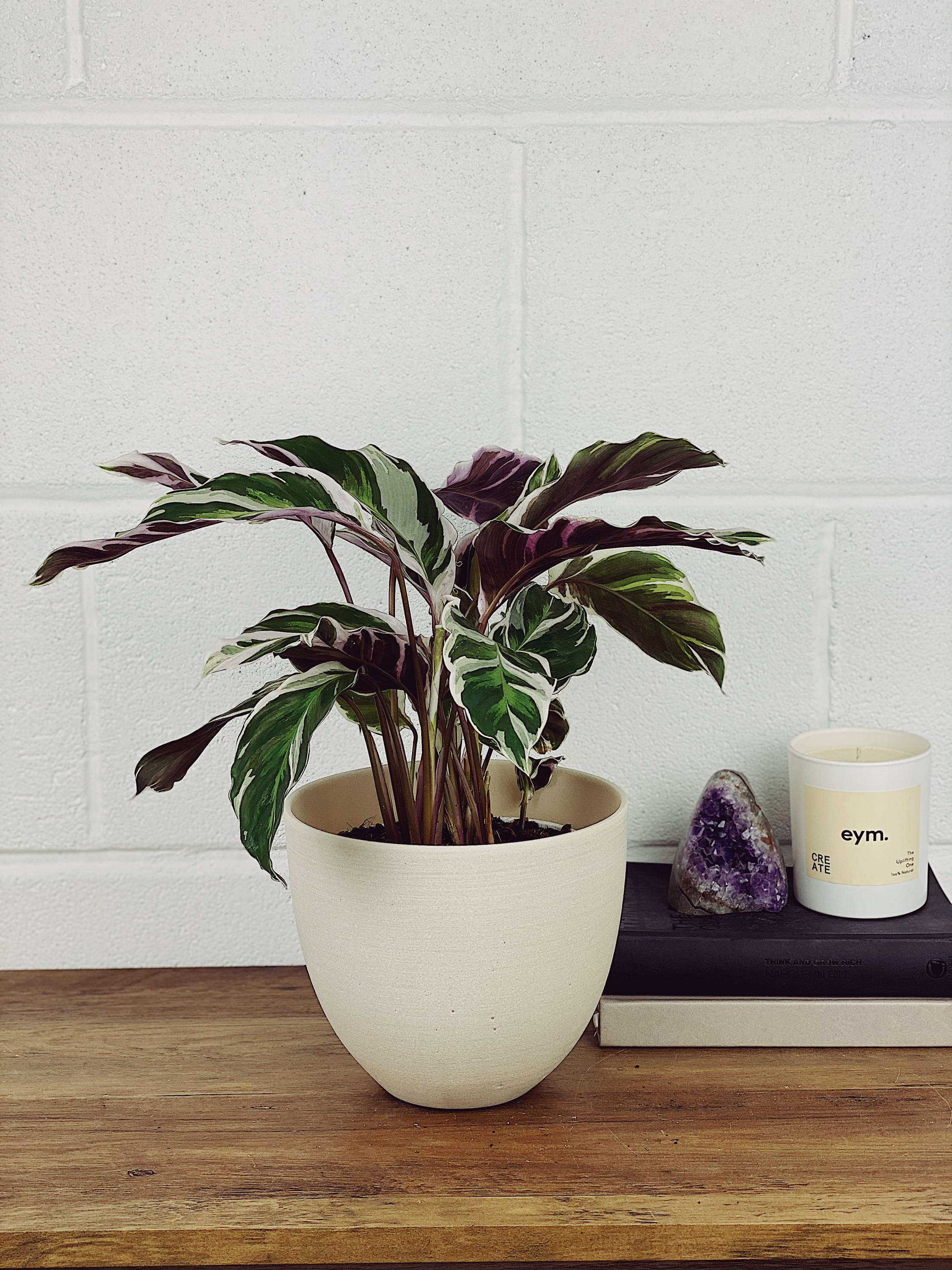 ​Charlotte is a rare and unusual beauty that should be the star of your plant collection. She is a must have indoor plant for plant collectors and those who love to style their home with plants.
Pair Charlotte with the healing crystal and soul candle for spiritual and rejuvenating vibes that can help boost the positivity and productivity in your indoor jungle.
We use a next day delivery service with one of our trusted couriers. Please allow a little bit of packing time. During COVID and busy times this can be up to 5 days.
Your personal information and data is secure with us. This is our website platform providers bread and butter. Uncompromised safety & security.
If you have received a damaged plant or within 30 days you have any trouble after following our care guidance we will offer you a replacement.
WE PLANT 10 TREES FOR EVERY ORDER
Our goal is to plant 1 million trees by 2025 to help save our environment.