ABOUT OUR PILEA PEPEROMOIDES
Hi, I'm Lucy. I'm named the Pilea Peperomioides but I'm more commonly known as the Chinese money plant. Since 2017 I have been the 'it' plant and demand for my gorgeous circular leaves has been extremely high. I'm nicknamed the lucky plant and have been known to bring good luck and prosperity. My easy going nature and distinctive leaves have made me one of the most loved houseplants on the market.
I was first discovered in the town of Yunnan, China by George Forrest who then sent a sample back home to Norway. Back in the 1900s cuttings of my interesting leaves were passed around. I was quite the jet-setter and made my way through Europe and eventually to the UK in 1960. The rest is history they say. To encourage my even growth I would recommend rotating my pot every week to keep me looking my best. I'm okay in a medium light but I would prefer a bright room. If you place me next to a larger plant I can use their shade to enjoy the bright light without being burnt from direct sunlight.
For all keen plant enthusiasts I am a must have plant. I'm much easier to care for than I look and will reward you with plenty of luscious leaves in the growth season.
Small Height (including nursery pot) 20cm; pot diameter 12cm. (Fits a 13-15cm pot)
Lucy is known for producing 'pups' that can be separated from the mother for a brand new plant to give to a friend or keep for yourself.
Lucy's interesting leaves are a staple for any indoor jungle. Her tropical look is unusual and will stand out in any living space.

QUICK PILEA PEPEROMOIDES PLANT CARE

Lucy likes bright light and regular watering. She's the ideal candidate to start off any indoor plant collection.

I do love the sunshine but it's important that I don't receive any direct sunlight.

I don't like dry soil and prefer regular watering once the first inch of my soil has dried up.

I prefer a humid environment. I can be placed in a bathroom or near a humidifier.

Once every two months is enough. I'm a fast grower even without fertiliser. Do not fertilise me in the winter months.
A sunny living room or bedroom. A sunny room will encourage new growth.
THINGS WE ALWAYS GET ASKED

How do you take care of a Chinese money plant?
Lucy is a wonderful beginner plant. She likes a sunny room, warm temperatures and a humid environment. You can place Lucy in your steamy bathroom provided there isn't any direct sunlight. She can also be placed in a well lit room nearby a humidifier. The perfect temperature for the Chinese money plant are between 15-30°C. Being quite adaptable to her surroundings, Lucy can cope with a cold or hot room. Every week check the first inch of Lucy's soil and only water when the first inch has dried out. She is very sensitive to overwatering and her delicate roots will rot if overwatered. If possible only water her with rain or filtered water as the chemicals found in tap water could cause stress to her root system resulting in brown spots on her leaves.
Where should I put my Chinese money plant?

Lucy prefers a well lit room. The best place for Lucy is a metre away from a south facing window. She's a gorgeous coffee table plant and will push out a lot of new growth in a sunny space. In the winter she can tolerate medium light and will continue to thrive when sunlight is minimal.
Is a Chinese money plant lucky?
Some houseplants are known to bring luck into the home or office. According to parts of Japan and China they are plants that are used for Feng Shui that can bring luck, health and financial wealth. Lucy, Paddy and Jade are all thought to bring good luck and are very often given as gifts to colleagues to be placed in the office.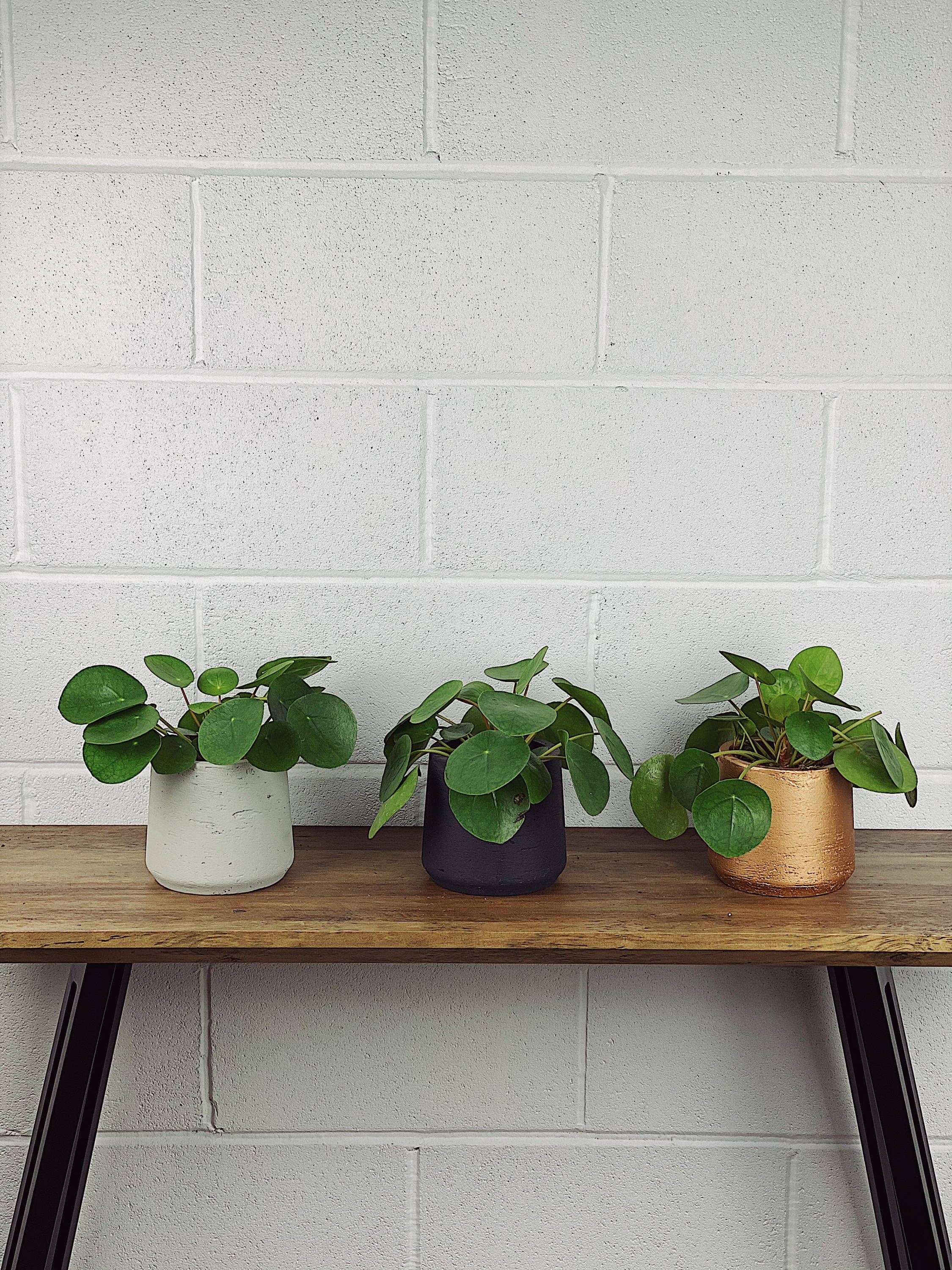 Use Lucy's lucky leaves to add decor and style into your living room or bedroom. She's the perfect size for any shelf, windowsill or bookshelf. If placed on a windowsill make sure she does not receive any harsh, direct sunlight.
Pair Lucy with the uplifting and self care crystals for a living space full of good energy and relaxing vibes.
We use a next day delivery service with one of our trusted couriers. Please allow a little bit of packing time. During COVID and busy times this can be up to 5 days.
Your personal information and data is secure with us. This is our website platform providers bread and butter. Uncompromised safety & security.
If you have received a damaged plant or within 15 days you have any trouble after following our care guidance we will offer you a replacement.
WE PLANT 5 TREES FOR EVERY ORDER
Our goal is to plant 1 million trees by 2025 to help save our environment.