ABOUT OUR EPIPREMNUM AUREUM NEON
Hello there. I'm the neon pothos, can you tell why? My eye-catching foliage is something to marvel at. Not only are my leaves grown to stand out from the crowd but I'm also incredibly easy to look after. I don't like to toot my own horn but I'm one of the 'it' plants right now. I can be found displayed in plant enthusiasts' homes all over the world.
As a popular houseplant I'm grown all over the Caribbean, South Pacific and subtropical Asia. Like more tropical plants I'm a big lover of warm temperatures, high humidity and plenty of natural light. Although you can place me in any spot in your home I'll grow like there's no tomorrow in a bright spot. With a little help from the fortifying fertiliser, once a month you'll be able to appreciate my trailing bright foliage in no time.
With a name like Flash you know my foliage is here to brighten up any spot in your home or office with a burst of colour.
Small Height (including nursery pot) 15-20cm; pot diameter 12cm.
The Epipremnum aureum species are all cultivated in the wild. Unlike other popular houseplant species like Monsteras or Alocasias there are no known hybrid pothos plants.
The neon pothos is an unmissable beauty with vibrant look like no other.

QUICK NEON POTHOS PLANT CARE

Flash the neon pothos is as relaxed as they come. Place him in a warm and humid room and he'll reward you with plenty of new growth.

I'm not fussy over my lighting conditions but please keep me out of direct sunlight and make sure there's at least one window so I have access to natural light.

I prefer to be left alone for a few weeks at a time and will react very badly to soggy or wet soil.

I do prefer a humid environment so please place me near a humidifier, in a bathroom or on top of a pebble tray. Find out how you can increase humidity here.

Use the fortifying fertiliser once a month between March through September to encourage more beautiful green leaves.

FAST FACTS ABOUT NEON POTHOS

Place the neon pothos in a humid room like a bathroom.
THINGS WE ALWAYS GET ASKED

How do you take care of the neon pothos?
Flash the neon pothos is a great indoor plant for beginners and will thrive with very little effort. Like most tropical plants the neon pothos should be placed in a room between 18º-24ºC with plenty of natural light. The neon pothos is very easy-going when it comes to its watering and lighting. Keep the soil on the drier side and allow the first few inches of soil to dry before you water again. The pothos can tolerate low/medium lighting and will continue to thrive over the winter months but will certainly grow rapidly in the summer months with the right lighting.
Does the neon pothos like to be misted?
While misting any houseplant won't increase humidity long term, it can certainly help to keep a plant vibrant and fresh. Use our beautifying leaf shine or houseplant care mist for the best results in keeping the foliage shiny and free from pests.
Can the neon pothos be variegated?
Yes! Overall, the neon pothos has shades of yellow and bright green in its foliage but if given enough light the pothos will develop speckled patches of darker green. The neon pothos will most likely show signs of variegation if placed in a brighter spot.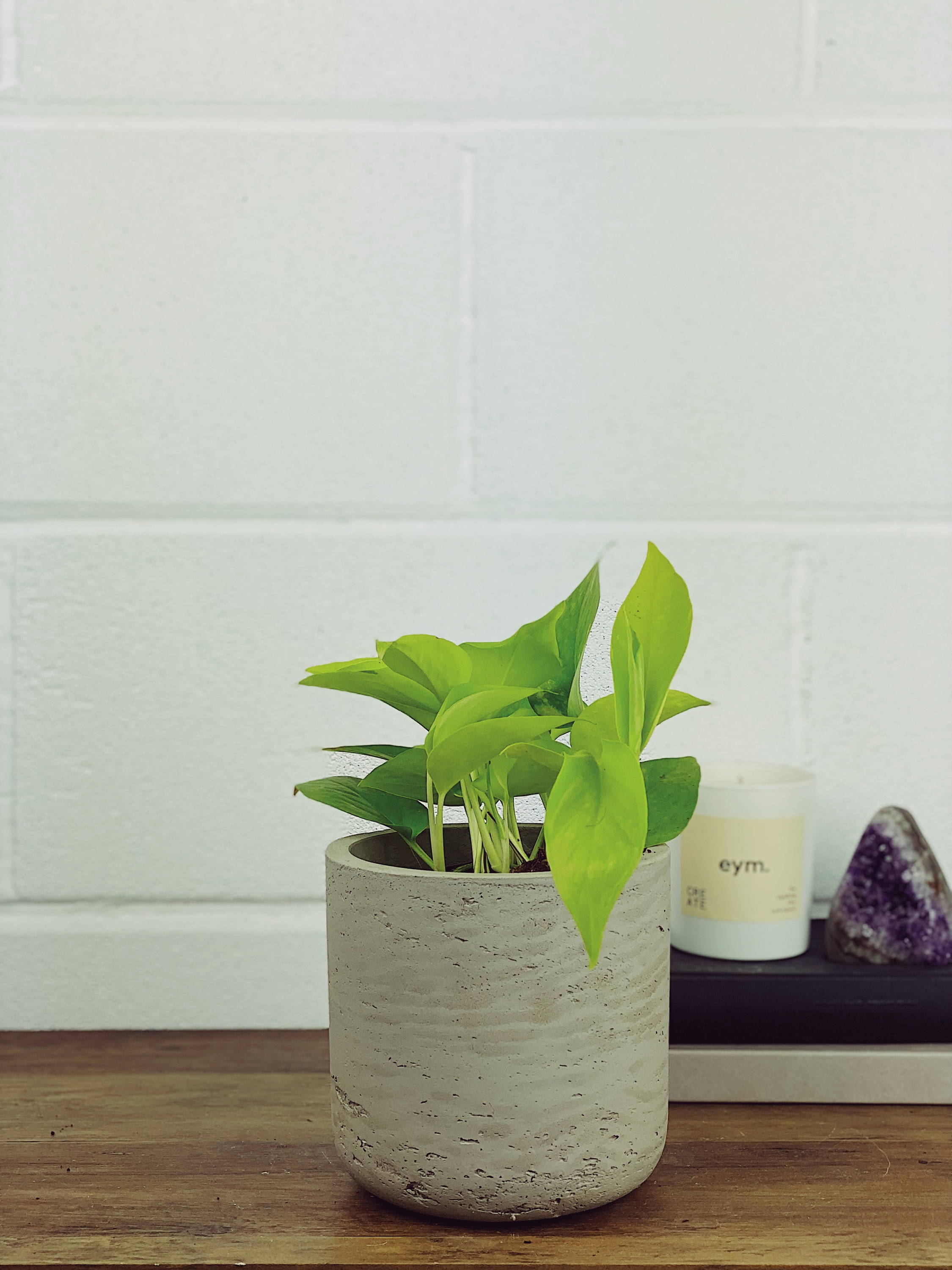 Place the neon pothos on a high surface like a book shelf or mantlepiece and allow the bright vining foliage to do the rest. It's important to keep Flash the pothos out of reach from curious pets or young children because he can be mildly toxic if ingested. This is all the more reason to place Flash the pothos in a hanging pot and let its foliage do its thing. The neon pothos can be paired with Bonnie the spider plant and Conrad the dumb cane.  
Use the protective crystal to protect the neon pothos from any pests and eliminate any negative energy from your space. To release some relaxing and rejuvenating vibes into your home, our meditative candle is just the ticket.
We use a next day delivery service with one of our trusted couriers. Please allow a little bit of packing time. During COVID and busy times this can be up to 5 days.
Your personal information and data is secure with us. This is our website platform providers bread and butter. Uncompromised safety & security.
If you have received a damaged plant or within 15 days you have any trouble after following our care guidance we will offer you a replacement.
WE PLANT 5 TREES FOR EVERY ORDER
Our goal is to plant 1 million trees by 2025 to help save our environment.