ABOUT OUR WATERMELON PEPEROMIA
Hello there, I'm Bertie. I'm the Peperomia argyreia or otherwise known as the watermelon Peperomia. I'm nicknamed the watermelon plant due to my stripy foliage resembling the outside of a watermelon. I have that funky tropical look with the ideal compact size to fit in any nook or cranny available. My easy going nature makes me a favourite green friend amongst the houseplant community. Pop me on your mantelpiece or bookshelf for a splash of stripey goodness.
I'm native to South America where I enjoy the shady canopy of the forest. I'm more likely to thrive in a bright shady room when I can enjoy plenty of natural light. All together there's over 1,500 species of Peperomia which due to their attractive and hardy foliage make for very popular houseplants. For even growth I would recommend rotating my pot weekly so my foliage can look its best from every angle. If you'd like to place me close to a window I'd suggest placing me in the shade of a larger plant to protect me from any direct sunlight.
I'm a must have green friend for plant enthusiasts and beginners alike. My compact size is the ideal gift for someone special.
Small Height (including nursery pot) 20cm; pot diameter 12cm. (Fits a 13-15cm pot)
Bertie prefers a snug home and won't put up a fuss if he's root bound. He will happily stay in the same pot for many years at a time. Just another reason why Bertie is so laid back.
Bertie has quirky and interesting leaves that are just the right size to make sure every inch of your space is covered in foliage.

QUICK WATERMELON PEPEROMIA PLANT CARE

Bertie prefers high humidity, regular watering and partial sunlight.

I do prefer a bright light but nothing direct as this will burn my leaves.

Check the first two inches of my soil regularly and never let my soil dry out. I prefer my soil to be consistently moist rather than dry or soggy.

I do like a humid environment but can tolerate a dry room. Find out how you can increase humidity here.

I'm a fast grower in the spring and summer months. Fertilise me once every 4 weeks from the months of March-September.
A bright living room or bedroom. Bright indirect light will promote new growth.
THINGS WE ALWAYS GET ASKED

How do you take care of a watermelon Peperomia?
Bertie is a terrific beginner plant. He likes a bright room with indirect light, warm temperatures and good levels of humidity to keep any crispy leaves at bay. Being quite adaptable to his surroundings, he can tolerate a cold or hot room. Keep the temperature between 15ºC-30ºC. Keep Bertie away from any radiators as this will dry out his foliage and cause the edges of his leaves to crisp up. Check the first two inches of his soil once every 5-6 days and only water when it is dry. This will happen more often in the summer months and less frequently in the winter months.
Where should I put my watermelon Peperomia?
Bertie should be placed in a well lit room with plenty of natural light. Next to a frosted window in a bathroom is an ideal spot for Bertie to enjoy the high levels of humidity. In the winter months Bertie can tolerate a little morning or evening sunlight when the light is less harsh.
Is Watermelon peperomia fast growing?
Bertie will push out plenty of new growth in the spring and summer months. The more bright indirect light Bertie receives, the faster he will grow. In the winter Bertie will go into dormancy and there will be less growth from the months of November- March. Use our fortifying houseplant fertiliser to promote new growth from March-October.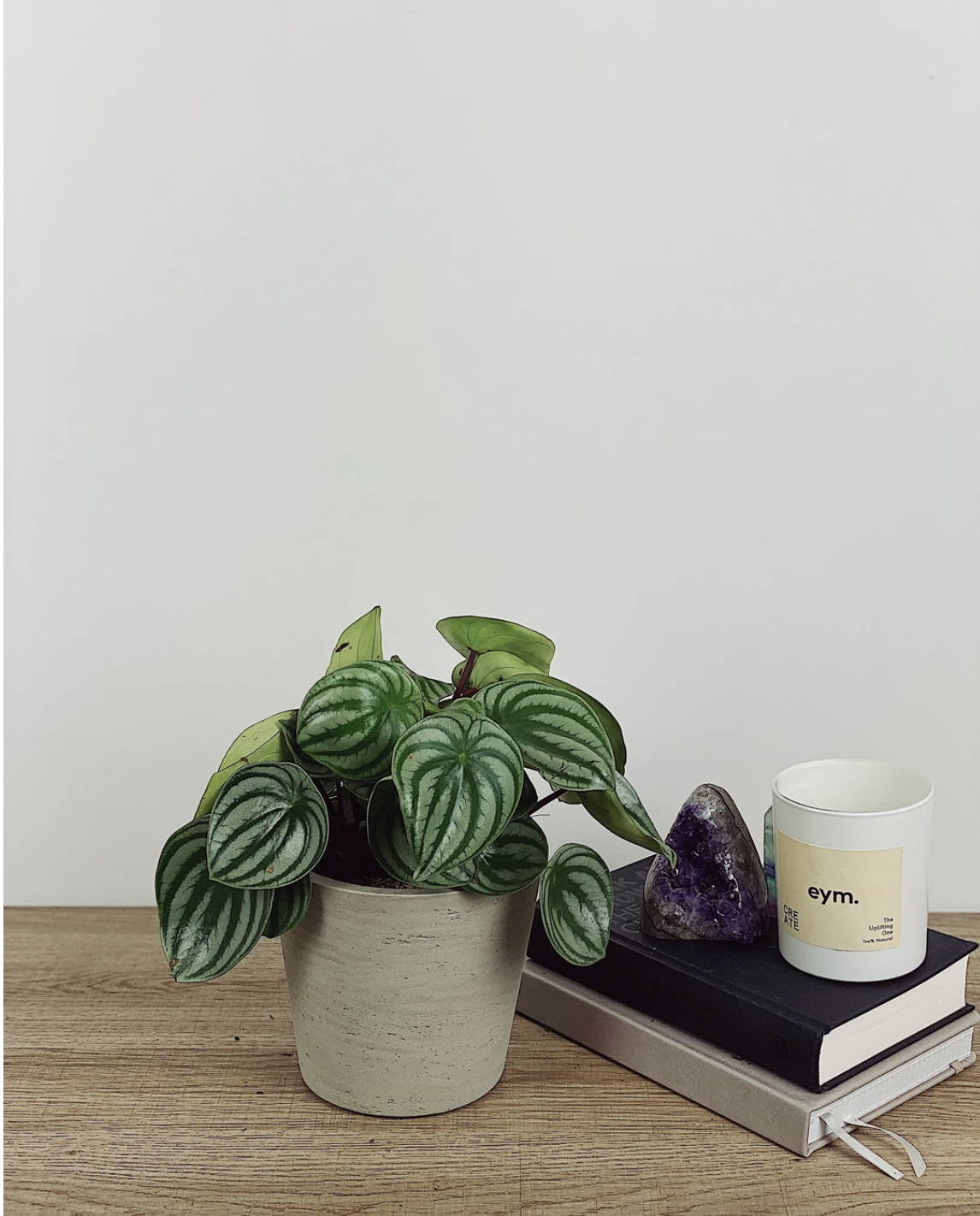 Use Bertie's stripy leaves to decorate and style your living room or bedroom. He's the ideal size for a mantelpiece, windowsill or bookcase. Pair Bertie with Eddie and Paddy for the complete green look.
Pair Bertie with the joyful candle and the self care crystal for a positive living space full of good energy and relaxing vibes.
We use a next day delivery service with one of our trusted couriers. Please allow a little bit of packing time. During COVID and busy times this can be up to 5 days.
Your personal information and data is secure with us. This is our website platform providers bread and butter. Uncompromised safety & security.
If you have received a damaged plant or within 15 days you have any trouble after following our care guidance we will offer you a replacement.
WE PLANT 5 TREES FOR EVERY ORDER
Our goal is to plant 1 million trees by 2025 to help save our environment.