ABOUT OUR FICUS GINSENG BONSAI
Hello, I'm Bonsai! Are you looking for a plant to bring a little Zen to your home? If so, I'm a ficus ginseng bonsai tree​ without a care in the world. This means I'm all about the easy life (and the easy-maintenance!), making me one of the ​best indoor bonsai trees for beginners​. With my glossy canopy of leaves, bulbous exposed roots and miniature size, I'm a unique character who'll bring a touch of class to your house.
My roots go far back to the time of Zen Buddhist monks, who loved the beauty and meaning they found in my simple little form. Later, cultivating mini bonsai trees became a type of art among Japanese aristocracy, who would use us to create miniature landscapes in a pot.
Nowadays, we bonsai trees are small but perfectly-formed additions to your home, or we make a brilliant gift for a green fingered friend. Wherever I end up, I'm sure to bring a sense of tranquillity to any room.
Small height (including nursery pot) 30cm; pot diameter 11cm
The most expensive Bonsai tree ever sold went for a whopping $1.3 million USD in 2011.
Bonsai is a relaxed and an unusually easy-to-care for miniature tree that'll bring both a touch of class and a small dash of greenery to your home.

QUICK FICUS GINSENG PLANT CARE

The ficus ginseng bonsai tree is a chilled out plant requiring very little maintenance – so it's an ideal choice if you're new to the game of bonsai parenthood.

I love a bright spot – but just keep me in indirect sunlight.

I don't like swimming, so water me only when I'm very dry.

​I'm from tropical climes, so mist me daily.

Top those nutrients up! Give me fertiliser every two weeks in summer.
Any: a south-facing window in any room should do the trick.
No. This plant can be poisonous for cats and dogs.
THINGS WE ALWAYS GET ASKED

​How do you care for a ficus ginseng bonsai tree?
The most important trick is to keep it settled in one place: this will stop the leaves dropping (they will grow back - we promise!), so resist the temptation to move your plant around.
The ficus ginseng does need repotting every other year during the spring. Never fear: it's an easy process, but you'll want to invest in some specialist bonsai potting soil that's filled with all the lovely nutrients that your favourite little plant needs to grow.
Where is the best place to put a bonsai tree?
Whether you're green-fingered or this is your first foray into caring for an indoor bonsai tree, a happy, healthy ​ficus ginseng bonsai ​should be kept in a light spot – but away from direct sunlight - to soak up all the light that it loves. It'll thrive if kept at a relatively constant temperature (between 15 and 25°C) away from draughts and should be watered once weekly in winter or twice weekly during the summer months.
As a plant that hails from tropical climes, it also loves humidity, so keep it close to other small plants or place near a humidifier. For added growth spurts, be sure to fertilise it every fortnight in summer (just monthly in winter) to keep it lush and green.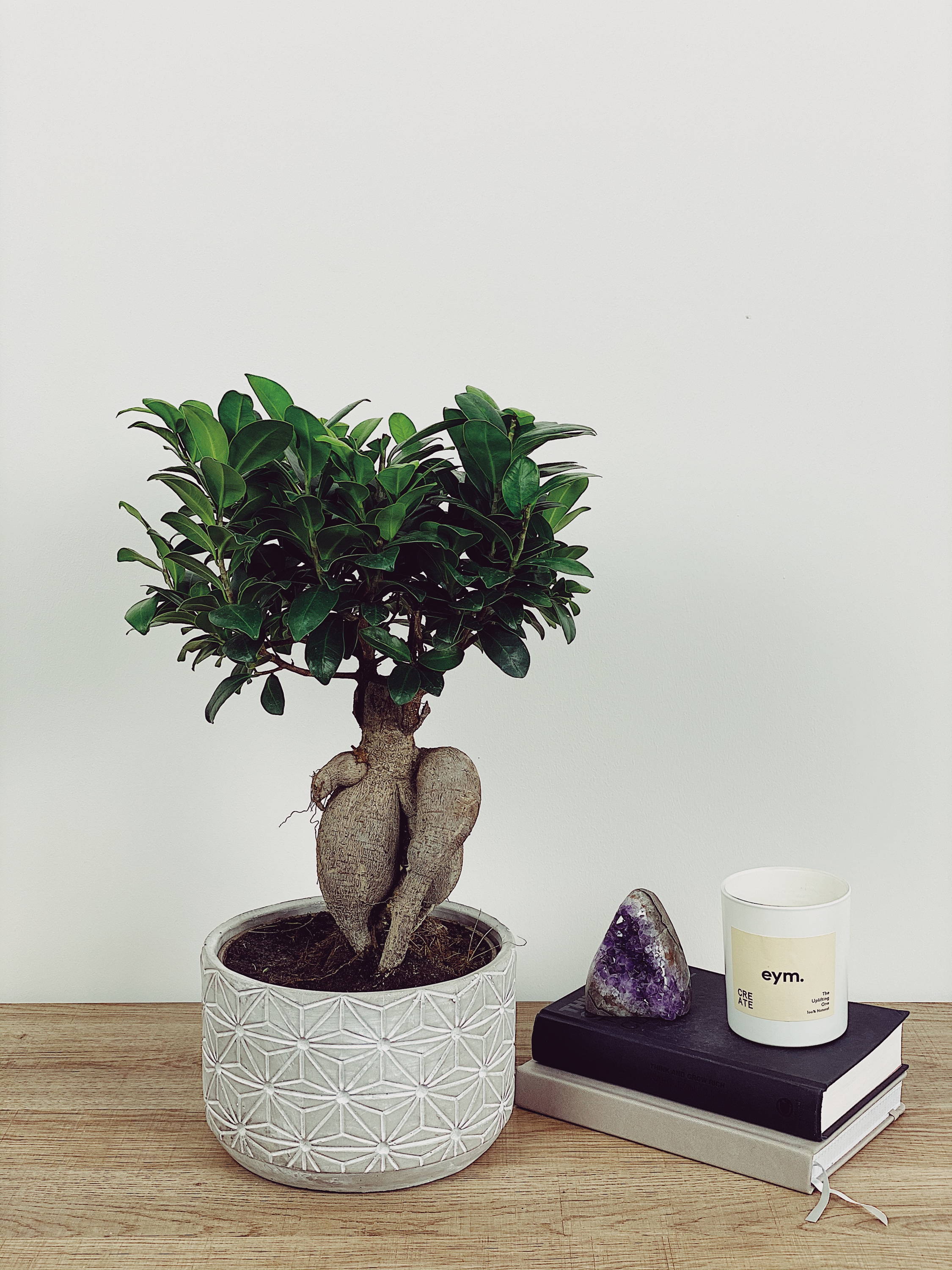 Bonsai is the centre of attention for any coffee table that's worth having! He really is the King of the coffee table. Either that or he also adds a moment of zen to living room shelves.
We use a next day delivery service with one of our trusted couriers. Please allow a little bit of packing time. During COVID and busy times this can be up to 5 days.
Your personal information and data is secure with us. This is our website platform providers bread and butter. Uncompromised safety & security.
If you have received a damaged plant or within 15 days you have any trouble after following our care guidance we will offer you a replacement.
WE PLANT 5 TREES FOR EVERY ORDER
Our goal is to plant 1 million trees by 2025 to help save our environment.