ABOUT OUR CALATHEA ORBIFOLIA
Hello, I'm Ollie the Calathea! You may have seen me around. My latin name is Calathea Orbifolia but you can call me Ollie.I am one of the favouite plants,as I have striking, large round leaves with groovy stripes, can help purify your home and I'm pet safe. No wonder people love me so much.
I'm part of the Marantaceae family which is more commonly known as the arrowroot family and we boast more than 500 different species of plant. In my native countries in South America, my leaves are used to wrap food and transport it safely. I'm better known as a prayer plant for the fact that my leaves fold up at night - just like praying hands.
The beauty of my bright leaves is undeniable. Even though I'm happiest in partial shade, my magnificent foliage will never go unmissed. If Calatheas are your thing check out my brothers and sisters Freddie, Ziggy and Kai.
Small Height (including nursery pot) 20cm; pot diameter 12cm. (Fits a 13-15cm decorative pot)
Medium Height (including nursery pot) 40-50cm; pot diameter 14cm. (Fits a 15-17cm decorative pot)
Big Height (including nursery pot) 65-75cm; pot diameter 19cm. (Fits a 20-22cm decorative pot)
The Calathea symbolises new beginnings. This comes from the expression 'turn over a new leaf' which is the movement made by Calatheas (or prayer plants) during the night time.
Ollie's captivating leaves are used for ornamental purposes. He will look great as a centerpiece on a coffee table to be admired by all.

QUICK CALATHEA ORBIFOLIA PLANT CARE
Ollie is a vibrant and attractive plant. Keep him happy and he will reward you with lots of new - and extremely pretty - leaves.

While I'll be happy in partly shady light, I grow faster in a well lit room.

I like small and regular amounts of water. In the summer, water me twice a week or whenever the first two inches of my soil is dry.

I like high humidity, so spray my foliage regularly or place me in a bathroom.

Feed me fertiliser once a month in the growth season. Use a quarter strength fertiliser as my roots can be sensitive.
The best room for the Calathea Orbifolia is a bathroom where he can enjoy the high levels of humidity.
THINGS WE ALWAYS GET ASKED
How do you care for a Calathea Orbifolia?
The best way to take care of your Calathea Orbifolia is by imitating his natural habitat. He likes high humidity, regular watering and warm indoor temperatures between 15 - 24°C. If Ollie does not receive enough humidity, you may see his leaves turning brown. Check out how to increase humidity in your home here. You will also notice brown edges to his leaves if he is watered with tap water. The harsh chemicals found in tap water can upset his root system, so filtered or rainwater is preferred.
How much light does a Calathea Orbifolia need?
The Calathea Orbifolia doesn't need a lot of light, in fact, he prefers a medium/semi shady light. If you keep Ollie in a bright, well lit room, be sure to keep him away from the windows as direct sunlight could burn his leaves. He's a fast grower and will push out new growth regularly in the growth season. His leaves can grow up to 30cm wide, while he can grow up to an impressive one metre tall.
How often should you water a Calathea Orbifolia?
In the warmer months. your Calathea Orbifolia should be watered twice a week, while once a week in the colder months is sufficient. Always check the first two inches of the soil before you water to make sure his soil isn't too moist.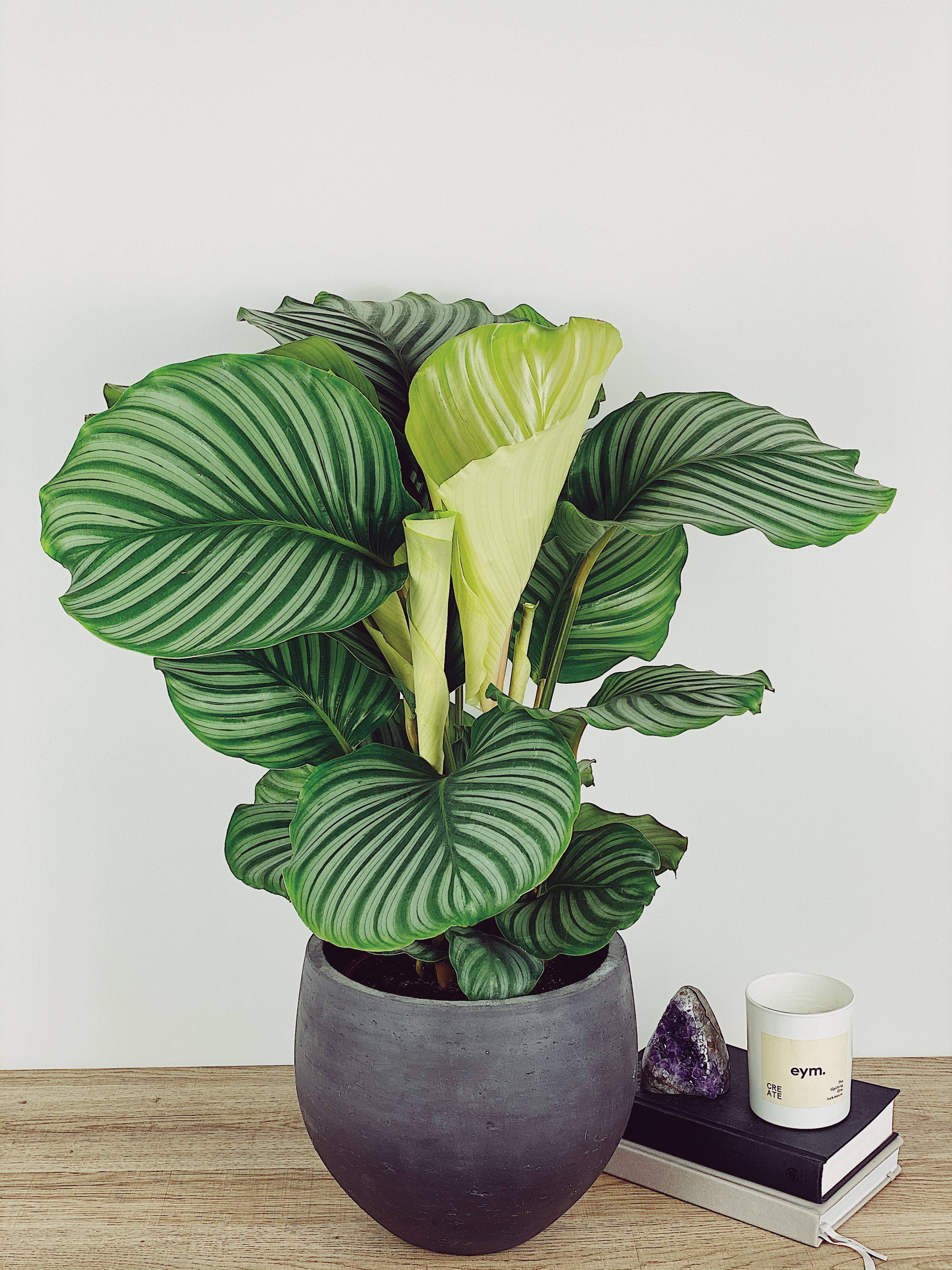 Ollie the Calathea is a great ornamental plant. His vibrant foliage can light up a partly shady bedroom. Place him in a colourful pot to enhance a bookshelf or bedside table. Alternatively, the Calathea orbifolia has tons of personality and would look good as the centre of attention on a coffee table for the entire family to enjoy. He's also safe to have around children and pets.
Pair this vibrant plant with the love crystal or ​our joy candle for a happy, healthy and positive home environment.
We use a next day delivery service with one of our trusted couriers. Please allow a little bit of packing time. During COVID and busy times this can be up to 5 days.
Your personal information and data is secure with us. This is our website platform providers bread and butter. Uncompromised safety & security.
If you have received a damaged plant or within 15 days you have any trouble after following our care guidance we will offer you a replacement.
WE PLANT 5 TREES FOR EVERY ORDER
Our goal is to plant 1 million trees by 2025 to help save our environment.