ABOUT OUR FICUS ELASTICA ROBUSTA
Hey there, I'm Eraser the Ficus Elastica. You might know me as the rubber plant, rubber tree or the Indian rubber tree. The reason I'm called a rubber tree is from the milky sap known as latex that used to be extracted from my leaves to make rubber. I have been a well loved houseplant since the 70s when I became the 'it' plant that everyone had to have. My colourful leaves are gorgeous and usually boast shades of dark green, light green and white with the occasional pink. To upkeep my patterned leaves, place me in a well lit room. I don't mind the sunshine but it's best to keep me away from any south facing windows. The direct light might be a little harsh on my lovely glossy leaves.
In the wild I can grow 30 metres tall and look very striking in the Southeast Asian rainforests. Indoors you won't find me growing taller than about a metre so don't panic! While I enjoy the sunny and hot weather I will not object to my soil drying out. My leaves will start to droop when I'm ready for some water - this could be as infrequently as once a month!
Your search is over for a beautiful, air purifying, easy care plant that will be a great addition to a sunny living room or bedroom.
Small Height (including nursery pot) 40cm; pot diameter 12cm.
Big Height (including nursery pot) 85cm; pot diameter 21cm.
The rubber tree is a super plant and can remove mould spores and bacteria in the air by up to 50%
A popular houseplant for beginners with amazing air purifying abilities.

QUICK FICUS ELASTICA PLANT CARE

One of the most popular houseplants on the market. Known for loving bright light, humidity and dry soil.

I like a well lit sunny room. Place me away from any bright windows.

I prefer my soil on the drier side and can go a few weeks without water.

I don't mind being placed in a dry room but I would prefer a humid environment.

I'm a slow grower and don't need much fertiliser. Once every 3 months in the growth season should be enough.
The corner of a well lit bedroom or living room.
THINGS WE ALWAYS GET ASKED

How do you look after a rubber plant?
The rubber plant is a great beginner plant. Allow the soil to completely dry out or wait until the leaves start to droop before you water again. Place the rubber plant in a well lit and bright room. Any direct sunlight will burn the foliage so it's best to have him at least a metre away from a south facing window.
Do rubber plants need direct sunlight?
No, the foliage will burn if placed in direct sunlight. A filtered or dappled light is preferred. The rubber plant will thrive in a well lit room. Place your rubber plant about a metre away from a south facing window.
How often do you water the rubber plant?
The rubber plant is easy going and will not get upset if its soil is left to dry out. He's a perfect plant for the forgetful waterer or the frequent traveller.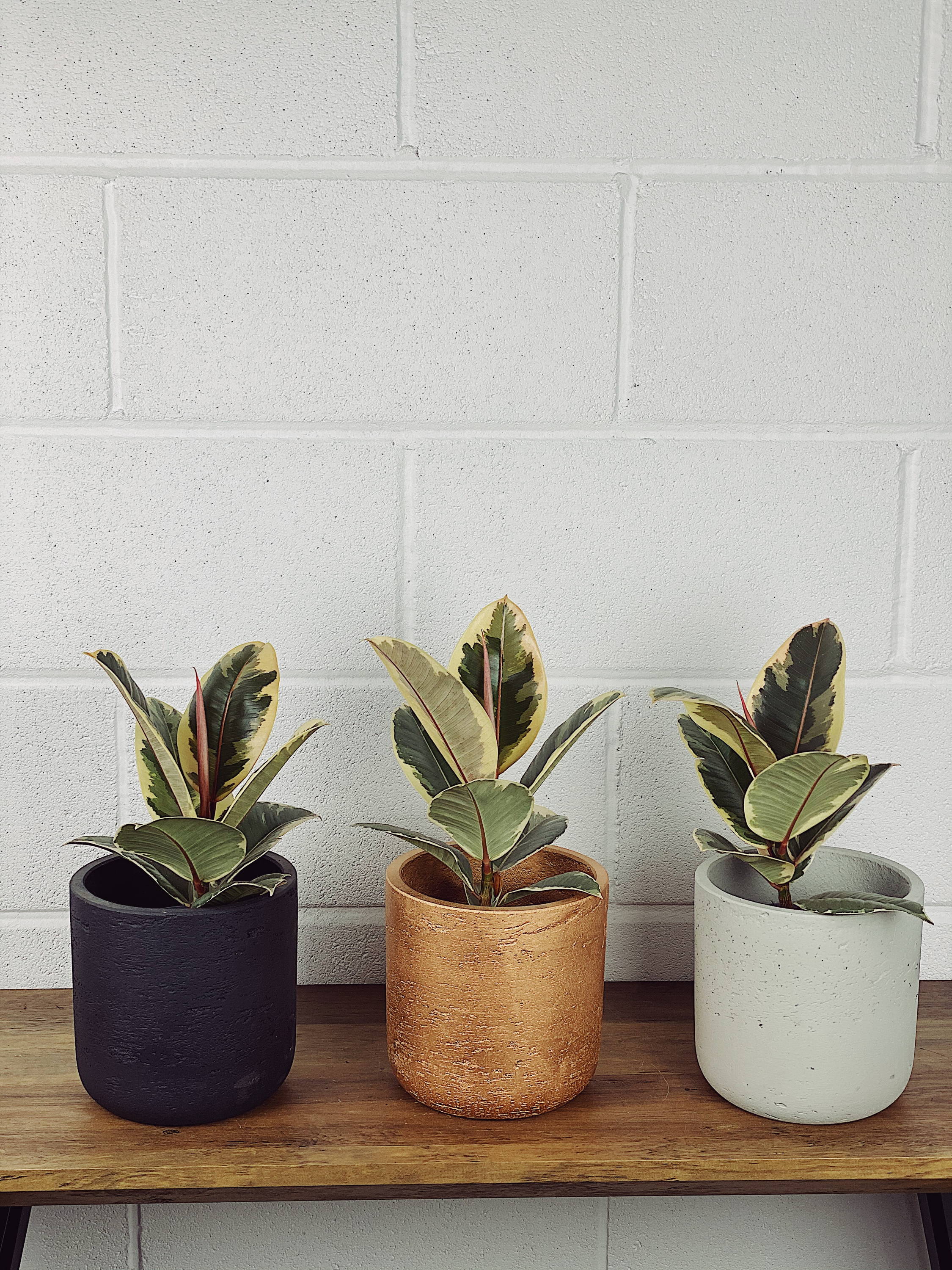 ​The rubber plant is known for bringing prosperity and positivity into the home. His glossy leaves will not go unnoticed in a corner of a well lit living room. Sophisticated never looked so good.
Use the envision crystal and Rose Quartz crystal to complement the rubber plant's lively leaves.
We use a next day delivery service with one of our trusted couriers. Please allow a little bit of packing time. During COVID and busy times this can be up to 5 days.
Your personal information and data is secure with us. This is our website platform providers bread and butter. Uncompromised safety & security.
If you have received a damaged plant or within 15 days you have any trouble after following our care guidance we will offer you a replacement.
WE PLANT 5 TREES FOR EVERY ORDER
Our goal is to plant 1 million trees by 2025 to help save our environment.