ABOUT OUR FICUS UMBELLATA
Hello, I'm Jack. I'm known as the Ficus Umbellata or giant hart leaf fig. If you're thinking that I look familiar, I'm a close relative of the Ficus lyrata or as we like to call her Fiona the fiddle leaf fig. While she might be good looking I think I have something a little more special to offer. In the plant world I'm known as a rare find and during the height of my popularity I was quite hard to get hold of. I'm one of the houseplants that is used to help enhance your sleek and stylish living room or entrance hall.
I'm natively found in Central Africa but I'm widely cultivated in Japan and Southeast Asia. I'm from a huge family of over 850 species which include Eraser the variegated rubber plant, Bonsai the ficus ginseng and Melany the rubber plant. Just like my brothers and sisters, we don't mind our soil drying out a little. The biggest reason why our leaves turn brown or our leaves drop is from overwatering. I prefer lots of bright, indirect sunlight and warm temperatures to keep me at my best. No cold, dark rooms for me, thanks.
My oval-shaped foliage is grown to bring style and class into your home or work space. I certainly have the star quality that is hard to go unnoticed.
Big Height (including nursery pot) 100-110cm; pot diameter 21cm.
The Ficus species are known in the plant world as the 'it' plants. No other houseplant species is featured more often in magazines, TV and film.
The Ficus Umbellata is bold and beautiful with a classic look that would fit any entrance hall or living room.

QUICK FICUS UMBELLATA PLANT CARE

The Ficus Umbellata loves bright light, warm temperatures, and can go a while without water.

Bright indirect light is ideal for me. Place me next to a east or west-facing window.

I like my soil to dry out a little before I get watered again. Check the soil with your finger to make sure it is dry before you water me again.

I'm not one to fuss over humidity. I won't mind higher levels of moisture in the air but it's not essential for my survival.

Use the fortifying fertiliser once every month in the growth season, which is from March to September. Avoid fertilising me in the winter months as it could cause fertiliser burn.

FAST FACTS ABOUT FICUS UMBELLATA

An ideal room would be a bright conservatory or landing.
THINGS WE ALWAYS GET ASKED

How do you care for a Ficus umbellata?

The first thing you should do after receiving your Ficus Umbellata is to find a bright spot for it to live in. A living room or landing with large windows would be ideal. It's very important to allow the plant to have access to direct sunlight especially in the summer months when the sun is at its hottest. Keep them away from draughty hallways, radiators and open windows. This plant is not drought or cold-sensitive and should be kept in a warm and draft-free spot all year round. The Ficus Umbellata is a drought-tolerant plant and can go a few weeks at a time without water in the winter months. In the summer or hotter months the Ficus Umbellata should be watered every 7-10 days provided the soil has a chance to dry out a little.
How much light does a Ficus umbellata need?
It's true they're famous for being light lovers and hate being placed in a dark spot. The ideal amount of light for your Ficus Umbellata is between 5-8 hours of natural daylight a day. It's important to keep the Ficus Umbellata out of direct sunlight as this will burn the leaves.
Yes, the Ficus umbellata is an extremely well-known houseplant in Japanese homes and can be hard to source due to its popularity. The Ficus species has been cultivated for its sleek design that every indoor decor-lover wants in their home.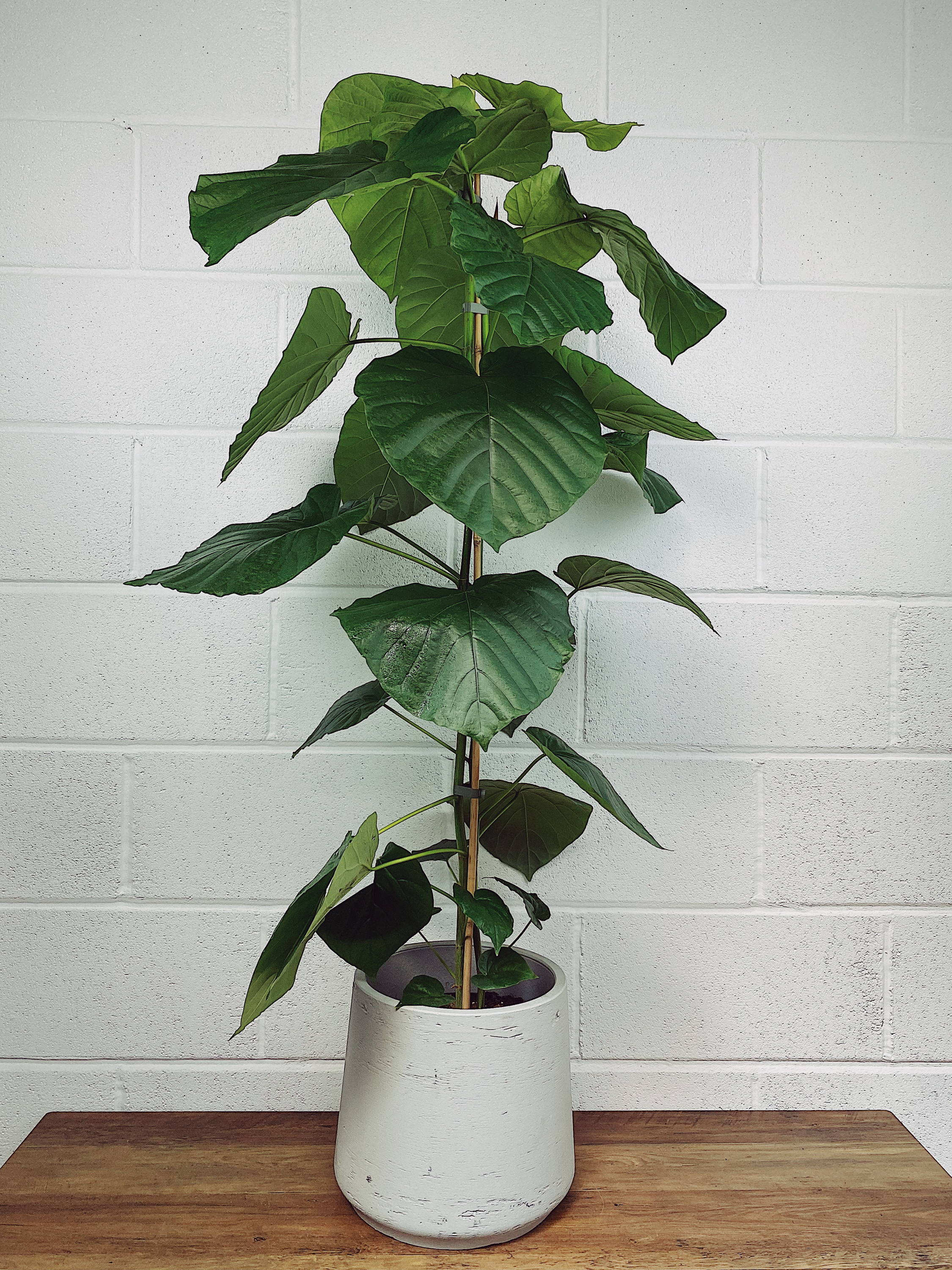 ​The Ficus Umbellata is a statement plant used as a bold design piece. Provided there is enough natural light, the Ficus Umbellata can be placed in the corner of a living room or in an entrance hall. Keep the Ficus Umbellata away from any pets or young children because its foliage is poisonous if ingested.
Pair the Ficus Umbellata with the striking Amethyst crystal and our incredible dragon stone crystal for removing negative energies within your living space.
We use a next day delivery service with one of our trusted couriers. Please allow a little bit of packing time. During COVID and busy times this can be up to 5 days.
Your personal information and data is secure with us. This is our website platform providers bread and butter. Uncompromised safety & security.
If you have received a damaged plant or within 15 days you have any trouble after following our care guidance we will offer you a replacement.
WE PLANT 5 TREES FOR EVERY ORDER
Our goal is to plant 1 million trees by 2025 to help save our environment.