Hello! My name's Lily. My latin name is quite a mouthful - the Spathiphyllum vivaldi if you're interested - so most people call me the peace lily or white sails plant. I'm prized for my delicately beautiful white flowers, which, unusually, bloom all year round. While I might be a common houseplant, no other is quite as stylish as me, and I've been admired and loved as an indoor plant for over 50 years.
These days I'm found all over the world but I was originally discovered by Gustav Wallis in the tropical Columbian rainforests. I was brought to Europe in the 1820s and then later to the UK in the 1870s and I'm part of the Arum genus of flowering plants - a family of over 4,000 species. I've got one hell of a lot of brothers and sisters.
Use my tropical foliage and striking white flowers to decorate your home or give me to a friend who's a budding plant parent. My white flowers will be sure to spark joy and happiness in equal measures.  
Baby height (including nursery pot) 35cm; pot diameter 9cm.
Small height (including nursery pot) 60cm; pot diameter 15cm.
Medium height (including nursery pot) 75cm; pot diameter 17cm.
The peace lily takes its name from its big white flowers, which symbolise the white flag of surrender.
Lily is an elegant and sophisticated plant and her striking white flowers deserve to become a focal point in your home.

QUICK PEACE LILY PLANT CARE

Lily prefers warm temperatures and higher humidity. Give her the correct care and she will bloom continually.

I can tolerate lower lighting but I'm more likely to bloom in medium light.

I'm a big drinker and like my soil to stay moist at all times.

I like high levels of humidity. Place me in a bathroom or near a humidifier.

Fertilise me once every four weeks in the spring and summer months. Do not fertilise me in the winter.
A humid bathroom to avoid any crisp leaves or in your bedroom to help purify the air.
THINGS WE ALWAYS GET ASKED

How do you care for a peace lily indoors?
Caring for a peace lily is easy providing she is placed in the right environment. Avoid direct sunlight at all costs: any bright light will cause her leaves to yellow. That said, it's perfectly normal for some of her lower leaves to turn yellow. These can be pruned to encourage healthy new leaf growth.
Her beautiful white flowers are more likely to bloom if she's given a houseplant fertiliser in the spring and summer months and placed in a well lit room. That said, don't be alarmed if Lily doesn't bloom for many months; this doesn't mean there's anything wrong, she's just biding her time.
Where should I place a peace lily in my house?
The best place for Lily is the bathroom. She needs high levels of humidity and warm temperatures to thrive. As peace lilies are known for their air purifying abilities, they can also be placed in the bedroom for cleaner air while you sleep. It's best if she's kept with a group of other plants or near a humidifier, as this will keep her leaves moist.
What is a peace lily good for?
Lily's biggest strength is her striking form, so be sure to place her on top of a dressing table or shelf where she can be best admired.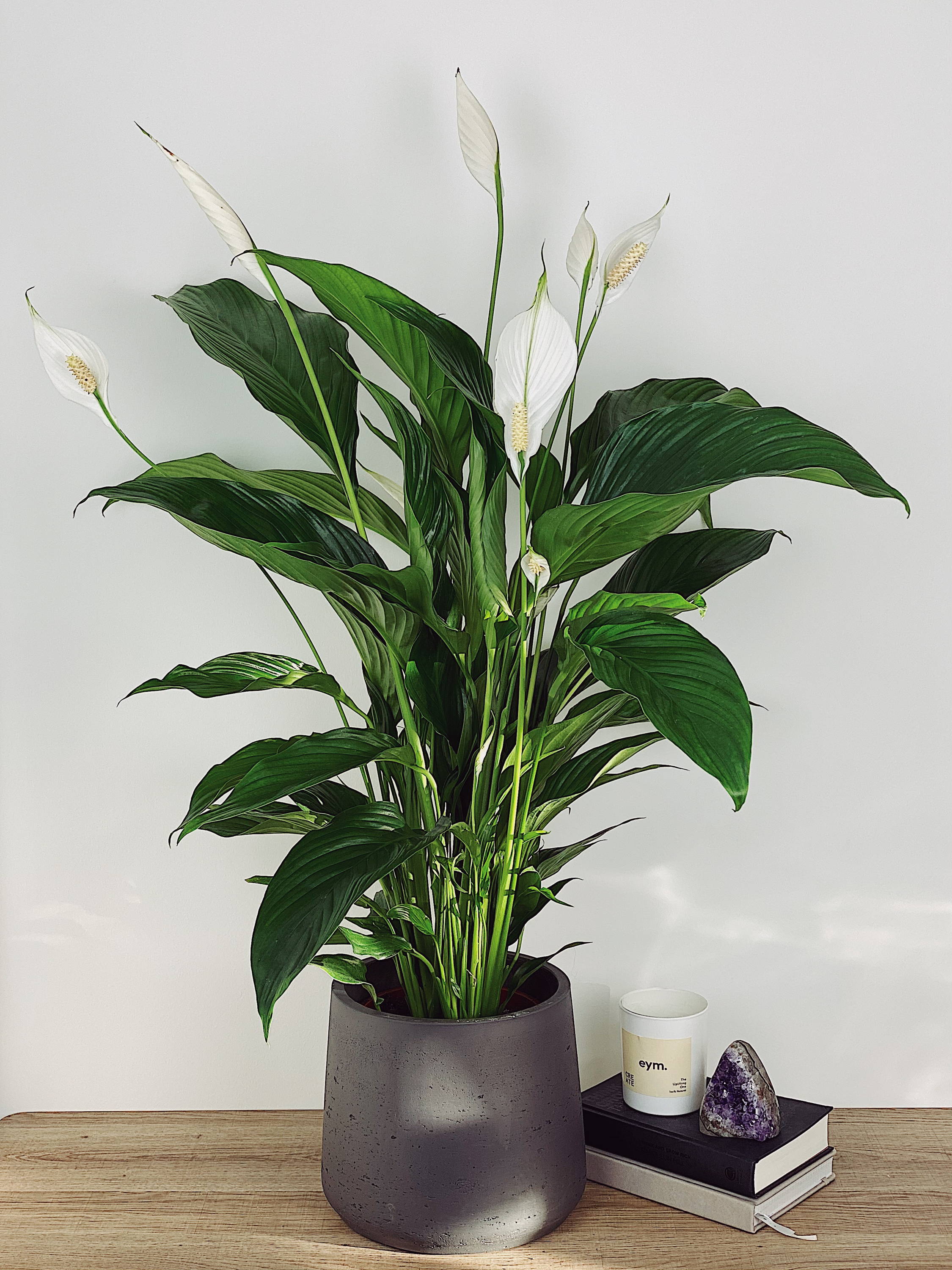 ​Lily has been used to style homes for many years. Place her in a white ceramic pot to match her flowers and set her against a bold coloured wall to make them pop.
Pair this elegant plant with a grounding candle and reflect crystal for the complete relaxation package.
We use a next day delivery service with one of our trusted couriers. Please allow a little bit of packing time. During COVID and busy times this can be up to 5 days.
Your personal information and data is secure with us. This is our website platform providers bread and butter. Uncompromised safety & security.
If you have received a damaged plant or within 15 days you have any trouble after following our care guidance we will offer you a replacement.
WE PLANT 5 TREES FOR EVERY ORDER
Our goal is to plant 1 million trees by 2025 to help save our environment.