Hey there, I'm Ghost the Epipremnum Aureum 'happy Leaf' or more commonly known as the Manjula Pothos. The best part about me is that each leaf I unfurl is different from the last making me truly unique. My speckled and striped foliage is unlike any other houseplant on the market. Much like my pothos siblings, I'm one of the easiest plants to care for and make a terrific gift for a houseplant beginner.
I'm native to the beautiful islands of the South Pacific but nowadays I can be found in the Caribbean and subtropical Asia. I really love a humid environment and you may notice the tips of my leaves turning brown if the air around my foliage is too dry. I'm not the type of plant that will fuss over her lighting conditions. I will tolerate any kind of lighting as long as there is some natural light in my space. In the winter months I'm extremely drought tolerant and can go without a drink for many weeks. You'll notice my foliage drooping a little when it's time to water me.
I'm an adaptable and low-maintenance plant. Place me on a windowsill or book shelf and let my colours of green brighten up your space.
Small Height (including nursery pot) 15-20cm; pot diameter 12cm.
The Manjula pothos occasionally produces solid white leaves. They won't be around for long due to their inability to produce chlorophyll. Enjoy them while you can!
The Manjula pothos is a special plant that can produce spotted and striped variegation.

QUICK MANJULA POTHOS PLANT CARE

The Manjula pothos is the ideal plant for beginners with its easy-growing foliage and hardy nature.

I can grow in all types of lighting. Keep me in a room with some natural light and never expose my leaves to direct sunlight.

I'm fairly drought-tolerant and can cope without a drink for a few weeks at a time. Make sure the first two inches of my soil is dry before you water me again.

I prefer a humid environment. Keep me in a humid room or group me with other houseplants to increase humidity levels. Find out how you can increase humidity here.

Use our fortifying fertiliser once a month during March-September. Do not fertilise me in the winter months.

FAST FACTS ABOUT MANJULA POTHOS

The Manjula pothos is perfectly suited to the bedroom for its air purifying qualities.
THINGS WE ALWAYS GET ASKED

How do you care for the Manjula pothos?
The Manjula pothos is easy to care for. Place the pothos in a warm room between 18ºC-24ºC with plenty of natural light. The Manjula pothos is the perfect plant companion if your home is a little on the darker side - although you'll see more growth-spurts if you place him on a window to catch some light. Allow the soil to dry out in between waterings. You may notice some lower yellow leaves if the Manjula pothos gets too much water.
Is the Manjula pothos easy to grow?
The Manjula is an incredibly easy-care and fast-growing plant. Ghost will unfurl plenty of new growth between the months of March-September and should be given our fortifying fertiliser once a month to help promote new growth.
Is the Manjula pothos poisonous?

The pothos species is toxic if ingested and should be kept away from curious pets and young children. Place the Manjula pothos on a dresser or display it on a high shelf or windowsill and you'll have bright trailing foliage in no time.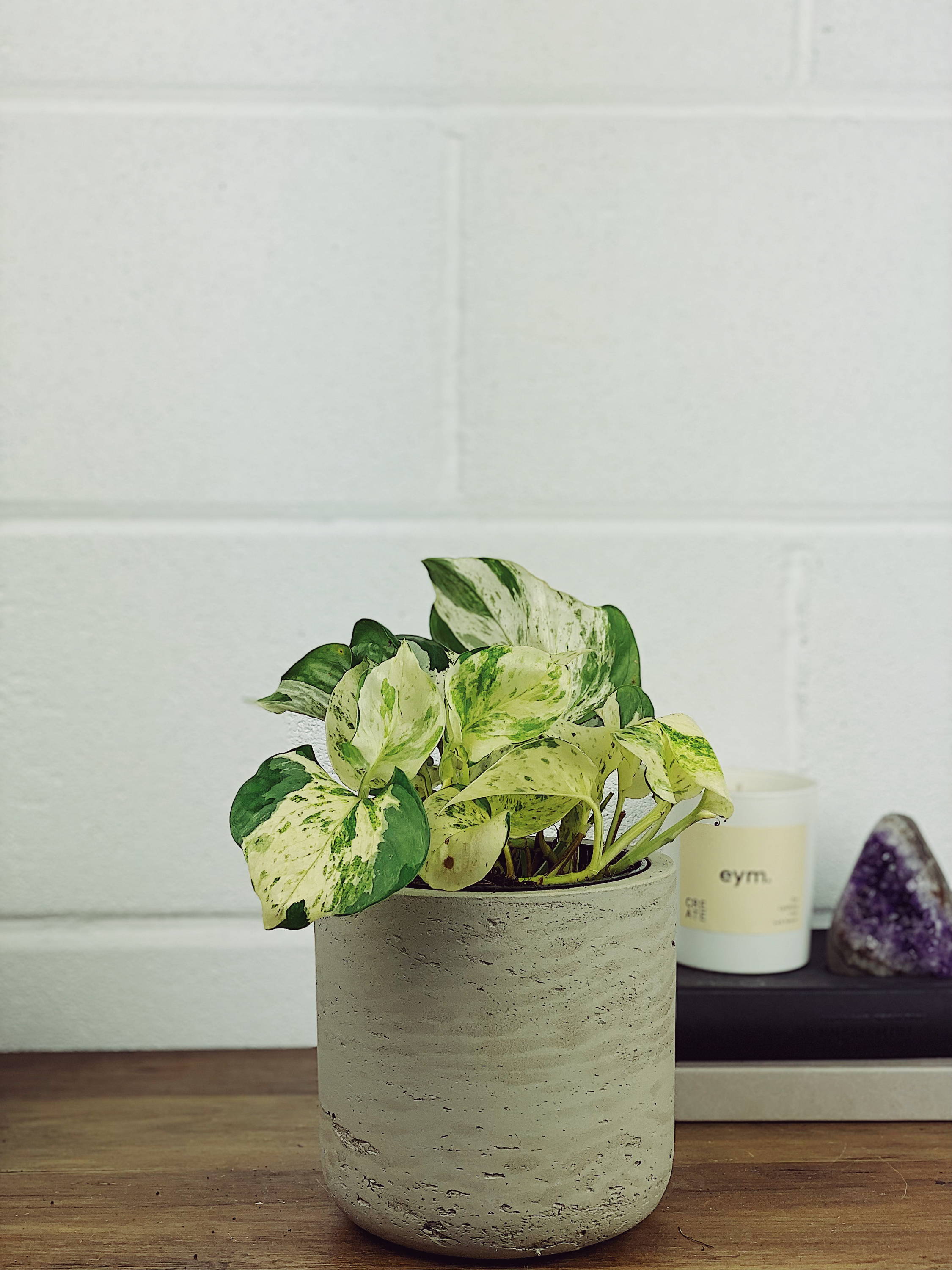 ​The Manjula pothos speaks for itself. Ghost's beautiful foliage is sure to brighten up any room. Style the Manjula pothos on a coffee table or use her foliage on a dresser in your bedroom. Pair the Manjula pothos with Finn the whale finn and Charlotte the white fusion Calathea for some more white variegated foliage.
Pair Ghost the pothos with some splashes of white with the power and healing crystal. The Majula pothos deserves to be matched with any stylish decor available.
We use a next day delivery service with one of our trusted couriers. Please allow a little bit of packing time. During COVID and busy times this can be up to 5 days.
Your personal information and data is secure with us. This is our website platform providers bread and butter. Uncompromised safety & security.
If you have received a damaged plant or within 15 days you have any trouble after following our care guidance we will offer you a replacement.
WE PLANT 5 TREES FOR EVERY ORDER
Our goal is to plant 1 million trees by 2025 to help save our environment.