ABOUT OUR MARANTA LEUCONEURA
Hey, I'm Margot the Maranta. Most people know me as the red Maranta or prayer plant but you can call me Margot. I'm one of those plants that can be spotted from a mile away because of my striking foliage. There aren't many plants like me out there, I'm truly one a kind.
I'm native to Brazil where I can be found in the tropical rainforests. I much prefer filtered or medium light. It might surprise you to know that even though I'm from a sunny climate I actually prefer medium light and can survive in darker rooms. In fact, I'm a popular indoor winter plant because my bright colours are very uplifting and I can cope with less bright light. I like warm and humid temperatures so place me in a room warmer than 18°C. To raise humidity levels you can place me next to a humidifier or use a pebble tray underneath my pot.  
My bright colours prove how beautiful nature can be and I have no doubt I will brighten your mood and wash away those winter blues.
Small Height (including nursery pot) 30cm; pot diameter 12cm. (Fits a 13-15cm Pot)
A prayer plant's leaves move throughout the day to follow sunlight. This causes the leaves to open during the day, and stand upright at night.
Be sure to put Margot in a prime spot so she can show off her beautiful foliage.
Margot will reward with lots of healthy foliage providing she is kept out of bright light.

I prefer a medium light as any bright light will burn my leaves.

Keep my soil consistently moist and never leave me sitting in excess water.

I need high levels of humidity to thrive. Use a humidifier nearby or place me in a bathroom.

Use a diluted fertiliser once a month in the spring and summer months. Do not fertilise in the winter months.
The best room is a living room with dappled or filtered light.
THINGS WE ALWAYS GET ASKED

How do you care for a prayer plant?
The prayer plant likes warm temperatures, high humidity and frequent watering. Keep her soil moist but not soggy, if you let her soil dry out for a long period of time she will start to droop and curl her leaves. If you notice any brown or crispy leaves this will be from lack of humidity or a bad reaction to tap water. Her root system can be quite sensitive to the harsh chemicals found in tap water so filtered or rain water is preferred.
Where should I put my prayer plant?
To avoid Margot's spectacular foliage from fading or burning she should be placed at least a metre away from any bright window. Being native to the Brazilian rainforests she is used to dappled or filtered light. Margot is non-toxic if ingested and can be placed in a room with pets and small children.
How often should you water the prayer plant?

Margot is a tropical plant and prefers her soil to stay moist. Every week check her soil and if the first few inches of soil feel dry then it's time to water. If her soil dries out too much you will notice the leaves begin to curl and droop.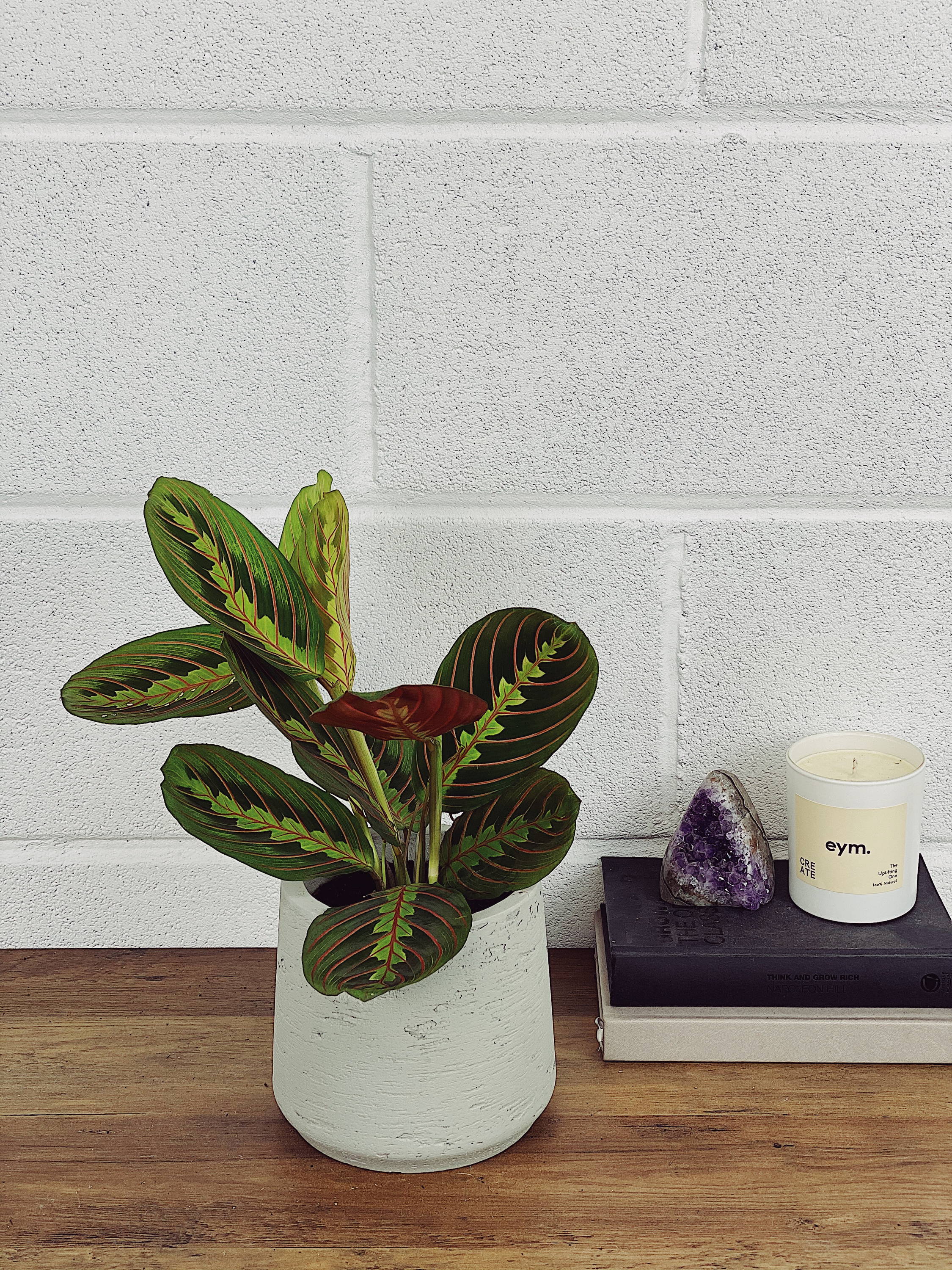 ​Let Margot's exotic foliage transport your living room into indoor jungle bliss. Providing she is out of direct sunlight, decorate your coffee table, bookcase or mantelpiece with her tropical leaves.
Pair Margot's tropical leaves with the reflection crystal and the meditative candle for those cosy nights in.
We use a next day delivery service with one of our trusted couriers. Please allow a little bit of packing time. During COVID and busy times this can be up to 5 days.
Your personal information and data is secure with us. This is our website platform providers bread and butter. Uncompromised safety & security.
If you have received a damaged plant or within 15 days you have any trouble after following our care guidance we will offer you a replacement.
WE PLANT 5 TREES FOR EVERY ORDER
Our goal is to plant 1 million trees by 2025 to help save our environment.