ABOUT OUR ALOE BARBADENSIS MILLER
Aloe, I'm Alex. I'm the Aloe vera plant. I'm a sun loving, air-purifying and low maintenance houseplant. My thick leaves can store plenty of water so don't worry if you haven't got time to water me, I'll thrive with a little neglect. I give off that exotic look that can be used to decorate a windowsill or a bright kitchen. Keeping me in the kitchen is ideal for any nasty unexpected cooking burns. You can snip my leaves off and allow my soothing gel to get to work. I'm not just a pretty face.
Myself and the other 400 species of Aloe Vera are usually grown in the hottest parts of the world. You can find us in North Africa and Southern Europe but days we are so popular you can find us growing in any hot climate. Even though I'm part of the succulent family, I don't need direct sunlight to thrive (I do prefer it though). If you want to place me by your north facing window then be sure to reduce how often you water me as I won't need nearly as much to drink.
I'm adored all over the world for my exotic beauty and medical benefits. Your kitchen isn't complete without my lovely spikes. I'm always on the lookout for more friends! Use Sasha and Jade to style me in a sunny kitchen or living room.
Small Height (including nursery pot) 25cm; pot diameter 10cm. (Fits a 12-13cm pot)
Aloe vera gel can be rubbed on the skin to help soothe any pain or irritation from burns. It can also repair your skin from UV damage and help reduce the look of wrinkles.
Aloe Vera is exotic and low maintenance. All you'll need is a sunny room to keep him happy.

QUICK ALOE VERA PLANT CARE

The Aloe vera plant isn't one to fuss over care and can be left to his own devices. Less is more with Aloe.

 I adore the sunshine and should be placed on the windowsill of a south facing window or in a brightly lit kitchen.

I can go many weeks without water. My large leaves can hold water for many weeks. Once every 4-6 weeks is enough to keep me happy.

I'm not one to fuss over humidity. You don't need to place me near a humidifier.

I don't need fertilising very often. If you fertilise me only use a diluted fertiliser once every growth season.
A kitchen to assist with any unexpected burns.
Yes, Alex is one the best air-purifying plants on the market.
THINGS WE ALWAYS GET ASKED

How do you care for an Aloe vera plant?
The Aloe vera plant is a wonderful air-purifying and no-fuss houseplant. He loves the sunshine and would thrive in a room with plenty of bright light. Just like Zoe the zz plant and Ian the cast iron plant, Alex will thrive on neglect. He is a drought tolerant plant and will bounce back if left without water for many months. He prefers dry soil and will forgive the forgetful waterer. Alex can adapt to his surroundings and will be happy in a well lit room with temperatures ranging from 15-30°C. Although Alex is a exotic houseplant, he does not require high levels of humidity and will not need to be placed near a humidifier.
Is Aloe vera a good houseplant?

Yes Aloe vera is an ideal beginner plant and is really easy to look after. Aloe vera plants are a must have houseplant for the kitchen as the gel within their leaves can soothe and ease the pain of unexpected cooking burns. The gel is commonly used in face masks for a cooling and refreshing feel. The Aloe vera plant was announced by NASA as one of the best air-purifying house plants along with Sammy, Lily and Bonnie.
Where should I put the Aloe Vera plant in my house?
The best place for the Aloe vera plant is on a windowsill in a south facing kitchen. Alex is perfect for any unexpected kitchen burns. You can snip off the tips of his leaves and use his soothing gel to help reduce the irritation from any burns. The Aloe plant will tolerate a kitchen with less light. Direct sunlight is not required for Alex's survival.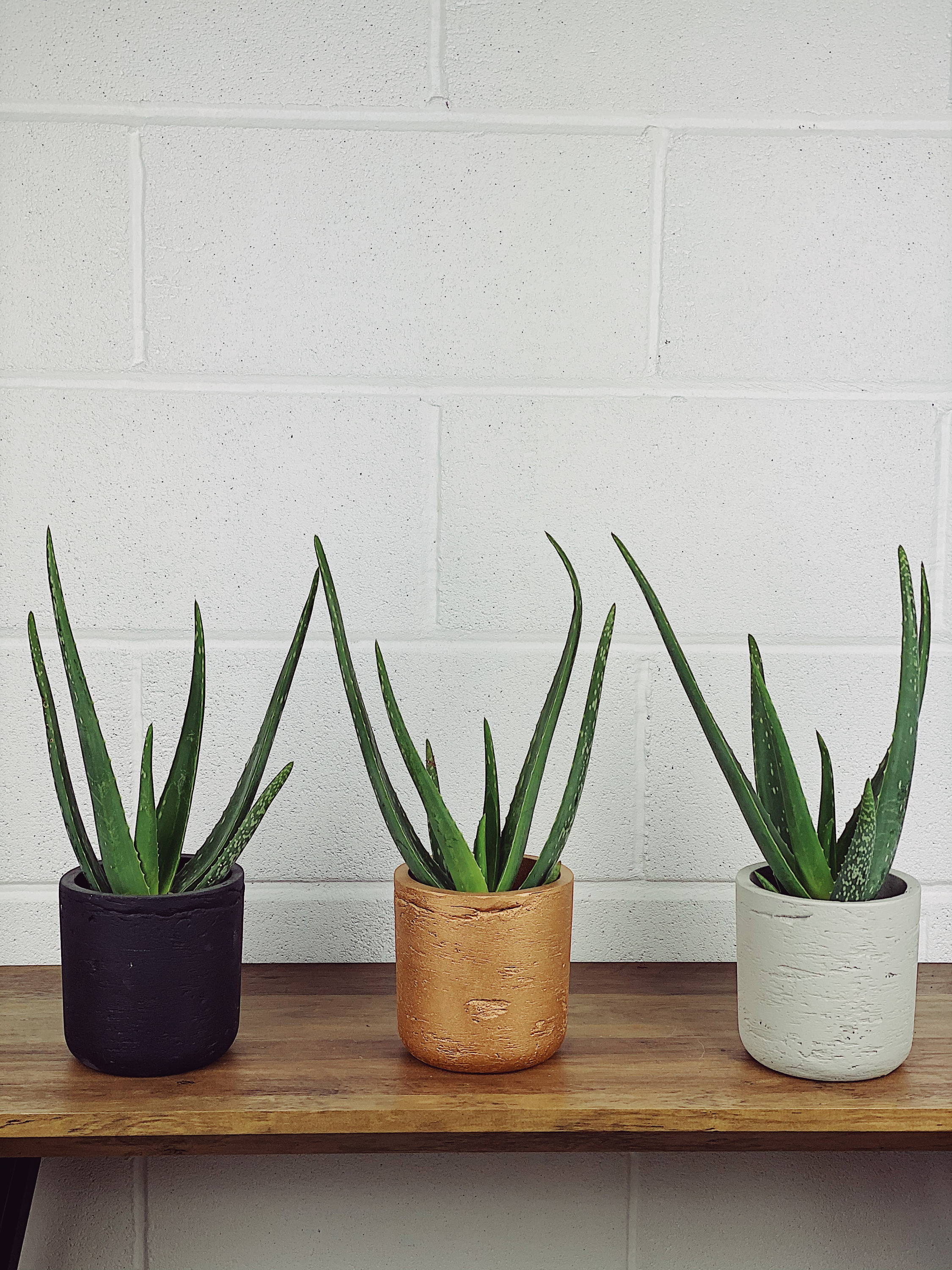 ​Style Alex in a sunny room and let his exotic charm captivate you. Decorating your kitchen with greenery couldn't be easier. Take a look at our citrus trees for another splash of green in the kitchen
Use our colourful joy crystal in your kitchen and an extra boost of positivity in the heart of the home.
We use a next day delivery service with one of our trusted couriers. Please allow a little bit of packing time. During COVID and busy times this can be up to 5 days.
Your personal information and data is secure with us. This is our website platform providers bread and butter. Uncompromised safety & security.
If you have received a damaged plant or within 15 days you have any trouble after following our care guidance we will offer you a replacement.
WE PLANT 5 TREES FOR EVERY ORDER
Our goal is to plant 1 million trees by 2025 to help save our environment.