ABOUT OUR PACHIRA AQUATICA
Hi, I'm Paddy the Pachira aquatica or Guiana chestnut. You probably know me as the money tree, which is easier to pronounce - although I'm sure you've been told time and time again that money doesn't grow on trees. While that's probably still true, I am known to give luck and prosperity to all around me, which is why people tend to place me on their office desks. Got a friend who's a bit down on luck? I'd make an enthralling gift, especially if one of my stems has seven leaves - this is supposed to be rare and especially lucky.
I'm found in swamps in South and Central America, where the air is humid and the soil is damp. Nowadays I'm cultivated all over the world. I can be relied upon to thrive in any place with warm temperatures and no direct sunlight, making me a perfect easy care houseplant.
I'm just compact enough to fit on any side table or desk, where my glossy leaves and intriguing, braided stems will attract your attention.
Small height (including nursery pot) 40cm; pot diameter 12cm.
Big height (including nursery pot) 85cm; pot diameter 19cm.
Tales abound about the discovery of the money tree, although the most popular tells of a poor man who prayed for prosperity. As luck would have it, he found the money tree on his land and made a small fortune selling plants grown from its seeds.
Paddy has an easy nature and is associated with good financial fortune, both of which make him a popular office plant.

QUICK MONEY TREE PLANT CARE

An easy indoor plant to grow providing he's kept out of direct sunlight and never sits in excess water.

I prefer bright light but keep me out of direct sunlight.

I like my soil to dry out before you water me again. Always feel the first few centimetres of my soil to make sure it's bone dry. If you notice my leaves start curling, you're not giving me enough water.

I prefer higher levels of humidity but I won't complain in normal household humidity levels.

Fertilise me once every two weeks in the months from March to September with a diluted fertiliser. Do not fertilise me in the winter months.
The office or study to bring good luck and prosperity.
THINGS WE ALWAYS GET ASKED

How do you take care of a Pachira aquatica money tree?
The money tree is easy to care of, although Paddy does require lots of bright light, warm temperatures and slightly higher levels of humidity. Allow his soil to dry out in between each watering to avoid root rot and, if you notice his leaves start turning yellow, there's a strong change you've been giving him too much water. If possible, keep Paddy away from any open windows or drafts as these can cause his foliage to drop.
Why is Pachira aquatica called a money tree?
There are many old traditions originating from Japan, China and Taiwan that say the Pachira Aquatica will help bring business fortune, good luck and prosperity. The money tree has been used for good luck for over hundreds of years in South East Asia and was brought to England in the 1880s with the same hope of fortune.
Where should you place a money tree?
The best plant for your money tree is an office, study or your work-from-home desk, providing there is enough bright light and warm temperatures. The money plant needs good lighting to survive and temperatures of at least 10°C.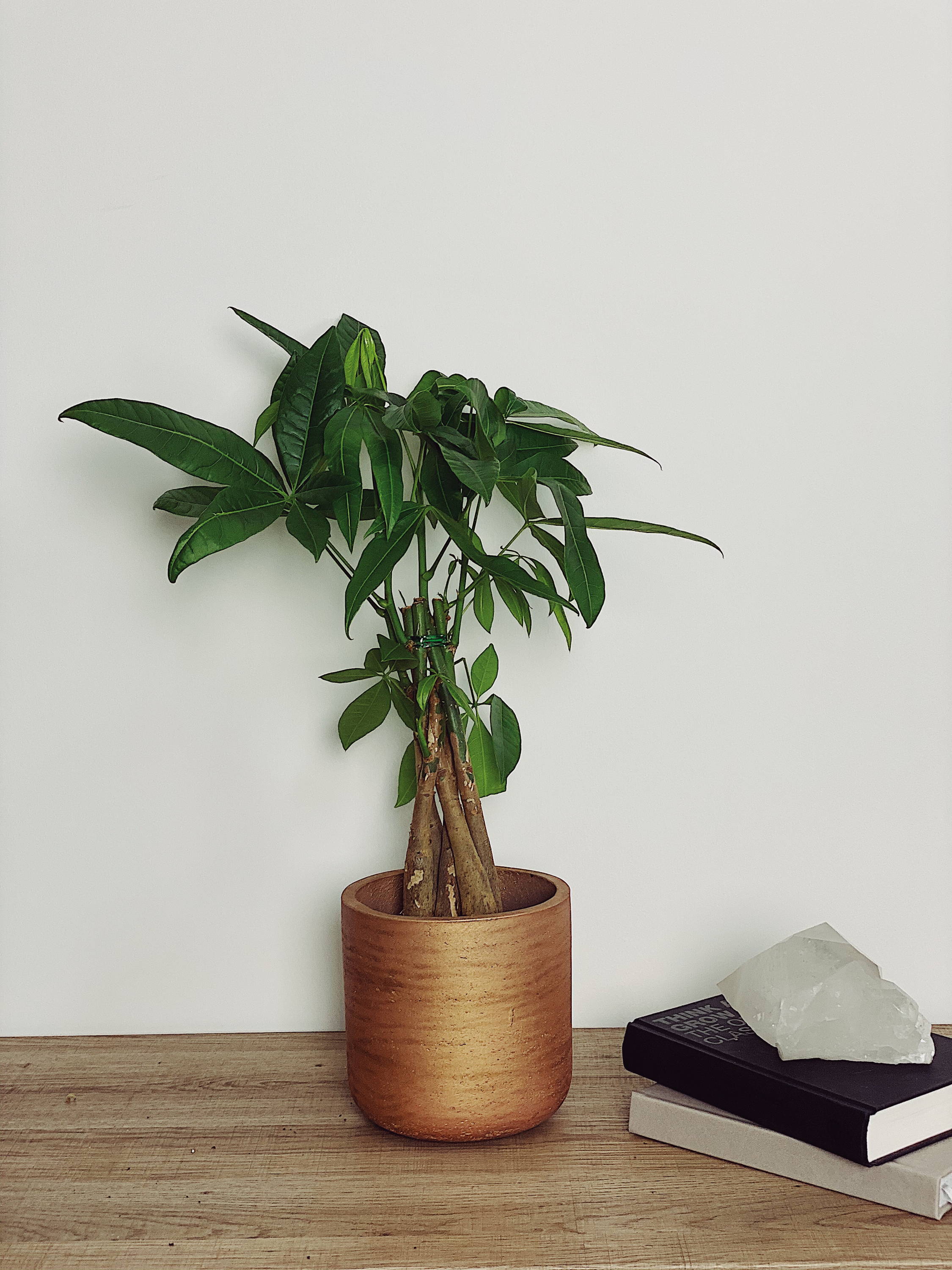 Paddy is just the right size to placed on a desk or side table. Use his elegant foliage to decorate your WFH space or place him on a windowsill or bay window in your study. His foliage will not only bring some nature and style into your workspace but also good luck and positivity for a successful work day.
Pair this lucky plant with some good vibes with the knowledge crystal or energising crystal for a productive work day.
We use a next day delivery service with one of our trusted couriers. Please allow a little bit of packing time. During COVID and busy times this can be up to 5 days.
Your personal information and data is secure with us. This is our website platform providers bread and butter. Uncompromised safety & security.
If you have received a damaged plant or within 15 days you have any trouble after following our care guidance we will offer you a replacement.
WE PLANT 5 TREES FOR EVERY ORDER
Our goal is to plant 1 million trees by 2025 to help save our environment.