ABOUT OUR ALOCASIA PORTODORA
Hey there, I'm Pete. I'm the Alocasia Portodora. Due to my elephant-shaped leaves I've been nicknamed the elephant ear plant. My large and striking foliage is really something to admire. I really think I'm the perfect size for the corner of a sunny room. My breathtaking leaves are a little hardier than some of the other Alocasia species. I can take a little more sunlight and can be placed near a window that receives early morning or late afternoon sunlight.
In all, my family has 79 species with their own individual look. I'm found in parts of Southeast Asia where I thrive in the warm temperatures and high humidity. Nowadays we're grown all over the world due to our ever growing popularity. When placing me in your home think about any possible cold drafts or radiators that could upset my vibrant foliage. If exposed to any excessive heat or cold I will start shedding some of my leaves from stress. Replicating my natural habitat is a guaranteed way for you to enjoy my beautiful new growth.
I look like I've come straight off the plane from a tropical paradise. I've got jungle written all over me and will make the ideal addition to a sunny living room.
Small Height (including nursery pot) 40cm; pot diameter 14cm.
The Alocasia species has a very high leaf turnover so you might notice many leaves dying off just so new ones can form.
Pete is a true statement plant. Place him in the corner of your living room for a real jungle feel.

QUICK ALOCASIA PORTODORA PLANT CARE

Pete will love a sunny spot with high humidity.

 I don't mind morning or evening sun but I can't handle any full sun.

I prefer moist soil. I'm not drought tolerant and need regular watering.

I need high humidity to survive. Place me near a humidifier.

Only fertilise me when I'm actively growing. This will usually be from March-September.
Close to a large window with morning or evening sun.
THINGS WE ALWAYS GET ASKED

How do you take care of an Alocasia Portodora?
Pete might take a few weeks to get adjusted to his new home but once he is settled he will be a very rewarding plant. It's very normal for him to drop a few lower leaves in the beginning, so don't panic if this happens.This plant is a true lover of the sun and humidity. The best place for Pete is nearby a window that receives morning or evening sun only. He will also thrive near a humidifier where he can enjoy higher levels of moisture. If placed in a draughty hallway or near a radiator Pete might shed a few of his lower leaves due to stress. He isn't draft or cold tolerant and will prefer to be placed in a warmer spot.
Alocasias do prefer a sunnier spot but must never be placed in direct sunlight. Morning or evening sun is okay in the winter but should be avoided in the summer months. All plants need some natural light to survive and Alocasias will grow faster and push out more growth in a well lit room.
Do Alocasias like to be misted?

Alocaisas need very high humidity to thrive otherwise you might notice the leaves turning brown. Misting alone will not increase the humidity levels enough so a humidifier is preferred. In some cases misting your plants can lead to mould on its leaves.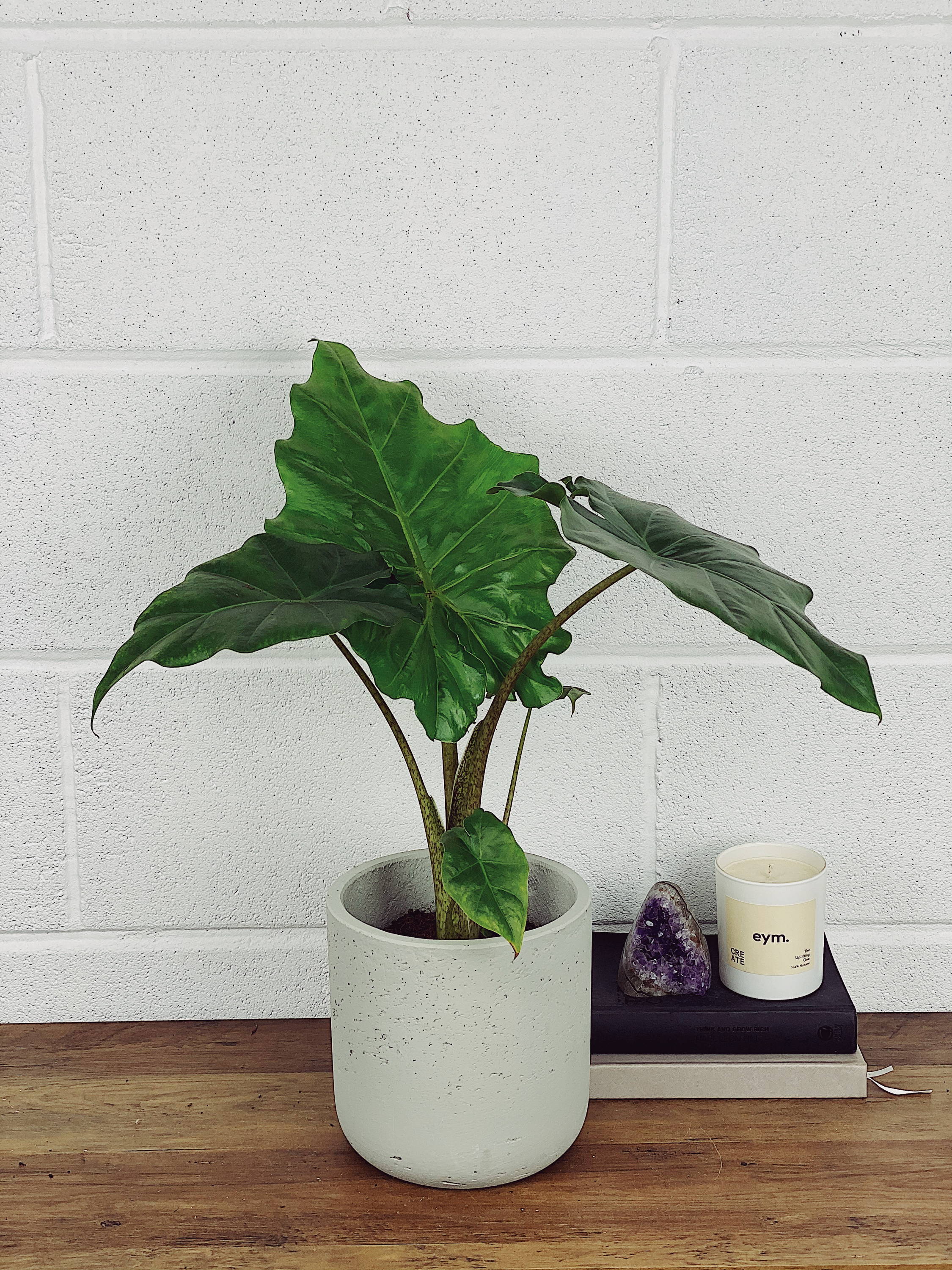 Pete's large leaves are a statement. He has the type of foliage that will draw you in from the other side of the room. It will be impossible for this guy to go unnoticed and should be styled in an urban grey coloured pot by a sunny window for a light and airy feel.
Use the Guard crystals and protection crystals to keep this gorgeous plant safe from any pests.
We use a next day delivery service with one of our trusted couriers. Please allow a little bit of packing time. During COVID and busy times this can be up to 5 days.
Your personal information and data is secure with us. This is our website platform providers bread and butter. Uncompromised safety & security.
If you have received a damaged plant or within 15 days you have any trouble after following our care guidance we will offer you a replacement.
WE PLANT 5 TREES FOR EVERY ORDER
Our goal is to plant 1 million trees by 2025 to help save our environment.