ABOUT OUR POLYSCIAS FABIAN
Hey there, I'm Lucian the Polyscias Fabian. I also go by Aralia Fabian but I think we're going to be good friends so please call me Lucian. My small and compact size is ideal for making sure every nook of your home is covered with vibrant greenery. With a stunning thick trunk I'm hardly your average houseplant. If you look closely you'll see that every leaf I produce has its own patterns, shades and colour.
In my natural habitat you can find me in Polynesia. Here, with my other 80 species we love the sunny and warm environment the pacific islands can provide. When it comes to my care I'm not particularly picky but I do prefer a humid environment. High levels of humidity will help keep my foliage fresh, glossy and crisp free. If you need any further tips on increasing humidity in your home, you can find more information here. Make sure you keep me in a room that is at least 20ºC otherwise you may notice my lovely foliage start to curl.
I'm the type of iconic plant that would look sleek and stylish as a centerpiece for your dining room table.
Big Height (including nursery pot) 80-90cm; pot diameter 21cm.
The Polyscias fabian can grow up to 6 metres in the wild!
The Polyscias fabian's sleek style and hardy nature is the perfect combination for a houseplant newbie.

QUICK POLYSCIAS FABIAN PLANT CARE

The Polycasia fabian is a very attractive and easy care houseplant that needs high humidity and a sunny room.

I should be placed near a west or east-facing window. Just no direct sunlight please.

Check my soil weekly and only water me when the first few inches of the soil is dry.

I need to be placed in a humid room or nearby a humidifier. Find out how you can increase humidity here.

You can fertilise me every 3-4 weeks in the growing season with the fortifying fertiliser. I don't need fertiliser in the winter.

FAST FACTS ABOUT POLYSCIAS FABIAN

The centrepiece for a sunny kitchen or dining room.
THINGS WE ALWAYS GET ASKED

How do you care for Polyscias fabian?
The Polyscias fabian is low-maintenance and easy to care for. The most important thing to get right is the humidity. Keep the Polyscias fabian in a humid spot whether that be a bathroom or near a humidifier. The ideal room temperature for the Polyscias fabian is between 20ºC-25ºC. If the room is too cold then the plant may drop a few leaves from cold stress. The amount of light the Polyscias receives will very much depend on how often the plant needs watering. In the winter months, watering can be significantly decreased and in the summer months this can be increased.
Does the Polyscias fabian like humidity?
The Polyscias fabian is a humidity-loving plant and should be placed in a humid room grouped with other plants or near a humidifier. Find out how you can increase humidity in your home here.
How often should you water a Polyscias fabian?
The best way to check if Polyscias fabian is ready for water is by checking the first two inches of the soil with your finger. Check the soil twice a week and only water when the soil is dry. In the winter months this may be once every 10-14 days and in the summer months this could be once every 5-7 days.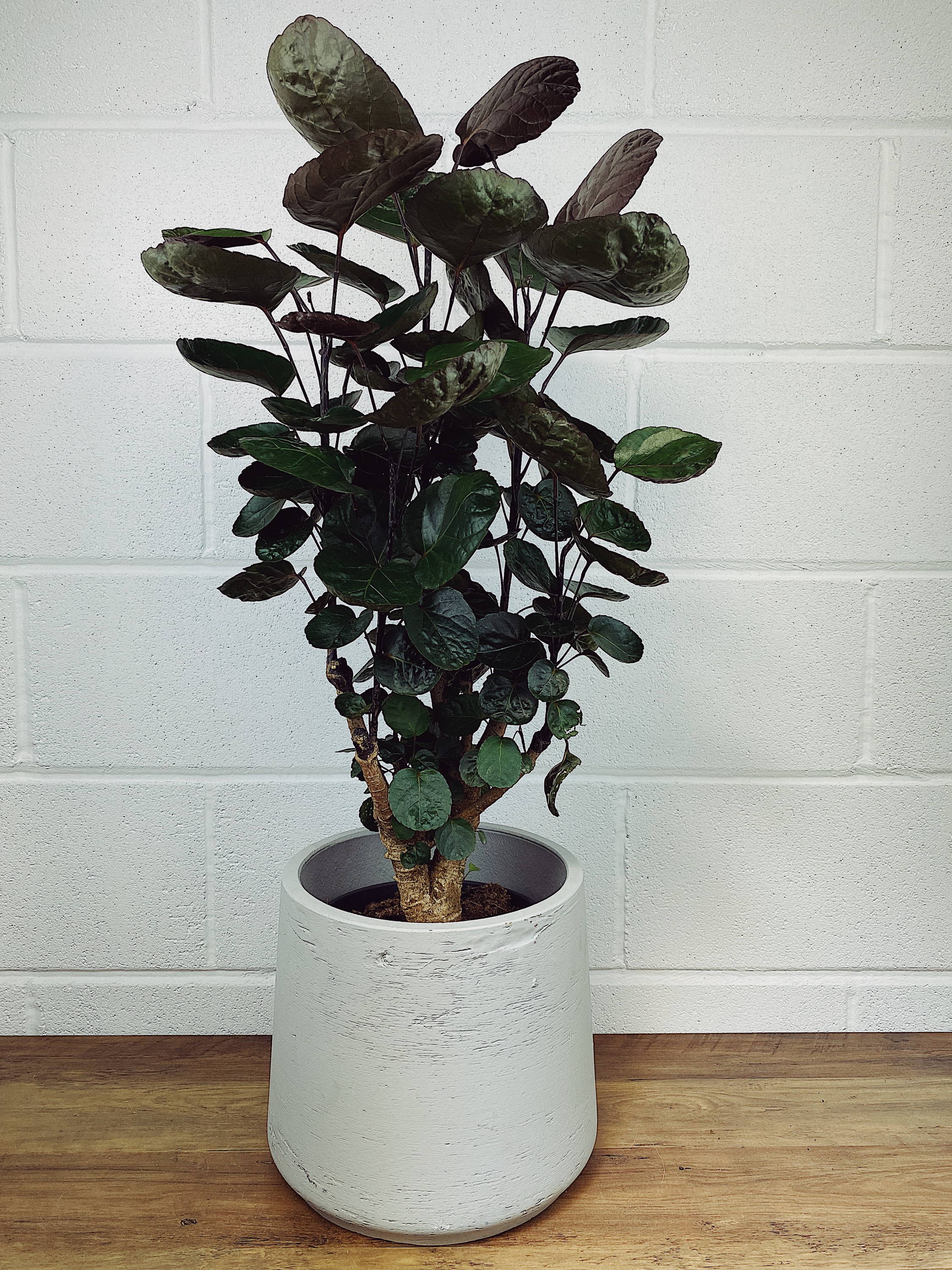 ​The Polyscias fabian is a stylish and attractive houseplant. This iconic plant can be placed anywhere in the home whether it be part of a bookcase in your office or on a mantlepiece in your living room.
Use our energising crystal and detoxify crystal for more electrifying and calming vibes in your sunny home.
We use a next day delivery service with one of our trusted couriers. Please allow a little bit of packing time. During COVID and busy times this can be up to 5 days.
Your personal information and data is secure with us. This is our website platform providers bread and butter. Uncompromised safety & security.
If you have received a damaged plant or within 15 days you have any trouble after following our care guidance we will offer you a replacement.
WE PLANT 5 TREES FOR EVERY ORDER
Our goal is to plant 1 million trees by 2025 to help save our environment.