ABOUT OUR SANSEVIERIA ZEYLANICA
Hello, I'm Sammy the Sansevieria zeylanica. I'm more commonly known as the black coral snake plant, thanks to my tall, sword-shaped leaves. Cast an eye over me and you'll notice I look a little ssssstrangel: my broad leaves are covered with black stripe patterns which, if you see them out of the corner of your eye, might make you worry that a slithering visitor might have snuck into your space. I joke, I joke: I won't scare you, I promise!
Like our namesake creatures, there are plenty of us in the wild, where you'll find us dotted around South East Asia and Africa. While I might be native to tropical climes, I'm actually a bit of a cool customer and can grow in colder, less humid and even darker conditions.
As far as indoor plants go, I'm actually very adaptable to my surroundings and I'm one of those houseplants that will look good in a draughty hallway, sunny conservatory or dark bathroom. If you're a beginner, let's be friends: I'm a super easy-care plant who's perfect for adding greenery to your home.  
Baby height (including nursery pot) 30cm; pot diameter 9cm. (Fits a 10-12cm pot)
Small height (including nursery pot) 30cm; pot diameter 12cm. (Fits a 13-15cm pot)
Medium height (including nursery pot) 50cm; pot diameter 14cm. (Fits a 15-17cm pot)
Big height (including nursery pot) 60cm; pot diameter 17cm. (Fits a 18-21cm pot)
XL height (including nursery pot) 80cm; pot diameter 21cm. (Fits a 22-24cm pot)
Snake plants like our sansevieria zeylanica are one of the few plants that release oxygen at night providing us with a better night's sleep.
Sammy has been described as "the Bear Grylls of the plant world", which means she's practically indestructible, making her the perfect first-timer's houseplant.

QUICK SANSEVIERIA PLANT CARE

Sammy is so easy to care for as long as you let her soil completely dry out before you water again.

I can tolerate low, medium and bright light. Avoid direct sunlight as this can burn my leaves.

I'm very drought tolerant and can go many weeks without water. Let my soil completely dry out before you water me again.

I can cope with low humidity but prefer a more humid environment.

Use a diluted fertiliser once every summer to encourage new growth.
The bedroom as she will absorb toxins from the air and release oxygen at night.
THINGS WE ALWAYS GET ASKED

How do you take care of a Sansevieria zeylanica?
Sammy is very easy to care for providing she's kept out of direct sunlight and her watering schedule is kept to a minimum. Snake plants will hold water in their leaves so even if their soil is completely dry, they will still survive. Overwatering is probably the biggest threat to Sammy's safety!
Does the Sansevieria zeylanica need sunlight to grow?
Yes, all plants need some natural light to survive but this snake plant can tolerate lower lighting conditions away from any windows or in a dark hallway. They do prefer a brighter spot, however, and will grow faster in a well lit room.
Do all snake plants clean the air?
There are over 70 species of snake plant and they're all known to absorb common household toxins such as formaldehyde and benzene through their leaves - which means the air in your home will end up cleaner once she's done her bit!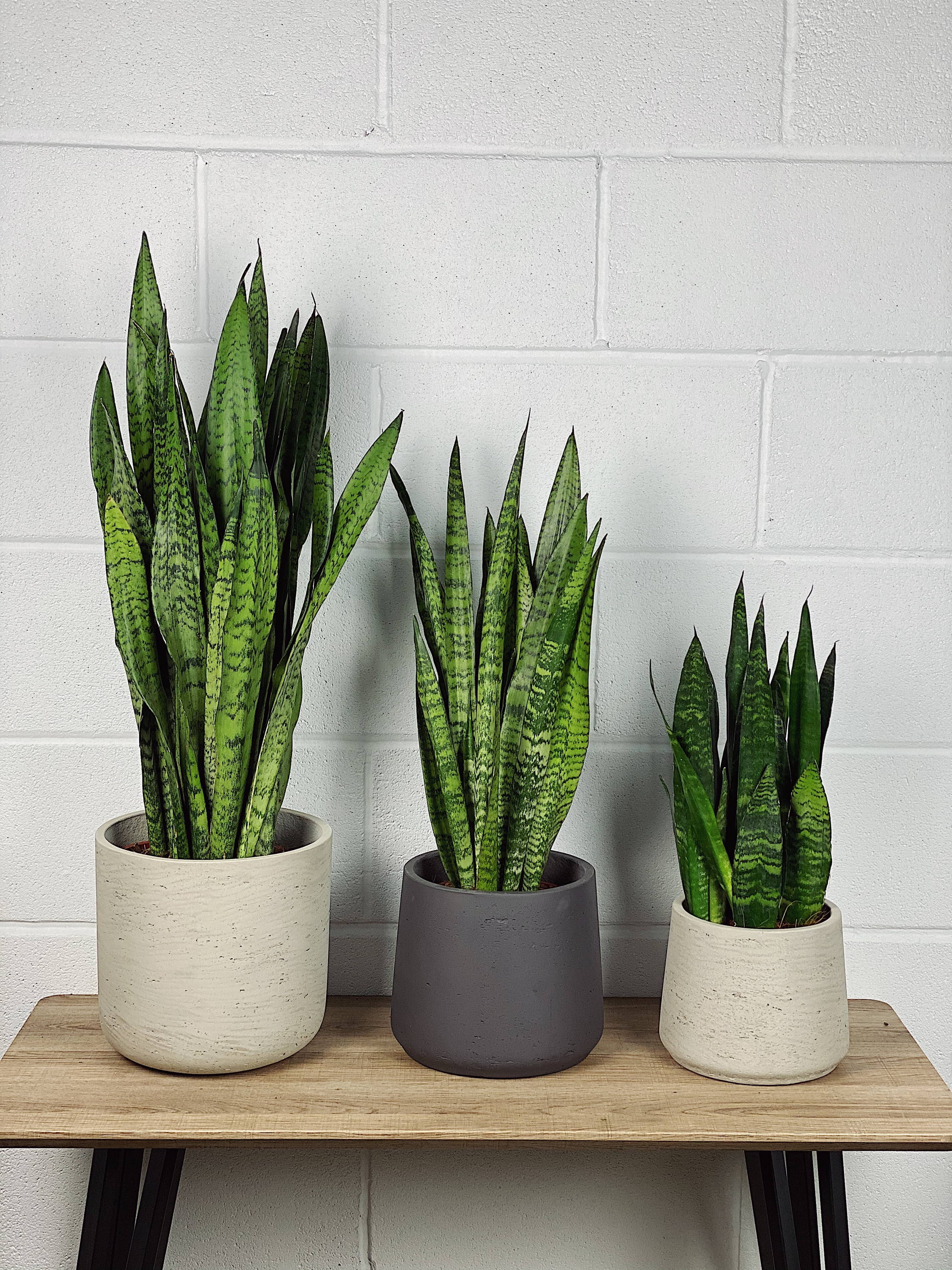 Style Sammy's dark leaves on a bedside table or dresser for stunning interior decor. Use a white pot or place her in front of a white wall so her rich coloured leaves stand out. Use large Sammy as a focal point and place small plants with the same dark green foliage like Andy and Zoe for added drama to your room.
Pair this wild plant with the wanderlust candle and healing crystal for the complete bedside table setup.
We use a next day delivery service with one of our trusted couriers. Please allow a little bit of packing time. During COVID and busy times this can be up to 5 days.
Your personal information and data is secure with us. This is our website platform providers bread and butter. Uncompromised safety & security.
If you have received a damaged plant or within 15 days you have any trouble after following our care guidance we will offer you a replacement.
WE PLANT 5 TREES FOR EVERY ORDER
Our goal is to plant 1 million trees by 2025 to help save our environment.