ABOUT OUR STRELITZIA NICOLAI
Hey there, I'm Sasha the Strelitzia nicolai, although you'll really know me as the bird of paradise. If you're lucky, I'll bloom gorgeous white flowers that just so happen to resemble an actual bird of paradise. Yup: my rich, tropical foliage is pretty damn impressive.
I'm native to South Africa but you can now find me all over Florida, the Caribbean and South America - all parts of the world that are warm and sunny for most of the year. While there are five other Strelitzia species, there's just two of us that are sold as potted plants. My brother the Strelitzia reginae is identical to me except, with enough sun, he can bloom orange flowers, while mine always remain white.
It can take a couple of years for me to bloom; when I first arrive in your home, you can admire my emerald green leaves in all their glory. But, give it a couple of years and I will be magnificent. All you'll need to do is catch sight of my striking leaves and they'll transport you to a sunny Caribbean island. I'll be truly dazzling, wherever you put me.

Small height (including nursery pot) 25-35cm; pot diameter 13cm. (Fits a 15-18cm decorative pot)
Medium height (including nursery pot) 50cm; pot diameter 17cm (Fits a 18-20cm decorative pot)
Big height (including nursery pot) 80-90cm; pot diameter 19cm. (Fits a 20-24cm decorative pot)
In the wild, pollination between Strelitzia Nicolai is actually caused by birds, who stand on the flowers and get pollen on their feet, which they transport between plants when they fly.
Sasha is the perfect tropical plant for transforming any room into a tropical paradise.

QUICK STRELITZIA NICOLAI CARE

Sasha's gorgeous foliage is easy to maintain, providing she has access to bright sunlight.

 I love bright direct sunlight, so place me in the sunniest spot in your home.

I like my soil to stay consistently moist: don't let me dry out!

I can adapt to lower humidity levels but I much prefer a humid environment.

Fertilise me once every two weeks in the growth season. I don't need fertilising in the winter months.
A warm and bright living room or conservatory where I'll quickly turn the atmosphere tropical.
THINGS WE ALWAYS GET ASKED

How do you look after a Strelitzia nicolai?
Taking care of a Strelitzia nicolai is very easy providing they are placed near a south facing window that allows in a lot of bright direct sunlight. These plants are big drinkers and prefer their soil to stay consistently moist, especially in the summer months when they push out new growth and use a lot more energy.
For a tropical plant, the bird of paradise can actually tolerate cooler temperatures as low as 15°C, but Sasha will much prefer warmer temperatures of above 20°C. If you place me outside in the summer, don't panic if you notice my leaves split over time.
It's just my normal response to handling any heavy wind.
How much sun does a bird of paradise need?
The bird of paradise needs a lot of bright, direct sunlight and they're one of the few houseplants that can tolerate full direct sunlight without being burnt. With enough sun, your plant will bloom its gorgeous white flowers.
When do birds of paradise bloom?

They're most likely to bloom in the summer months when the temperatures are warmer and the sun is stronger. Give Sasha a houseplant fertliser once every two weeks in the growth season from March through September to help encourage new growth - soon she'll look bloomin' fabulous.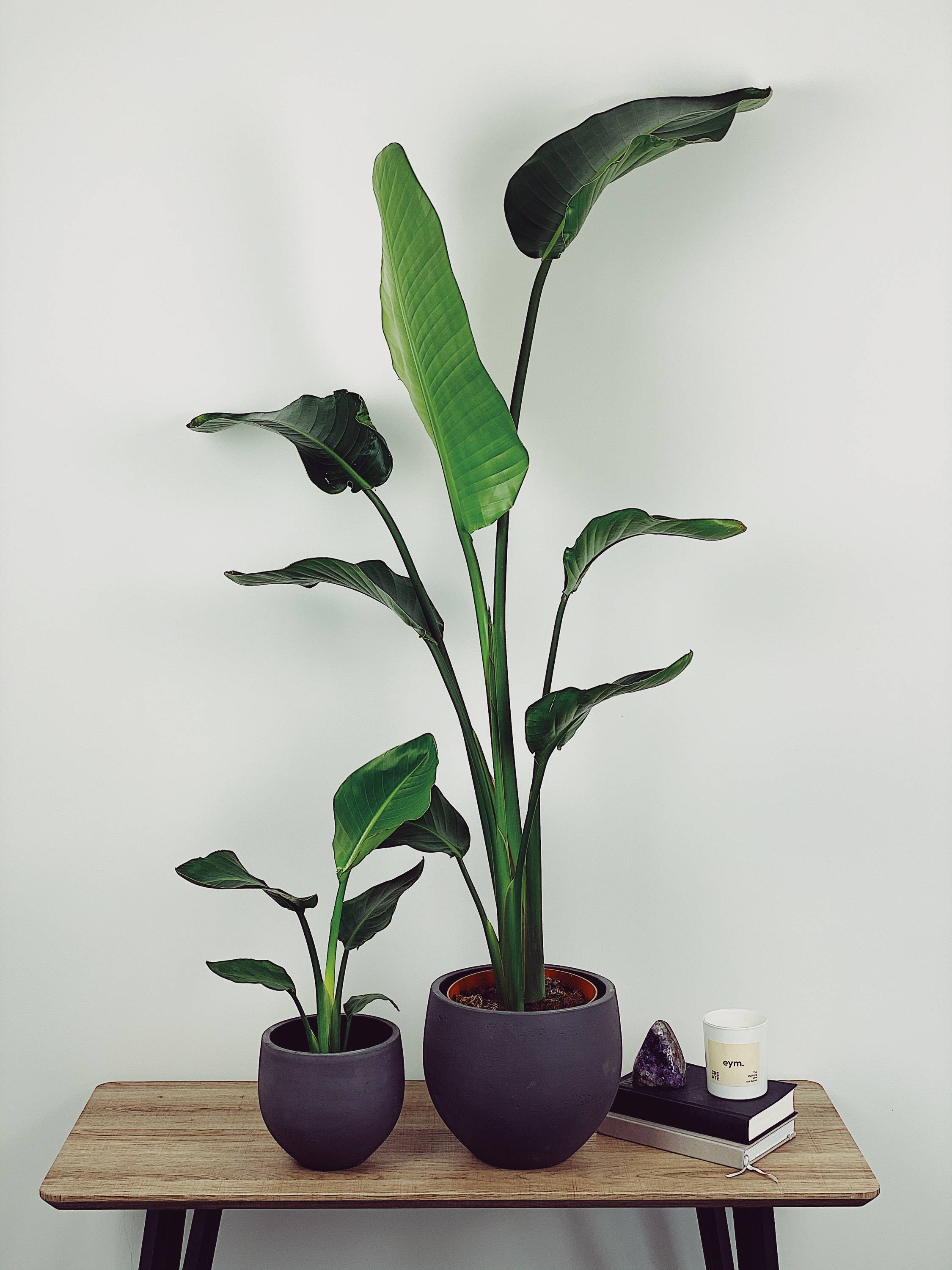 ​This tropical bird of paradise should be the first thing your family and guests see when they walk through the door. Sasha's elegant leaves should be placed where you'll see her everyday, so use her as a focal point in your sunniest room.
Pair Sasha's tropical foliage with a Mojave rain candle and a power crystal for a burst of happiness in your home.
We use a next day delivery service with one of our trusted couriers. Please allow a little bit of packing time. During COVID and busy times this can be up to 5 days.
Your personal information and data is secure with us. This is our website platform providers bread and butter. Uncompromised safety & security.
If you have received a damaged plant or within 15 days you have any trouble after following our care guidance we will offer you a replacement.
WE PLANT 5 TREES FOR EVERY ORDER
Our goal is to plant 1 million trees by 2025 to help save our environment.