ABOUT OUR ZAMIOCULCAS ZAMIIFOLIA

Hi, I'm Zoe the Zamioculcas Zamiifolia. People usually call me the ZZ plant, it's much less of a mouthful than my latin name. My dark green glossy leaves will bring tropical vibes right into your space without being high maintenance. I pride myself on being the hardiest houseplant on the market. I first rose to fame in 2000 and since then I've been extremely popular amongst first time plant owners and the forgetful waterer. I'm adored in the houseplant world because I can be placed in almost any environment and I will survive.
You can find me in eastern parts of Africa. For a tropical houseplant I'm very laid back. I don't need high humidity, bright light or warm temperatures to thrive. You can place me in a dark and draughty part of your home or office and forget about me for weeks at a time and I'll soldier on. I'm the plant for you if you're in need to add greenery to the shadier parts of your home or office.
I'm the perfect houseplant for anyone starting their first indoor jungle. I'm cool as a cucumber and won't take up too much of your time.
Small Height (including nursery pot) 30cm; pot diameter 12cm. (Fits 13-15cm decorative pot)
Medium Height (including nursery pot) 40cm; pot diameter 14cm. (Fits 15-16cm decorative pot)
Big Height (including nursery pot) 75cm; pot diameter 21cm. (Fits 22-24cm decorative pot)
The ZZ plant can go up to 6 months without water in the wild so don't feel guilty if you forget to water her.
Zoe is sleek and stylish. Her glossy leaves are a beautiful styling choice for a draughty hallway or shady home office.
Zoe is one of the easiest houseplants around. Keep her out of direct sunlight and allow her soil to completely dry before watering her again.

I can tolerate low and medium light. Place me away from any big windows.

I like my soil on the drier side. In the winter I will only need watering once every 1-2 months. Let my soil dry out before you water me again.

Normal household humidity is fine by me. I don't need a humidity boost.

Once a month in the growth season with a diluted fertiliser. Do not fertilise me in the winter months.
A draughty entrance or shady home office.
THINGS WE ALWAYS GET ASKED

How do I care for a ZZ plant?
Taking care of your ZZ plant is really easy. They like a medium/well lit room but lower lighting will also be fine. Keep Zoe away from any south facing windows where her leaves will burn from the hot sun. The perfect temperature for Zoe is between 15-30°C. She is draft and cold tolerant so she can be placed anywhere in the home. Allow her soil to dry out completely before you water her again. The ZZ plant can go many weeks without water and will forgive the forgetful waterer.
Is the ZZ plant poisonous?

Yes the ZZ plant is very toxic if ingested. It's important to keep Zoe on a high shelf or bookcase away from any small children or pets.
How often do you water a ZZ plant?

The best way to tell if the ZZ plant needs water is by feeling the first two inches of soil with your finger to see if it is dry. In the winter the ZZ plant will be able to go many weeks without. If you notice any yellow leaves this could be a sign that Zoe has had a bit much to drink.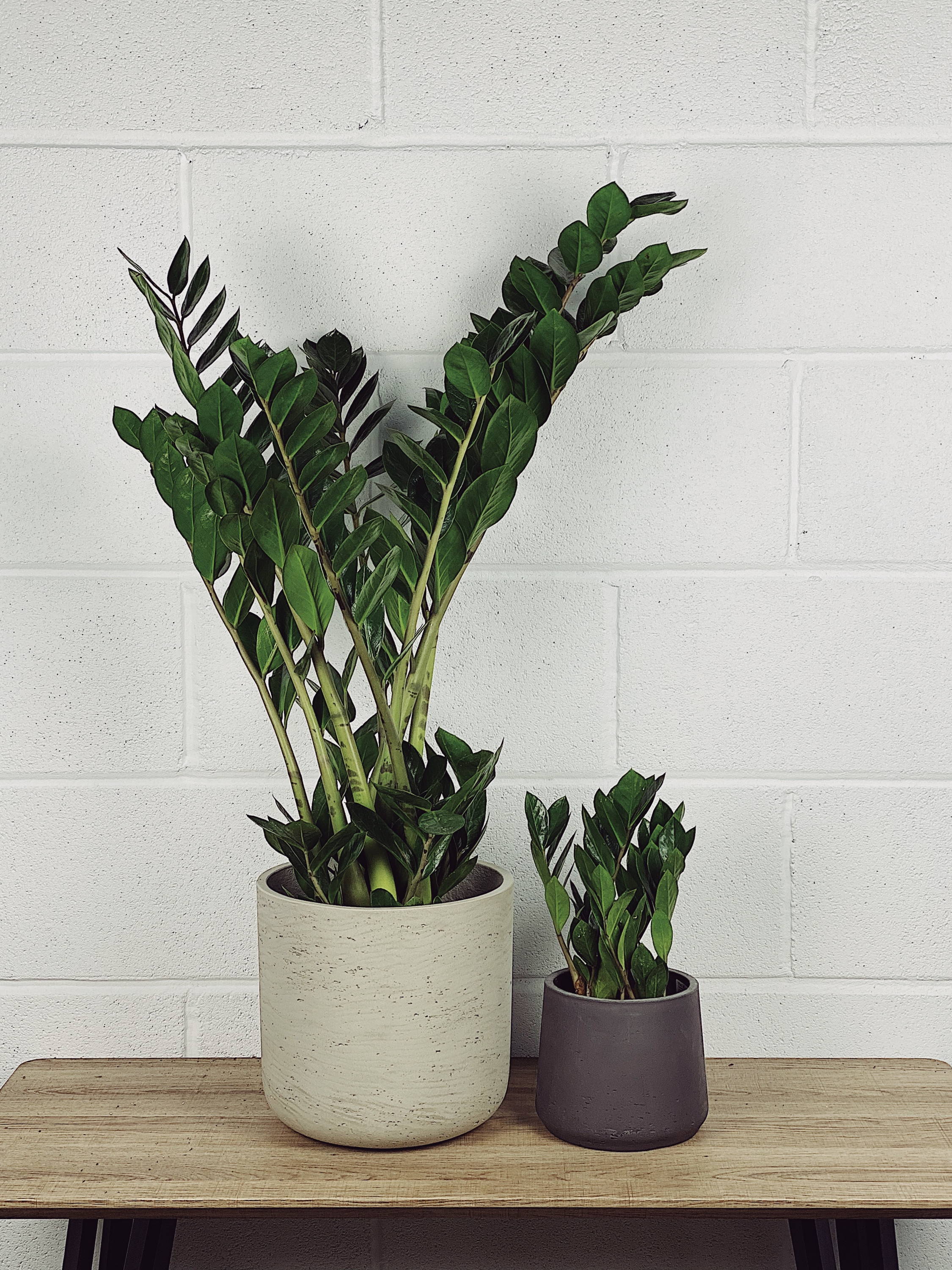 ​Zoe is a stunning tropical plant with stylish shiny leaves that deserve to be enjoyed every day. Place her in your entrance hall or hallway to greet you home from work everyday. She won't mind any frequently used doors or drafts so she's the ideal plant to style your entrance hall with.
To match Zoe's glossy leaves use the striking power crystal and the Wanderlust reed diffuser for a welcoming and stylish entrance way.
We use a next day delivery service with one of our trusted couriers. Please allow a little bit of packing time. During COVID and busy times this can be up to 5 days.
Your personal information and data is secure with us. This is our website platform providers bread and butter. Uncompromised safety & security.
If you have received a damaged plant or within 15 days you have any trouble after following our care guidance we will offer you a replacement.
WE PLANT 5 TREES FOR EVERY ORDER
Our goal is to plant 1 million trees by 2025 to help save our environment.