ABOUT OUR STRING OF HEARTS
"O Romeo, Romeo, wherefore art thou Romeo?" They call me Juliette around here because I'm a hopeless romantic and love to show off my heart shaped leaves. Formally speaking I go by the name Ceropegia Woodii, although some people call me the rosary vine or sweetheart vine, too. I hail from South Africa, where I was first found, my graceful vines clinging to the sides of rock crevasses.
My vines are fast growing and used for styling homes with minimal space. Place me on any surface and I'll hang delicately over the edge. I'll have the greatest impact if you leave me to trail down your staircase or cascade beautifully over your fireplace. Better still, don't worry if you forget to water me: my succulent-like leaves can hold a lot of water - I'm more drought tolerant than I look.
For the full effect, place me in a hanging basket and suspend me from the ceiling. My delicate heart shaped leaves will billow down into your room faster than you can say "Romeo"!
Baby height (including nursery pot) 10-15cm; pot diameter 8cm. String of hearts like to grow in a shallow pot. For the picture we put a plant booster seat in the pot. A sponge or piece of cardboard does the job!
Medium height (including nursery pot) 25-30cm; pot diameter 14cm.
Depending on the light available, the string of hearts will change its appearance. With bright, indirect light the delicate heart-shaped leaves will appear dark green; with less light, the leaves will appear much paler.
Juliette's heart-shaped leaves are an elegant addition to a sunny room.

QUICK STRING OF HEARTS PLANT CARE

An easy-care plant that's ideal for houseplant beginners - providing you allow her soil to dry out in between each watering.

I like a well-lit room full of indirect sunlight.

I like my soil to be on the drier side so you can let the first few inches of soil dry before you water me again.

I do come from a humid environment but can tolerate lower levels of humidity.

I'm not a plant that needs to be fertilised very often. A diluted water-based fertiliser can occasionally be used in the growing season.

FAST FACTS ABOUT JULIETTE

Place Juliette in a sunny bedroom where her vines can cling to your headboard for a natural, bohemian vibe.
THINGS WE ALWAYS GET ASKED

How do you take care of a string of hearts plant?

The string of hearts or rosary vine is an ideal beginner plant due to her ability to go long periods without watering. You'll know when she's ready for a drink as her leaves will feel soft to touch rather than firm - indicating her leaves are no longer holding any water.
Like many tropical houseplants, Juliette prefers temperatures of over 15°C and to live in a well-lit room; she won't survive in lower lighting conditions or direct sunlight. An extra reason why we love the string of hearts plant is because she's super easy to propagate. What does this mean? When Juliette becomes overgrown, simply snip off the ends of her vines and place into fresh potting soil - you'll have a second Juliette in no time!
How much sun does a string of hearts plant need?
Juliette prefers a well lit room with indirect sunlight. Place her in a hanging basket at least one metre from a south facing window for optimal lighting. It's worth remembering that it's more important that her soil receives light rather than her foliage, as this is where her vines will grow from.
Should you mist a string of hearts plant?

This type of vine can tolerate normal household humidity and Juliette will survive without being misted. In fact, we strongly recommend you leave her well alone: the extra drops of moisture on her leaves could lead to her leaves rotting.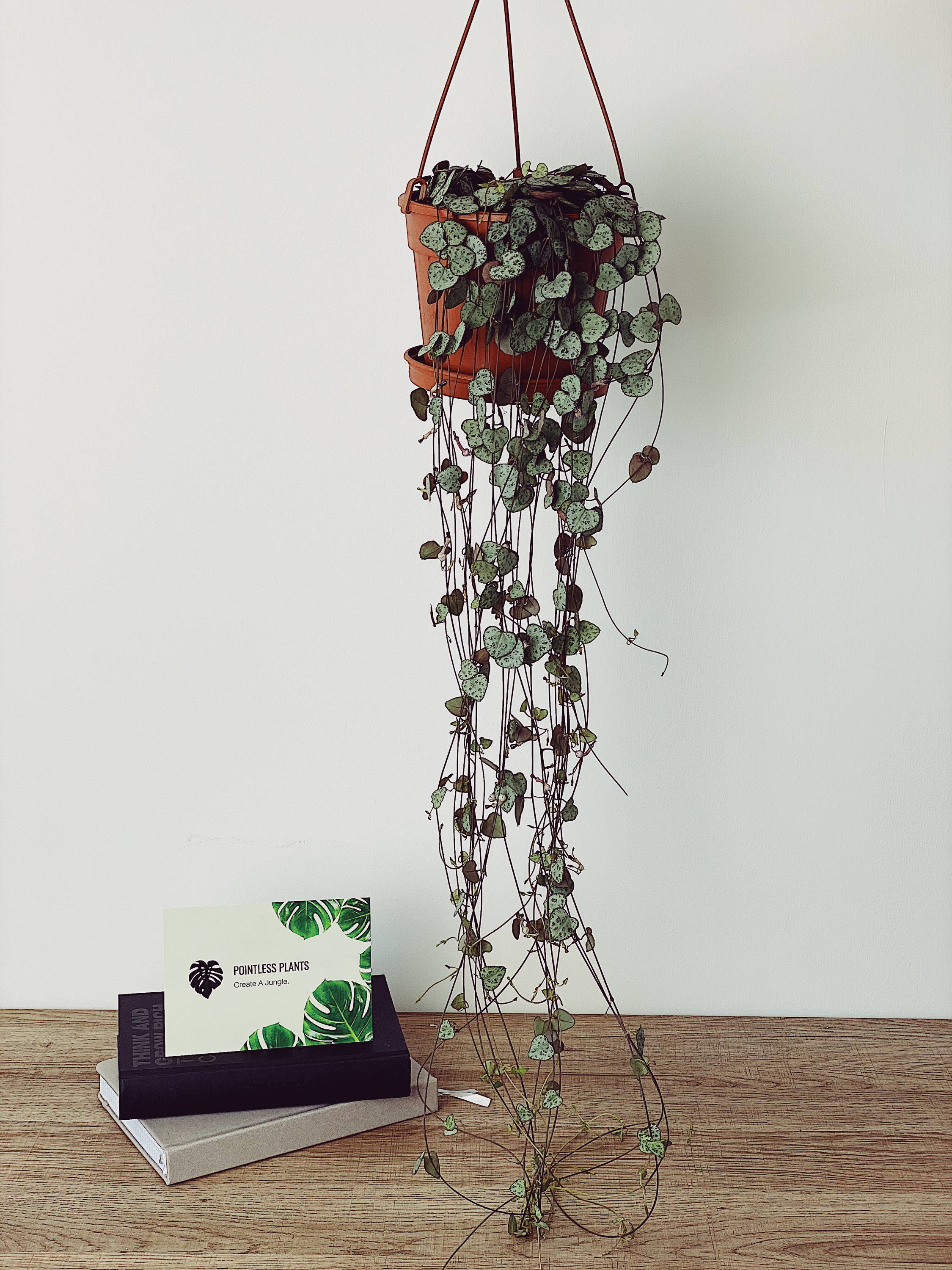 Drape Juliette's beautiful vines over any bookshelf, fireplace or in a bamboo hanging pot. Her pink and green vines will add easy elegance to a sunny room.
Pick a crystal just as pretty as Juliette with the love crystal and add in the bohemian vegan candle.
We use a next day delivery service with one of our trusted couriers. Please allow a little bit of packing time. During COVID and busy times this can be up to 5 days.
Your personal information and data is secure with us. This is our website platform providers bread and butter. Uncompromised safety & security.
If you have received a damaged plant or within 15 days you have any trouble after following our care guidance we will offer you a replacement.
WE PLANT 5 TREES FOR EVERY ORDER
Our goal is to plant 1 million trees by 2025 to help save our environment.