Hello, I'm Maya the parlour palm. My Latin name, Chamaedorea Elegans, sounds long and complicated so people prefer to call me the parlour palm or Maya the palm to keep it simple. Though my foliage may look tropical and exotic, I am actually very easy to care for. I often have the privilege of becoming someone's first houseplant, so I like to think of myself as a good introduction into the plant world!
I was first discovered in Central America and was brought over to London in the 1800s. It was here that I got the name 'parlour palm', as I was used for decorative purposes in the parlour, a room traditionally used for receiving guests or conducting business. While they didn't know it then, I'm also a remarkably good air purifier, and will help to keep the air in your home fresh and pure.
To this day I continue to be a houseplant favourite. I'll tolerate low lighting and even a bit of gentle neglect. I've a reputation for being easy going. Pair me with my friends Sammy, Zoe and Ian who have the same easy care as me!
Small height (including nursery pot) 45-50cm; pot diameter 12cm.
Medium height (including nursery pot) 50-60cm; pot diameter 15cm.
Big height (including nursery pot) 70-80cm; pot diameter 21cm.
The parlour palm is one of the most efficient houseplants for removing toxins from the air.
Maya will be happy in any room with partial shade. Give her some height by placing her on a side table in a corner of a room.

QUICK PARLOUR PALM PLANT CARE

Maya is considered to be very low maintenance if kept away from direct sunlight or radiators.

I will tolerate low and medium lighting conditions, so keep me away from window sills and use me to add life to any shady spots in your home.

Allow my soil to dry out a little in between each watering. I do not like to sit in any excess water.

I prefer higher levels of humidity as I absorb moisture through my fronds, aka my leaves. You can place me in a bathroom or mist my foliage regularly.

Fertilise me once every four to six weeks in the growth season, which is from March to September.
A dark hallway or landing
THINGS WE ALWAYS GET ASKED

How do you take care of a parlour palm?
The best way to care for Maya is by placing her in a room that has medium light, good levels of humidity and temperatures higher than 10°C. She is easy to care for and will not need frequent watering, but always let her soil dry out before you water again. Do not place her near any open windows, air vents or radiators, as she will not like the excessive amount of heat.
Do palm plants need sunlight?
All houseplants need some natural light to grow. Maya is low light tolerant which means she can survive in a room with a small window or in a climate where sunlight is limited. She will also thrive in a medium light but avoid anything too direct, as this can burn her leaves.
How big does a parlour palm grow?
The parlour palm is a tall house plant but is a relatively slow grower all the same. If you prefer Maya to stay the same size, just avoid repotting her as this should slow her growth. She will grow only a few inches each year but can reach over a metre with the correct care.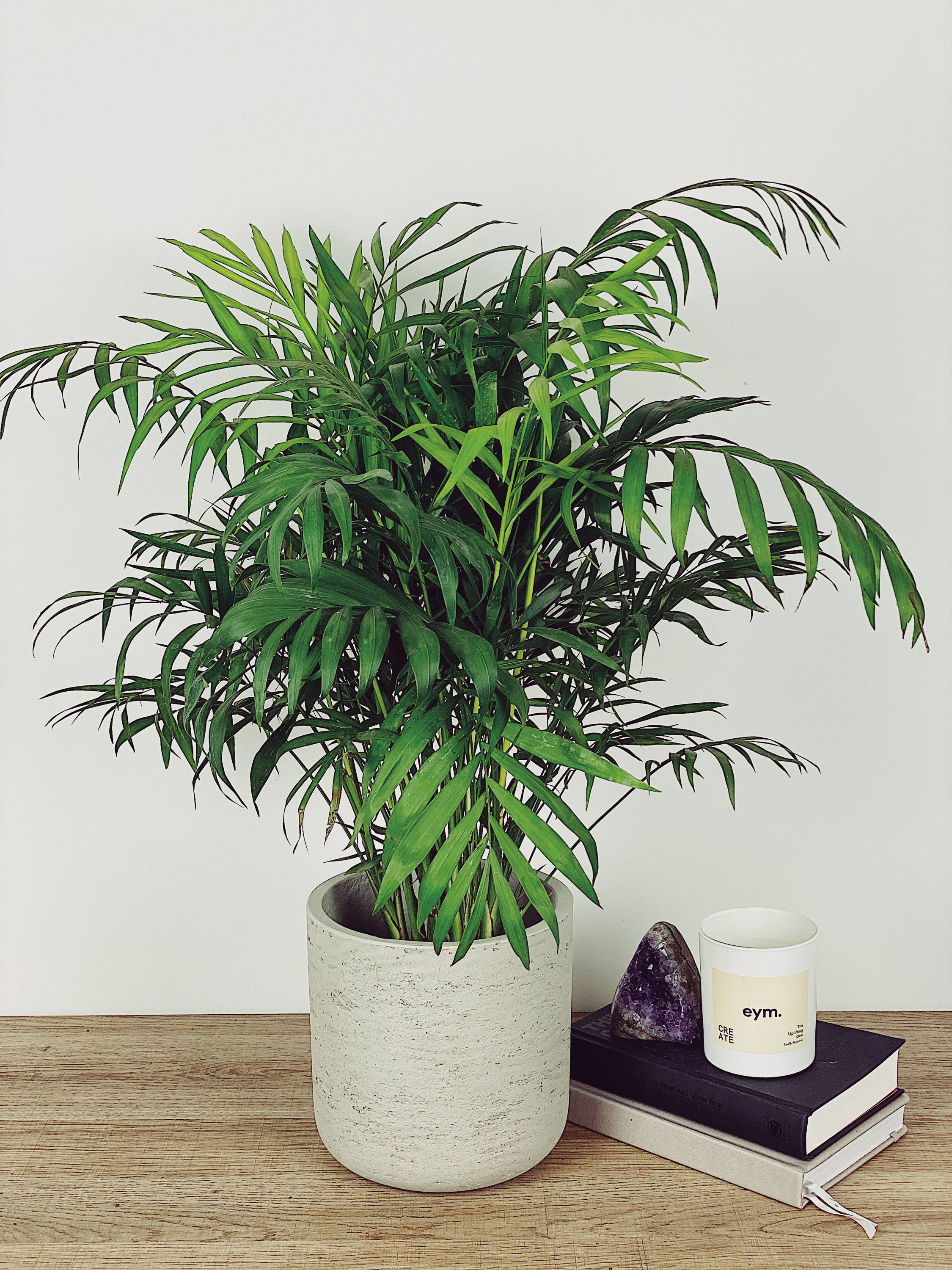 ​Style Maya's tropical fonds in a dark corner or landing to give a small piece of nature to an otherwise unnoticed part of the home. She is a non-toxic plant and can be placed for decoration in a play room or snug for the children to enjoy her natural beauty.
Pair this exotic plant with a wanderlust candle or balance crystal to calm the hustle and bustle of a busy household.
We use a next day delivery service with one of our trusted couriers. Please allow a little bit of packing time. During COVID and busy times this can be up to 5 days.
Your personal information and data is secure with us. This is our website platform providers bread and butter. Uncompromised safety & security.
If you have received a damaged plant or within 15 days you have any trouble after following our care guidance we will offer you a replacement.
WE PLANT 5 TREES FOR EVERY ORDER
Our goal is to plant 1 million trees by 2025 to help save our environment.