ABOUT OUR ASPARAGUS SETACEUS
Hi, I'm Ali the Asparagus Setaceus. I'm more commonly known as the asparagus grass or lace fern. My gorgeous green and delicate foliage gives me a stylish and sophisticated look. I'm a climbing plant and will attach my feathery foliage to any surface I can find. You might notice my foliage turn yellow in the full sun so if you decide to put me outside during the summer it's a good idea to find me a shady spot. I'm one of NASA'S top air purifying plants that can help absorb any common household toxins helping you breathe easier.
Don't let my name mislead you, I may look like part of the fern family but I'm actually not related to the fern species at all. I'm part of the asparagus genus along with 200 other species. I'm usually found growing in South Africa where I enjoy warm temperatures, high humidity and plenty of shade so my delicate foliage doesn't dry out.
My sophisticated look is the perfect staple piece for a coffee table or bathroom shelf. My bright green foliage can withstand shadier parts of the home so place me in a prime spot where I can be enjoyed the most.
Small Height (including nursery pot) 20cm; pot diameter 12cm.
With enough humidity the Asparagus Setaceus blooms delicate white flowers. This usually happens in the early spring or late summer.
Sophisticated and stylish the Asparagus Setaceus is the perfect compact size to decorate any small bathroom cabinet or coffee table.

QUICK ASPARAGUS SETACEUS PLANT CARE

Ali prefers high levels of humidity. This will help keep the fonds looking beautiful and fresh.

I don't mind medium-bright light but I can't tolerate full sun.

 I enjoy regular watering and will object by turning brown if my soil dries out.

I love moisture on my leaves. Next to a humidifier is the place for me.

I don't need fertilising very often. Once or twice in the growing season will be enough for me.
Any room with high humidity. A bathroom is ideal.
THINGS WE ALWAYS GET ASKED

How do you take care of an Asparagus setaceus?
Asparagus Setaceus can be tricky to care for in the beginning. Once a few care tips have been mastered this can be a very rewarding plant. Keep the Asparagus Setaceus out of direct sunlight as this will burn and dry out their leaves. They can be sensitive to tap water so filtered water will be easier on their root system. Allow only the first inch of soil to dry out before watering and make sure the soil stays moist. You might notice the fronds turning yellow if overwatered. Like many tropical plants the Asparagus Setaceus adores high levels of humidity and will need a humidifier or steamy bathroom to keep any crispy tips at bay.
How much light does an Asparagus Fern need?

The Asparagus Setaceus does not need a lot of sunlight to survive. They will tolerate a medium light and can be placed in a shady spot.
Should I mist an Asparagus Fern?
A daily mist is required to help keep any crispy fonds at bay. A humidifier might prove more effective and less time consuming than misting daily.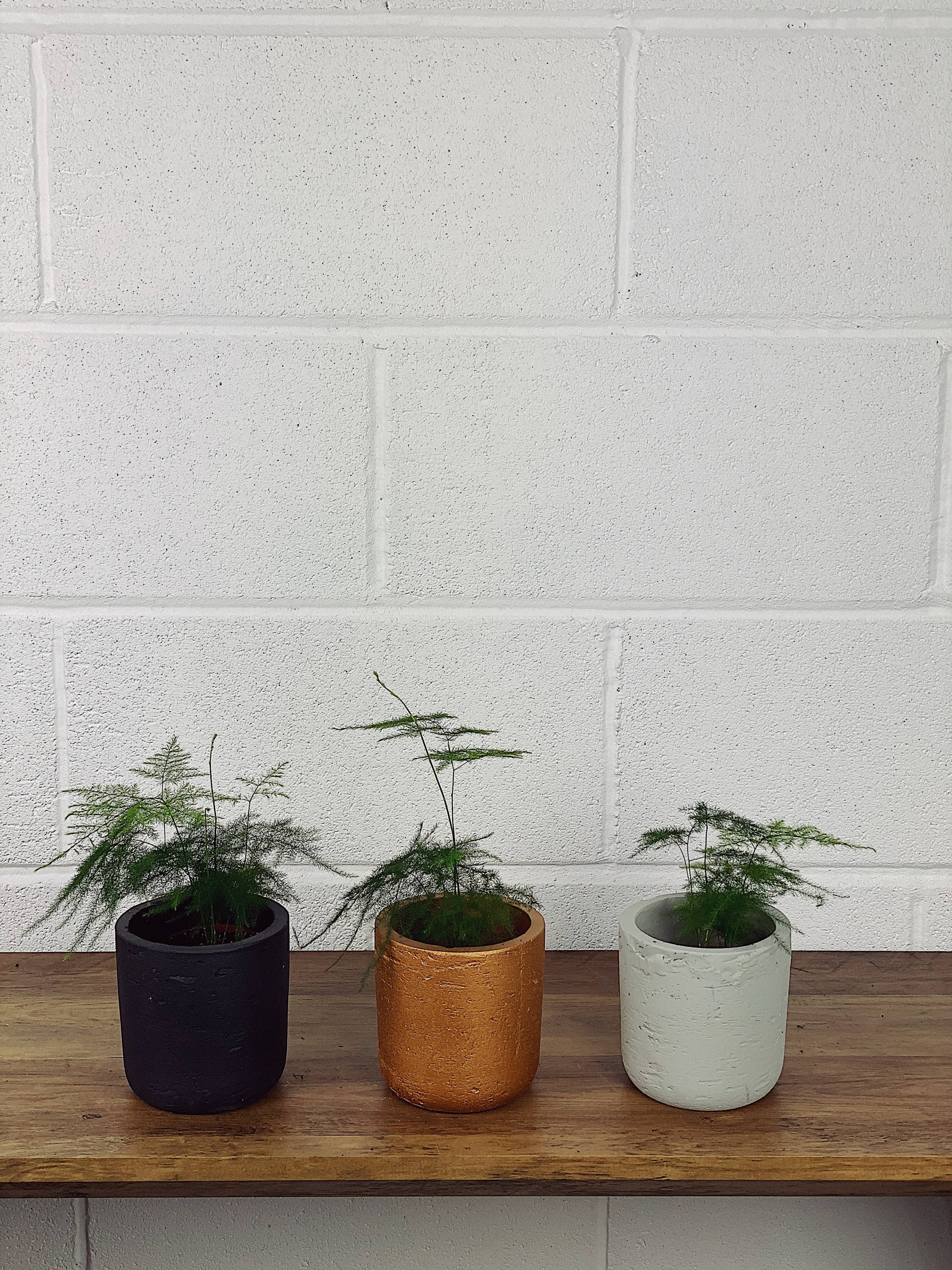 A plant with such sophisticated foliage should be placed on display. The Asparagus Setaceus is an ideal coffee table plant or can be used to decorate a shady and steamy bathroom.
To style this plant use our power crystal or the grounding candle to make bath time all that more inviting - if only for 15 minutes a day!
We use a next day delivery service with one of our trusted couriers. Please allow a little bit of packing time. During COVID and busy times this can be up to 5 days.
Your personal information and data is secure with us. This is our website platform providers bread and butter. Uncompromised safety & security.
If you have received a damaged plant or within 15 days you have any trouble after following our care guidance we will offer you a replacement.
WE PLANT 5 TREES FOR EVERY ORDER
Our goal is to plant 1 million trees by 2025 to help save our environment.