ABOUT OUR PHILODENDRON SCANDENS BRASIL
Hey there, I'm Benny. My friends call me the heart-leaf plant and sweetheart plant because I'm just out here stealing hearts with my tropical charm. My light green and yellow stripes give me that Caribbean look while also looking rather elegant. Each leaf has its own individual look and the colours I produce will depend on how much light I have. Traditionally I am sold as a low/medium light plant but I will benefit from bright light so that I can hold onto my variegation. Placing me in a dark room will cause my colours to fade and revert back to a solid dark green.  
You can find me climbing through the tropical jungles across the Caribbean. I have a huge family of over 400 species in which many are adored as houseplants due to their laid back and no-fuss approach to indoor climates. I'm a fast grower and will reward you with full, long trailing foliage that should be placed high above and enjoyed from below. Place me in a hanging pot or basket for a laid back tropical vibe.
My lush foliage will look dreamy suspended from the ceiling. You can propagate my overgrown vines to make a new plant to give to friends or family - or a present for yourself.
Small Height (including nursery pot) 15cm; pot diameter 12cm.
Big Height (including Hanging nursery pot) 35cm; pot diameter 14cm.
Benny is a keen trailing plant and will climb over any surface given the chance. The plant will produce aerial roots which is how the Philodendron will hold and secure itself onto a tree branch or rock crevice.
A fast growing and colourful plant that will reward you with stunning new growth over the spring and summer months.

QUICK PHILODENDRON SCANDENS BRASIL PLANT CARE

Easy care and grows fast with plenty of indirect sunlight.

I'm not one to fuss but will grow fast in filtered light. I don't mind medium light as long as there's a window nearby.

I like dry soil and can be sensitive when it is wet or soggy. You can let me dry out a bit in between watering.

Normal household humidity will do the trick. An occasional mist won't go unnoticed though.

Use a fertiliser in the growth season once a month. Do not fertilise me in the winter.
A living room or bedroom with filtered light from blinds or shutters.
No; animals can expect mild discomfort if ingested.
THINGS WE ALWAYS GET ASKED

How do you care for Philodendrons?

Philodendrons are easy care plants and are perfect for new houseplant parents. They like filtered light, warm temperatures and dry soil. They're hardy plants and will put up with most indoor lighting conditions as long as there's not direct sunlight. They are from the warm Caribbean so ensure they are placed in a room that doesn't dip lower than 16°C at night. Every week check the first few inches of soil and let the plant dry out before its next watering. They prefer their soil on the drier side and will forgive the forgetful waterer.
Do Philodendrons like sun or shade?
They like both! Philodendrons are found in shady parts of tropical jungles and don't like any direct hot sun. If placed in a sunny room be sure they're at least one metre away from the window to avoid burning leaves. Philodendrons will also grow in a room with smaller windows and less natural light.
Do Philodendrons like humidity?
Unlike many tropical plants Philodendrons can tolerate lower humidity and don't need a humidity boost. Although the occasional mist will help keep the foliage fresh.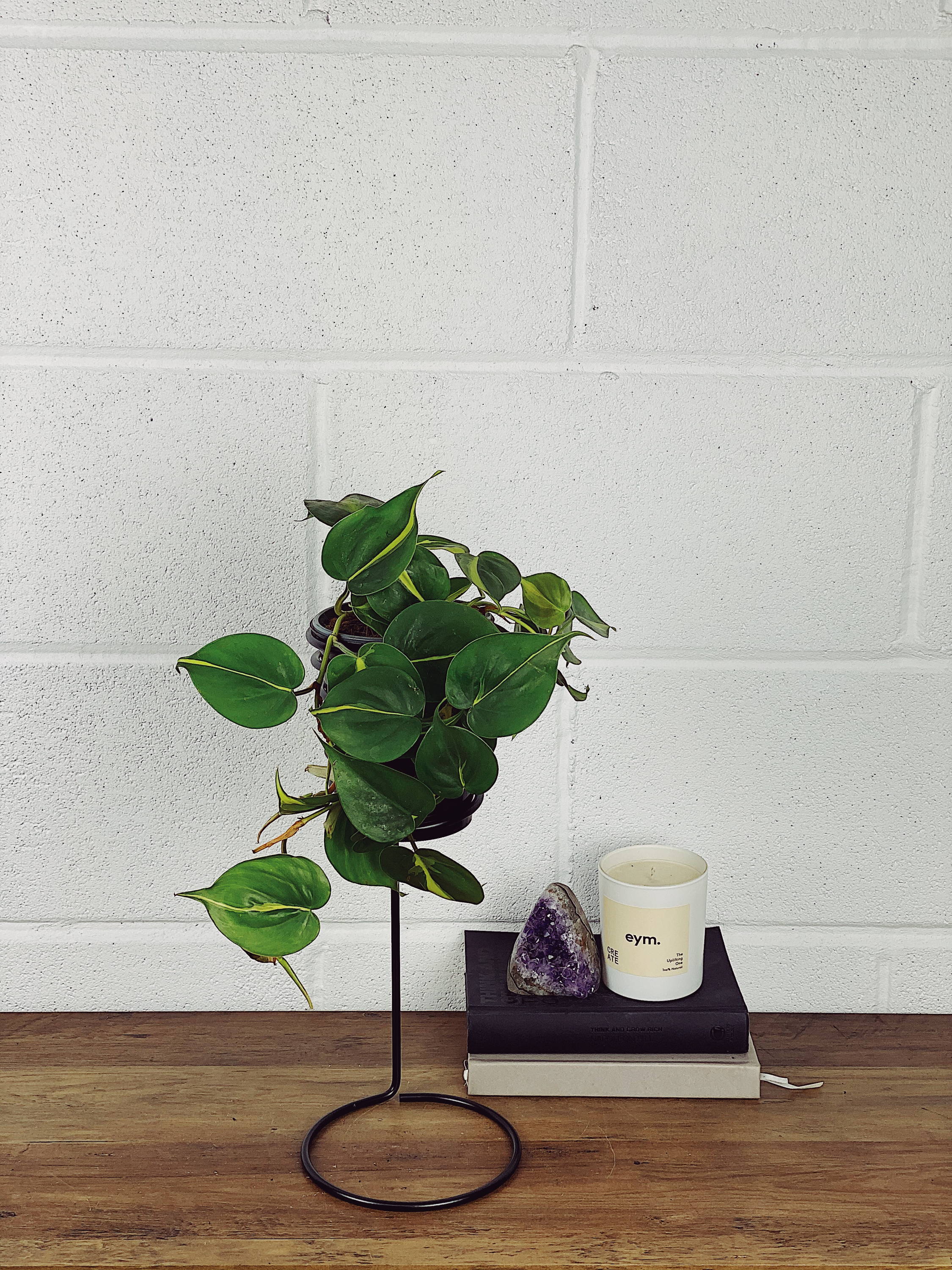 ​This stylish vining plant should be placed in a hanging pot or basket for a sleek and sophisticated look. The vines are fast growing and will be sure to make an impact on any visitors.
Use this Caribbean plant with the fire and ice white quartz crystal and energy crystal to encourage positive wellbeing in your living space.
We use a next day delivery service with one of our trusted couriers. Please allow a little bit of packing time. During COVID and busy times this can be up to 5 days.
Your personal information and data is secure with us. This is our website platform providers bread and butter. Uncompromised safety & security.
If you have received a damaged plant or within 15 days you have any trouble after following our care guidance we will offer you a replacement.
WE PLANT 5 TREES FOR EVERY ORDER
Our goal is to plant 1 million trees by 2025 to help save our environment.