ABOUT OUR BEGONIA MACULATA WIGHTII

Hi, I'm Betty the Begonia maculata. My leaves look like your next picnic blanket or Cath Kidston Blouse, which is why I'm known as the polka dot begonia, spotted begonia or the spotted leaf plant. Polka dots aren't just a fashion trend; nope, they're a natural design that I wear with pride and which suit my bright and bold personality. I have no doubt that my colourful leaves - they're crimson underneath to complement my silvery white spots - will cheer up your hallway or add a splash of colour to your landing.
I'm from the tropical regions of South America and Asia, in whose rainforests I grow. All together we consist of over 10,000 hybrid species which are all extremely rare, although many argue that I'm the most spectacular of all thanks to my unique patterns.
I'm a cheerful and attractive plan that is sure to add some pizzazz to any bright indoor space and bring the tropics directly to your door.  
Height (including nursery pot) 30cm; pot diameter 14cm.
In summer, Betty blooms gorgeous clusters of white flowers that'll bring the olive green leaves and silvery polka dots even more to life.
Betty's spotty leaves will add personality and vibrance to a sunny hallway or landing.

QUICK BEGONIA MACULATA WINGHTII PLANT CARE

Betty's tropical leaves love the sunshine and will bloom flowers in the spring and summer months.

I love bright light, so place me in a well lit room.

I like moist soil and can get quite thirsty during the summer.

As a lover of high humidity, near a humidifier is the best location for me.

Fertilise me once every four weeks in the growth season. Do not fertilise me in the winter.
A landing or hallway with plenty of light where Betty can thrive and bring colour and vibrance through her whimsical spotty leaves.
THINGS WE ALWAYS GET ASKED

How do you care for a Begonia maculata plant?
While Begonia maculatas can live outside, we think they're the perfect indoor plant and her beauty would be wasted out in the garden. Betty prefers a well-lit room and regular watering, so keep her soil consistently moist by watering when the first few centimetres of soil feels dry. Just like other tropical plants, she also likes to be in warmer temperatures and can be sensitive to cold drafts or open windows. The perfect temperature for her is between 18°C and 30°C.
Should I mist my Begonia maculata?

To avoid any mould or bacteria infections forming on the leaves of your Begonia, it's best to avoid misting Betty. She does, however, prefer much higher levels of humidity than normal houseplants, so keep her near a humidifier or on top of a pebble tray to ensure the air remains moist enough. If she gets very unhappy, you might find the bathroom and its higher levels of humidity suits her best.
Do polka dot Begonias bloom?

Yes and it's beautiful! If given enough bright sunlight, this Begonia will bloom small white or pink flowers throughout the spring and summer months.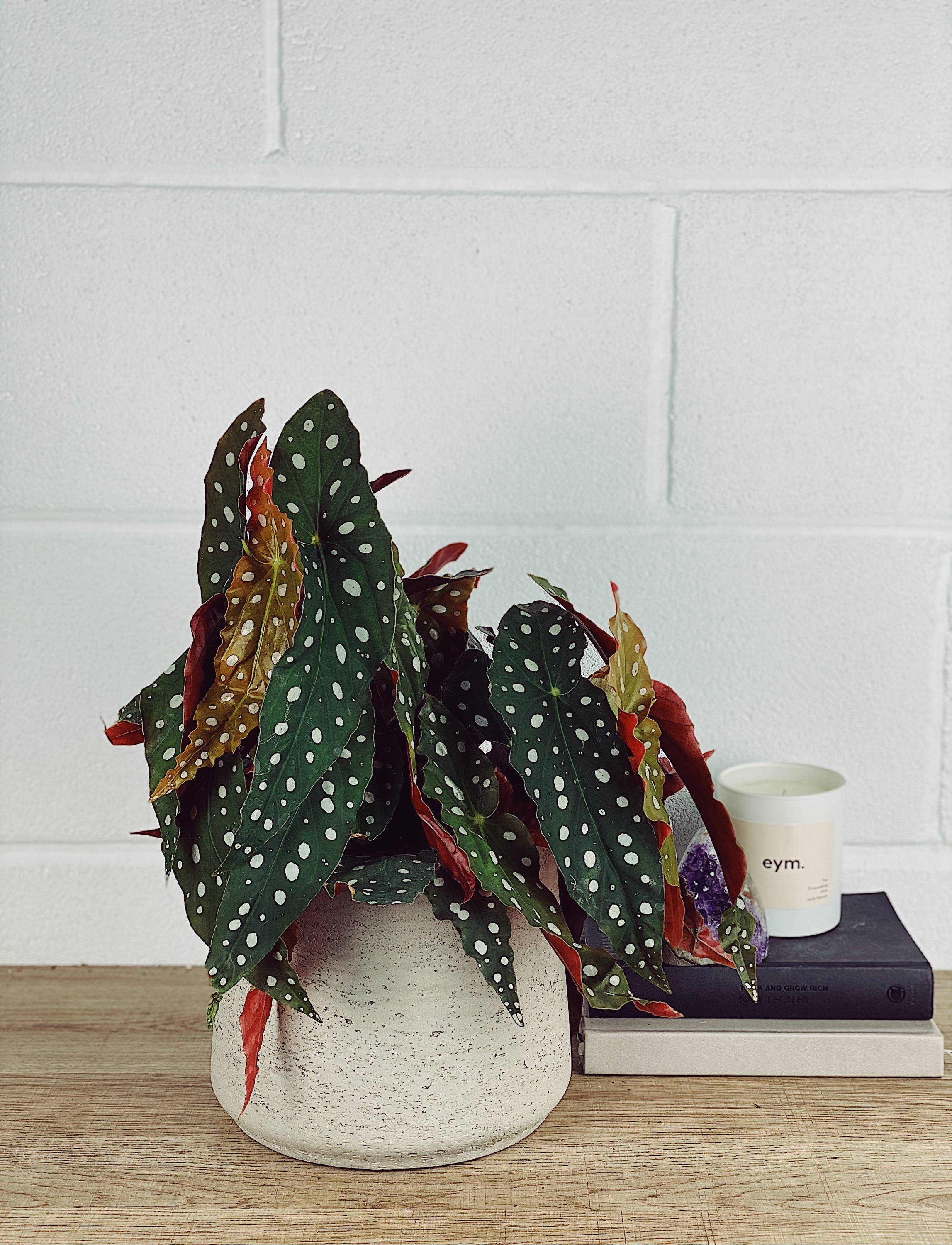 ​Betty the Begonia is the perfect plant to style in a room that's in desperate need of some colour. By placing your Begonia on a sunny landing or hallway she can be enjoyed every time you walk past - although, for the full effect, keep Betty away from any other houseplants with colourful foliage as there's only room for one vibrant plant in town (well, unless you want your plants to clash that is). To allow Betty to shine, pair her with plants that have one-toned foliage.
Complement Betty's vibrant foliage with the power crystal and uplifting candle.
We use a next day delivery service with one of our trusted couriers. Please allow a little bit of packing time. During COVID and busy times this can be up to 5 days.
Your personal information and data is secure with us. This is our website platform providers bread and butter. Uncompromised safety & security.
If you have received a damaged plant or within 15 days you have any trouble after following our care guidance we will offer you a replacement.
WE PLANT 5 TREES FOR EVERY ORDER
Our goal is to plant 1 million trees by 2025 to help save our environment.