ABOUT OUR CALATHEA ROSEOPICTA GREEN
Hello I'm Ruby the Calathea Roseopicta. My luscious dark ruby leaves are exactly what your coffee table or bedroom dresser is missing. Being part of the prayer plant family I will move upwards and stand up tall at night time. This is where my name comes from. My leaves follow the light wherever it may go; if you're lucky, you might catch me moving.
You can find me in the Brazilian forest where I thrive underneath the canopy of large trees and plants. Growing on the forest bed, I absorb all the nutrients I need from the soil and water. Being from a tropical climate, I love high levels of humidity and should be placed in a bathroom or near a humidifier. If you're struggling to increase the humidity in your home please go ahead and read this blog on increasing humidity for your houseplants. It has everything you'll need to keep my foliage brown and crispy free.
With my attractive and sleek white stripe, I'm just the answer for any room that is ready for a touch of greenery.
Small Calathea Height (including nursery pot) 40cm; pot diameter 12cm.
The Calathea Roseopicta green can be very sensitive to the harsh chemicals commonly found in tap water. To keep any brown tips or edges from crisping up or curling it's best to use filtered or rain water.
Ruby has no intention of blending into the background. This Calathea Roseopicta green was made to stand out against your other houseplants.

QUICK CALATHEA ROSEOPICTA PLANT CARE

Ruby the Calathea will flourish in a warm room and humid room. Keep Ruby's leaves away from any direct sunlight as this will cause burning.

I prefer a medium/bright indirect light and should be kept away from any big windows that let in direct sunlight as these can bleach my leaves!

Keep my soil moist by only watering me when the first few centimetres of soil are dry. I don't like overly wet or dry soil.

Keep my humidity levels high by placing me next to a humidifier or moving me into a bathroom.

Use the fortifying fertiliser once a month to help promote new growth. Only fertilise me from March-September.

FAST FACTS ABOUT THE CALATHEA ROSEOPICTA

The best room for the Calathea Roseopicta green is in a bathroom for the high levels of humidity.
THINGS WE ALWAYS GET ASKED

How often should you water a Calathea Roseopicta?
Getting the Calathea's watering schedule correct can be tricky to master at first. Twice a week check her soil and only water if the first two inches of soil are dry. In the winter this could be once every 8-10 days and in the summer months as often as twice a week. It's very important to never let the Calathea's soil dry out or become soggy.
How do you care for Calathea Roseopicta?
Ruby needs medium light, moist soil and high humidity. She is very sensitive to cold drafts and open windows and so it's best to keep temperatures between 20°C and 24°C. Native to the tropical rainforests of Brazil, she will need a very humid room to thrive in; if the air is too dry for her leaves, their edges will turn brown and crisp. The Calathea roseopicta green should be placed in a bright room with plenty of indirect light. Keep her foliage away from direct sunlight as it can burn quite easily. It's important to keep Ruby in a room with at least one window otherwise her foliage will wilt and die. The Calathea roseopicta green should be watered regularly and her soil should never be left to dry out. Check her soil twice a week and only water when the first two inches of soil are dry.
How much light does a Calathea Roseopicta need?
Calatheas grow at a moderate rate and will push out a lot of new growth in the spring and summer months. To help encourage growth, use our fortifying fertiliser once a month in the growth season. A Calathea is more likely to grow new foliage when the humidity levels are higher and its natural habitat is replicated.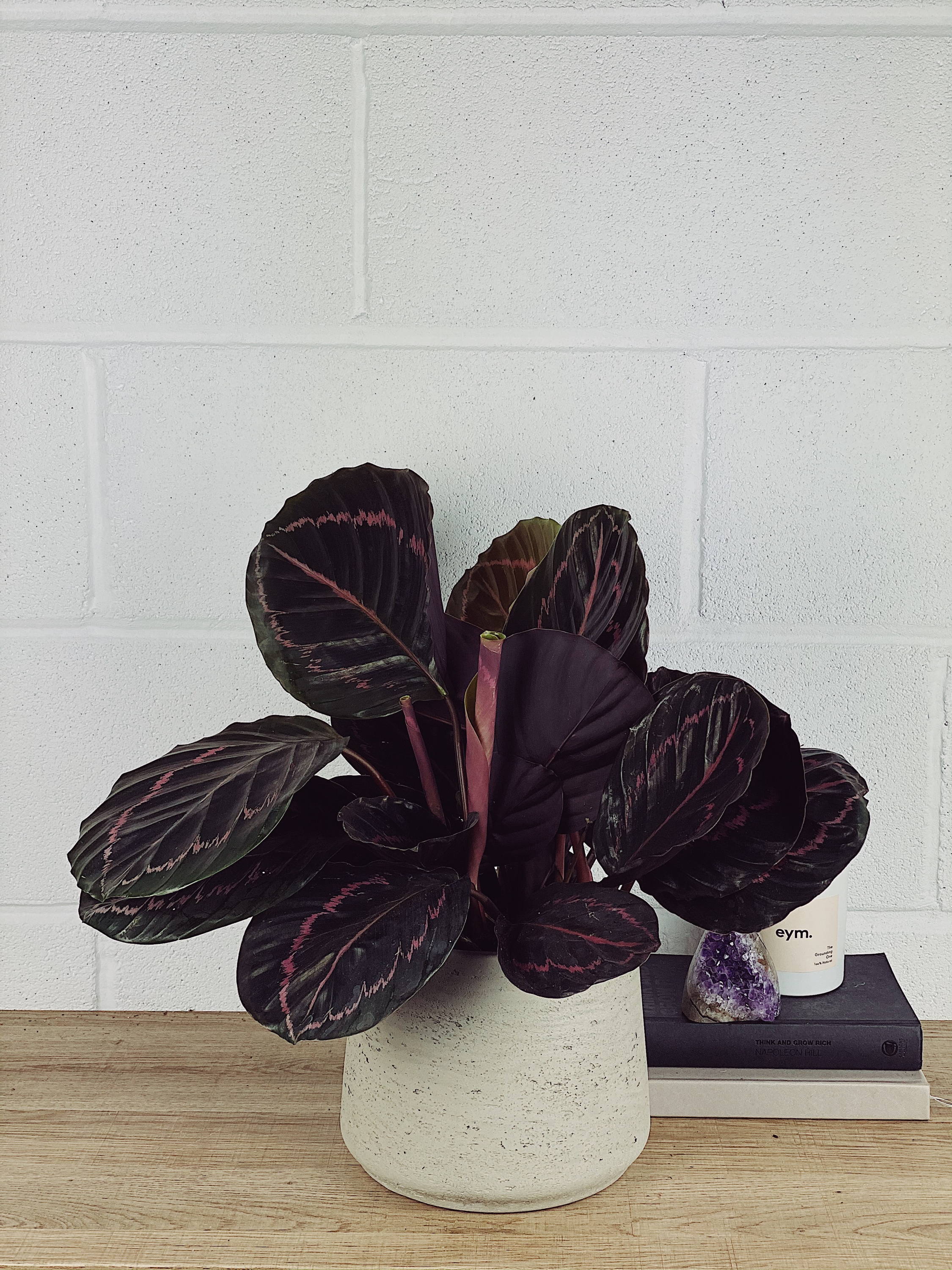 ​The Calathea roseopicta has striking white stripes that are very eye-catching. Place her on your coffee table or bedside table in your bedroom. As she's non-toxic and animal and human-safe, you can even place her in a playroom or children's bedroom for a splash of funky fun.  
Pair this stylish plant with a calm crystal on your bedside table for a relaxing and rejuvenating atmosphere in your bedroom.
We use a next day delivery service with one of our trusted couriers. Please allow a little bit of packing time. During COVID and busy times this can be up to 5 days.
Your personal information and data is secure with us. This is our website platform providers bread and butter. Uncompromised safety & security.
If you have received a damaged plant or within 15 days you have any trouble after following our care guidance we will offer you a replacement.
WE PLANT 5 TREES FOR EVERY ORDER
Our goal is to plant 1 million trees by 2025 to help save our environment.