ABOUT OUR CALATHEA WARSCEWICZII
Hey, I'm Candice the Calathea warscewiczii. Don't feel under pressure to pronounce my name correctly; just call me Candice the Calathea or prayer plant. If you haven't heard yet, I'm set to be the 'it' houseplant for 2021. Just check out my foliage if you want to know why: my velvet patterned overleaf and deep rich purple under leaf are as beautiful as they come, if I may say so myself.  
You can find me deep in the Amazon rainforest enjoying the humid and warm environment of the jungle and this is what causes the most peculiar of my characteristics: I move. The undergrowth in the forest doesn't boast a lot of natural light, so I move my leaves to capture as many of the sun's rays as possible. If you're lucky, you might catch me doing it.
Like many tropical plants and other members of the gorgeous Calathea family, my leaves are pretty as a picture and will bring elegance and class to your home.
Big height (including nursery pot) 80cm; pot diameter 19cm. (Fits a 20-24cm pot).
Candice is often known as the velvet leaf Calathea, named for the velvet-fuzzy texture you'll notice if you touch its foliage.
Candice's rich, purple patterned leaves are the reason she's so bang on trend and ready to propel your indoor decor to Instagram-level gorgeous.

QUICK CALATHEA WARSCEWICZII PLANT CARE

Candice's striking leaves require a lot of moisture and warm temperatures that mimic her natural environment.

I like filtered or dappled light. Bright light will cause my variegation to fade.

I like damp soil. I might need watering frequently in the summer but less often in the winter months. Make sure you feel the first few centimetres of my soil to make sure it's dry before topping me up.

I love high levels of humidity. Use a pebble tray, place me near a humidifier or keep me in the bathroom.

Fertilise me during the spring and summer months only. Use a diluted fertilise to protect my sensitive root system.
The best room is the bathroom where the high levels of humidity will keep Candice happy.
THINGS WE ALWAYS GET ASKED

How do you care for a Calathea warscewiczii?

Taking care of your Calathea warscewiczii can be tricky at first but very rewarding once you've got a few care tips under your belt. Candice loves high humidity and prefers higher levels of moisture - she is the perfect bathroom plant or would prefer to be placed near a humidifier. She can be a bit fussy when it comes to the chemicals found in the tap water and is much happier with filtered or rain water. Keep her soil slightly damp without letting it dry out too much; excessively dry soil can cause crispy leaves and drooping foliage.
Where should I put my Calathea?

The best spot of your Calathea is out of direct sunlight, away from any drafts and in a humid environment. Calatheas can be sensitive to the radiator which dries out the air and causes their leaves to brown and crisp.
Should I mist my Calathea?
For humidity loving plants only misting won't do the trick. It's better to place Candice next to a humidifier, on top of a pebble tray or in the bathroom. Misting alone will not benefit humidity loving plants like the Calatheas, Alocasias or Marantas.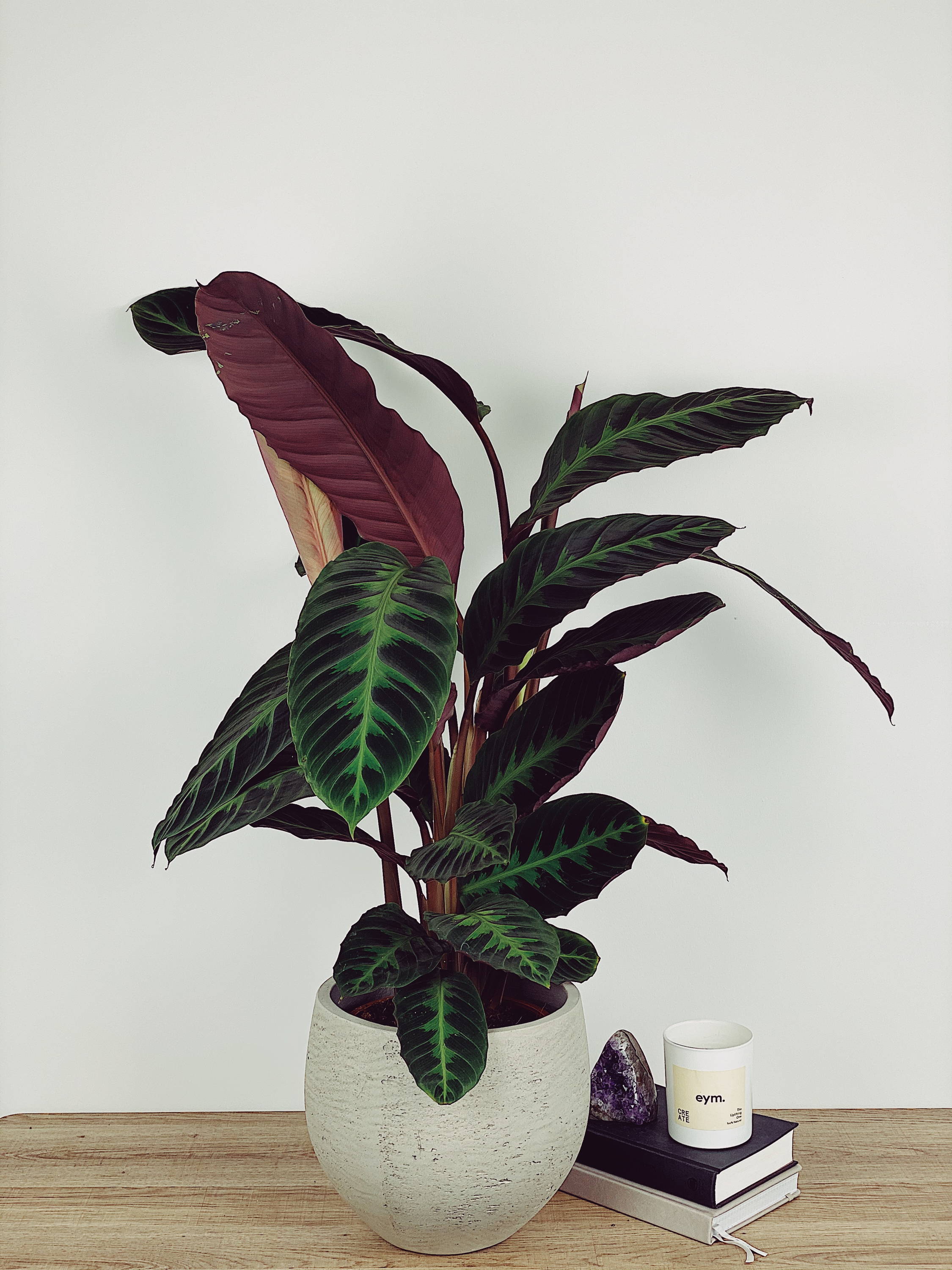 Candice's rich and elegant leaves are the perfect decoration for a bathroom in need of a burst of colour. Her extravagant leaves will make your bathroom feel like you've escaped into a humid jungle - well, for 30 minutes a day at least!
Pair Candice with an energy crystal and uplifting candle for a refreshing start to the morning.
We use a next day delivery service with one of our trusted couriers. Please allow a little bit of packing time. During COVID and busy times this can be up to 5 days.
Your personal information and data is secure with us. This is our website platform providers bread and butter. Uncompromised safety & security.
If you have received a damaged plant or within 15 days you have any trouble after following our care guidance we will offer you a replacement.
WE PLANT 5 TREES FOR EVERY ORDER
Our goal is to plant 1 million trees by 2025 to help save our environment.