ABOUT OUR EUPHORBIA INGENS
Hi there, I'm Carlos. I'm the sort of bloke who can handle the rays. Give me a sunny spot, a chilled bottle of plant beer and a cigar and I'm sorted. Seriously, I'm cool as a cucumber and as carefree as a cactus, although I'm not actually one of the latter.
My Latin name is Euphorbia Ingens and people often call me the candelabra tree because in my native countries I can reach an awesome 12 meters. But don't worry, while I'm pretty beefy in stature outdoors, in your home, I'm unlikely to surpass 1.5 metres.
You'll find my spiky trunk and segmented arms in the barren and dry deserts of Southern Africa, so you'll be unsurprised that I need bright sun to tone up my muscles. If I get enough sun, I can occasionally produce light green flowers, which are totally manly.  
Be careful to place me out of reach of younger children and pets. I have a milky sap in my leaves that is very poisonous if ingested.
Big height (including nursery pot) 70cm; pot diameter 21cm.
The sap from within the Euphorbia Ingens is so poisonous, it's used by indigenous people of Southern Africa to make arrow tips.  
Carlos is a sun loving plant and his spiny trunk and iconic cactus-like shape will turn your home into the set of a Spaghetti Western.

QUICK EUPHORBIA PLANT CARE

As a succulent that's very similar to a cactus, Carlos is unsurprisingly very easy to look after, making him an ideal beginner plant.

I prefer bright light. Place me by a south facing window.

I can go many weeks without water. Never let me sit in excess water.

I can survive in a less humid room, although I'd much prefer high levels of humidity.

Use cacti and succulent fertiliser two to three times over the growth season. Do not fertilise me in the winter months.
Any south facing window, or preferably a bright conservatory.
No. The milky sap of the candelabra is extremely poisonous if ingested.
THINGS WE ALWAYS GET ASKED

Is Euphorbia Ingens a cactus?
The Euphorbia Ingens looks similar to a cactus but is actually a succulent tree. Succulents are designed to store water so that they can survive even the driest of climates, much like a cactus, which explains their fleshy and thick trunks.
How do you take care of a candelabra tree?
Carlos is a low maintenance succulent who's an extremely cool customer. The most important requirement for Carlos is bright sunlight and warm conditions. In the summer months he can even be placed outside to enjoy the longer hours of sunshine.
In the winter, he doesn't need much water and will only require a drink every couple of months or whenever the first few centimetres of his soil feels dry to touch. In the summer months when he gets lots of sunshine, he will need watering once every couple of weeks but still allow his soil to dry out a little before watering him again.
Is the candelabra tree poisonous?
Yes, the milky sap inside the leaves is poisonous if ingested. Keep the cactus above the ground in a tall plant stand or on a table some height away from any young children or furry family members.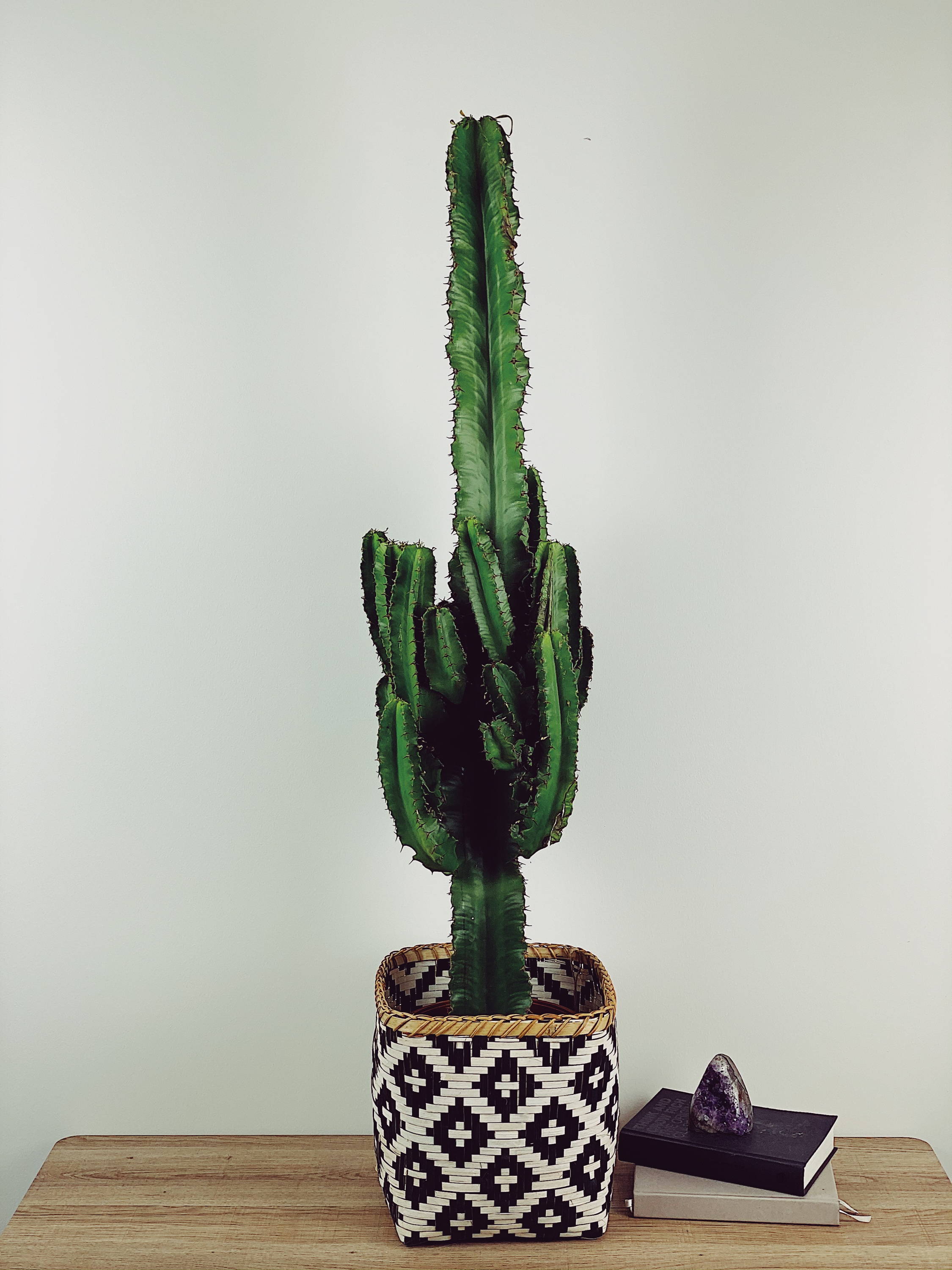 ​Carlos should be styled next to a large south facing window so that he gets the sun he craves. Place him in a brown pot to complement his exotic look and put him on a small side table so he is able to reach as much bright light as possible. Carlos would also look good by the doorway of a bright and sunny conservatory.
Pair this exotic plant with an energising crystal and joyful candle for an uplifting and lively atmosphere.
We use a next day delivery service with one of our trusted couriers. Please allow a little bit of packing time. During COVID and busy times this can be up to 5 days.
Your personal information and data is secure with us. This is our website platform providers bread and butter. Uncompromised safety & security.
If you have received a damaged plant or within 30 days you have any trouble after following our care guidance we will offer you a replacement.
WE PLANT 10 TREES FOR EVERY ORDER
Our goal is to plant 1 million trees by 2025 to help save our environment.