ABOUT OUR MORETON BAY CHESTNUT
Hi, I'm Castro the Castano Magnifico. That sounds rather impressive doesn't it? I'm more widely known as the Moreton bay chestnut but please feel free to call me the Magnifico plant - the praise will go straight to my head. I have no intention of taking up too much of your time, my dark vibrant leaves are very easy to care for. In the wild I can grow 40 metres tall but thankfully I'll stay much smaller in an indoor environment.
I'm found by lakes, swamps and rivers in Vanuatu and New Caledonia. Here my soil stays consistently moist and I'm protected from the hot sun underneath the canopy of larger trees. If you water me correctly and feed me with a houseplant fertiliser I will bloom bright red and orange flowers. I'm positive my colourful flowers will give you a little mood boost throughout the day.
I'm the perfect size to be placed on a shelf or desk, my no-fuss attitude means you can place me anywhere in your home - providing there's not too much sunlight.
Small height (including nursery pot) 25-30cm; pot diameter 12cm. (Fits a 13-15cm pot)
The Moreton bay chestnut has an important part to play in its natural habitat. It's flowers, pollen, seeds and nectar attract bees, butterflies and bats and parrots.
Castro's is a good beginner plant and a wonderful gift for someone who is just starting their own plant collection.

QUICK MORETON BAY CHESTNUT PLANT CARE

An easy plant to care for that thrives in medium light and regular watering.

A medium light is ideal for my leaves, any bright light will cause me to wilt.

I do prefer regular watering and should be watered one-two times a week in the growth season.

I don't mind normal household humidity.

You can fertilise me every month from March-September. Do not fertilise me in the winter.
A great place for Castro would be on a shelf in a room with medium light.
THINGS WE ALWAYS GET ASKED

How do you take care of a Moreton bay chestnut?
The Moreton bay chestnut is an easy to care for plant that is suitable for beginners. He prefers warm temperatures, medium light and normal household humidity. He will adapt to a variety of temperatures but try to keep him in a room between 16-28°C. Naturally found deep in the subtropics of Polynesia, he doesn't mind lower levels of light and his leaves can be quite sensitive and burn easily from bright light. Castro will tolerate normal household humidity and will not need to be placed by a humidifier or in a bathroom.
How often should I water my Moreton bay chestnut?
The Moreton bay chestnut likes regular watering. It's good to check the first inch of the soil and water when the topsoil is starting to dry out. In the summer this could be twice a week and in winter months it could be once every 7-10 days.
Where should you place a Moreton Bay Chestnut tree?

The ideal spot for Castro is a room with warm temperatures, away from any drafts and in a room without any direct sunlight. Place him about a metre away from an east or west facing window to avoid his leaves from burning or drying out.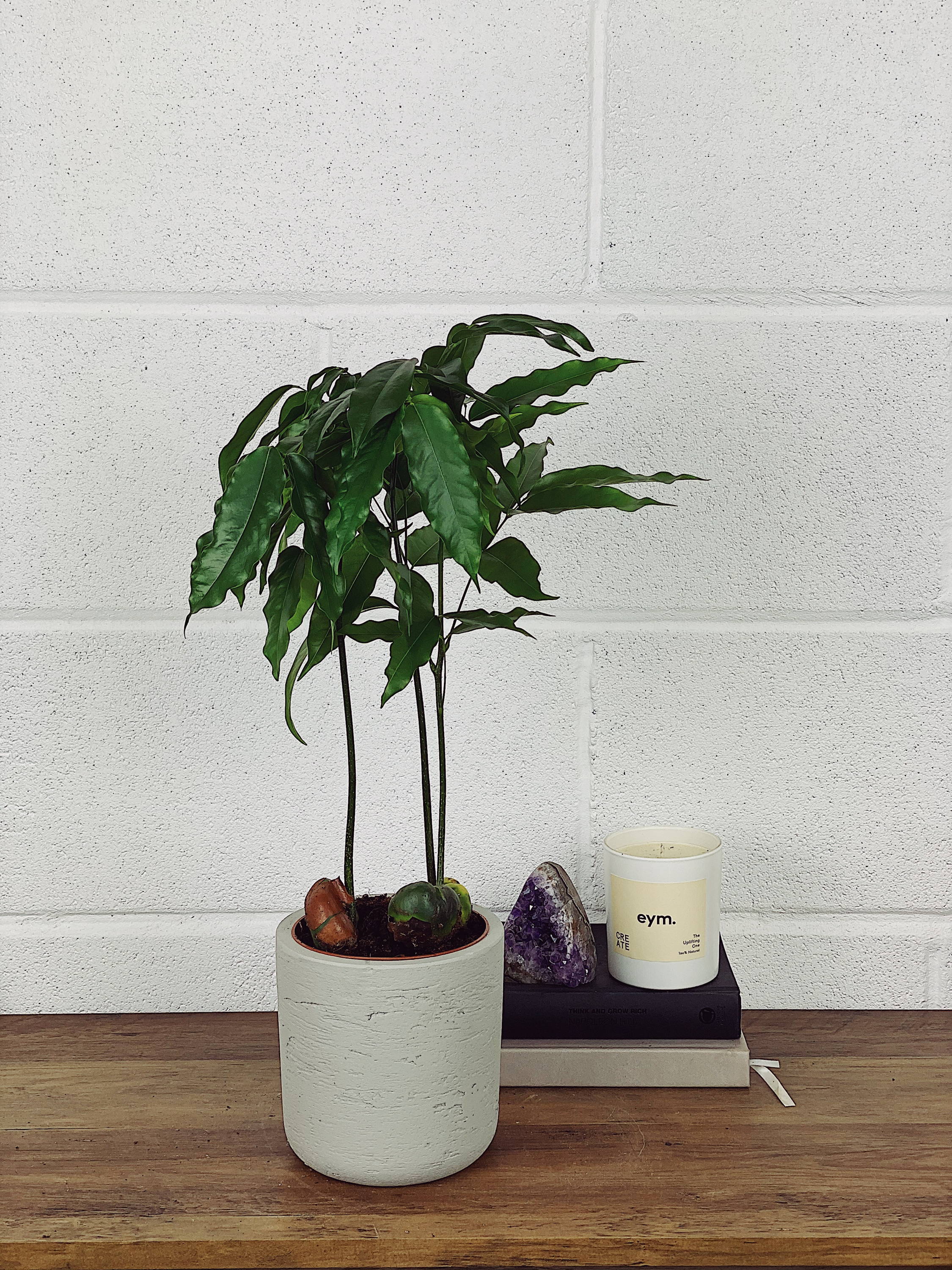 ​Castro's rich dark leaves can be used as an ornamental piece for a study or home office. Place him on your desk or on a shelf behind you and he'll be the star of the show during your zoom meetings.
We use a next day delivery service with one of our trusted couriers. Please allow a little bit of packing time. During COVID and busy times this can be up to 5 days.
Your personal information and data is secure with us. This is our website platform providers bread and butter. Uncompromised safety & security.
If you have received a damaged plant or within 15 days you have any trouble after following our care guidance we will offer you a replacement.
WE PLANT 5 TREES FOR EVERY ORDER
Our goal is to plant 1 million trees by 2025 to help save our environment.