ABOUT OUR FICUS BENJAMINA DANIELLE
Hi, I'm Daniel. I have a few nicknames that you might have heard before like the Ficus tree, Benjamina tree and the weeping fig. My glossy, oval leaves have been used to style sunny homes for many decades. It's true, I have a reputation for being a bit of a drama queen but that hasn't stopped my popularity. You might notice a few of my leaves drop when I first arrive into your space. Don't worry this is completely normal and I just need a few weeks to get used to my surroundings.
You can find me in parts of India and Northern Australia. Here I can grow between 18-30 metres tall which sadly is too small to be considered a tree so I'm usually known as a shrub or bush. Indoors I can grow to the maximum height of 1.5 metres. I'm a tropical plant that loves high humidity, warm temperatures and partial sun. The best way to keep me happy is by replicating my natural habitat by placing me in a well lit room next to a humidifier. If you can, make sure the room never drops lower than 20ºC my delicate foliage can't stand the cold.
My spectacular foliage is a must have for any sunny room or conservatory. My stylish look can be completed with Sasha the bird of paradise or Bonnie the spider plant who have the same care as me.
Small Height (including nursery pot) 45-55cm; pot diameter 14cm.
Big Height (including nursery pot) 85-90cm; pot diameter 21cm.
The Ficus Benjamina is the official tree of Bangkok!
The Ficus Benjamina is one of the top air purifying plants and can absorb common household toxins like formaldehyde and benzene.

QUICK FICUS BENJAMINA DANIELLE PLANT CARE

A very attractive and loved houseplant that needs high humidity and warm temperatures.

 I prefer lots of bright light. Just no direct sunlight please

Check my soil weekly and only water me when the first few inches of the soil is dry.

I need to be placed in a humid room or nearby a humidifier. Find out how you can increase humidity here.

You can fertilise me every 3-4 weeks in the growing season. I don't need fertiliser in the winter.
The corner of a sunny conservatory.
THINGS WE ALWAYS GET ASKED

Why is my Ficus Benjamina dropping leaves?
Daniel will drop his leaves when he is under stress. This could be from cold, movement, drafts or overwatering. In the beginning it's perfectly normal for Daniel to drop a few of his leaves when he first gets used to his new home. The Ficus Benjamina is not cold or draft tolerant. He should be placed away from any open windows, frequently used doors and radiators. Keep his temperature consistent and avoid moving him around your home too often as this could cause stress and more leaf drop.
How do you care for a Ficus Benjamina?
Care for Daniel can be tricky in the beginning while he gets used to his new home. He likes high humidity and should be placed in a steamy bathroom or near a humidifier. His leaves may drop if exposed to excessive heat, cold or drafts so the best spot of the home for Daniel is in a warm and draft-free spot. He prefers a well lit room so placing your ficus somewhere where he will receive morning or evening sunlight will keep him happy. Avoid direct or midday sun. It's good to always water with warm filtered water so avoid shocking the roots. Do not water with cold tap water as this shocks the root system.
How often should you water a Ficus Benjamina?
The best way to tell if Daniel is ready for a drink is by feeling the first two inches of the soil. He doesn't need a lot of water and is quite drought tolerant. Check his soil weekly in the summer and winter and only water when the first few inches of soil is dry.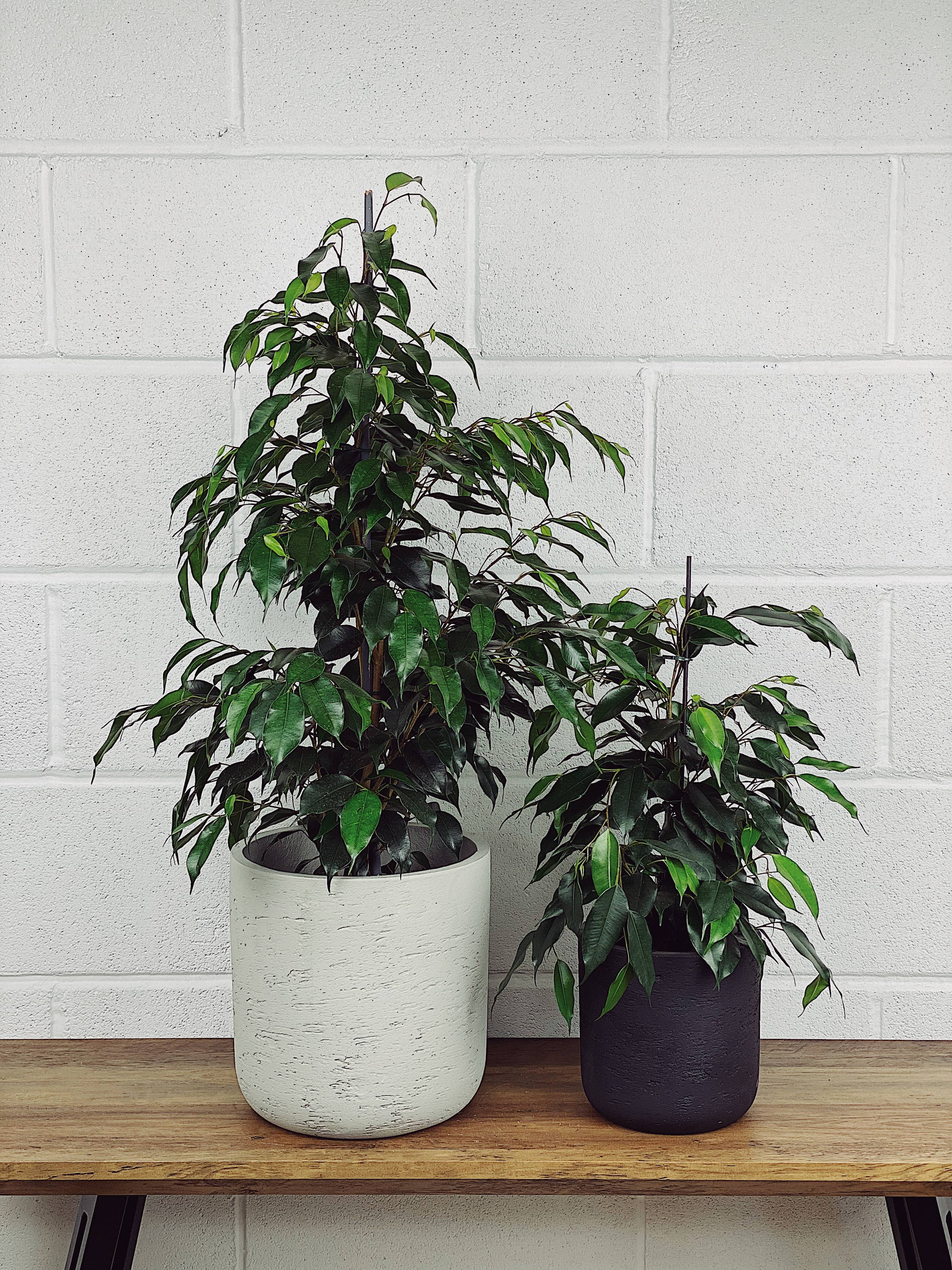 ​Daniel is a stylish and attractive houseplant. His popularity has made him a must have plant for a bright and sunny living space. Group him with our other sun loving plants like Roger, Philippa and Jade to help increase humidity in your home.
Use our energising crystal and uplifting crystal for more electrifying vibes in your sunny home.
We use a next day delivery service with one of our trusted couriers. Please allow a little bit of packing time. During COVID and busy times this can be up to 5 days.
Your personal information and data is secure with us. This is our website platform providers bread and butter. Uncompromised safety & security.
If you have received a damaged plant or within 15 days you have any trouble after following our care guidance we will offer you a replacement.
WE PLANT 5 TREES FOR EVERY ORDER
Our goal is to plant 1 million trees by 2025 to help save our environment.