Hey, I'm Conrad the dieffenbachia. My name is quite a mouthful so everybody calls me the dumb cane plant. Don't let my name mislead you, I'm actually a very smart plant and very easy to take care of. My speckled green variegation is simply stunning to look at ,but be careful to not place me close to any bright windows - too much sunlight will cause my variegation to fade.
You can find me and the other 50 species of dumb cane in places like Mexico and the Caribbean. I was first discovered in South America in the 1830s by the head gardener of Vienna's royal Palace Gardens, a man called Joseph Dieffenbach, and from whom I take my name.
My distinctively marked foliage makes every single dumb cane species completely unique. Use my pretty foliage to brighten up a study or home office.
Baby height (including nursery pot) 25cm; pot diameter 9cm.
Medium height (including nursery pot) 70-75cm; pot diameter 17cm.
South American indigenous people would use the sap in dieffenbachia leaves to poison their enemies. If ingested, the sap would cause throat irritation for at least a week.
Conrad's perfectly sized to be placed on a mantelpiece, bookshelf or dresser. Keep him high out of reach of young children and pets.

QUICK DIEFFENBACHIA PLANT CARE

Conrad is a shade loving plant and will continue to thrive over the winter months when sunlight is minimal.

I prefer a shadier spot but will tolerate a medium light providing my leaves don't receive any direct sunlight.

Allow my soil to dry out in between each watering. I'm happy if my soil is on the drier side but look out for yellow leaves as this could be a sign I'm underwatered.

I much prefer higher levels of humidity, so keep me by a humidifier or place a pebble tray underneath my pot.

Fertilise me once a month in the growing season, from March to September.
THINGS WE ALWAYS GET ASKED

How much sunlight does a dieffenbachia need?

Dieffenbachias do not need much sunlight to thrive. The dumb cane is an excellent winter plant because of his tolerance for lower or medium lighting. He won't complain if less sunlight is available in the winter months.
How do you care for a dieffenbachia plant?
The best care for the dumb cane plant is medium lighting, high humidity and warm temperatures. As Conrad is from tropical forests in the Americas, he'll benefit from filtered light or partial shade. He likes lots of moisture on his leaves so placing him next to a humidifier will help keep his foliage fresh. Allow the first three inches of soil to dry out before you water him again; you'll notice his foliage will start to droop when he's ready for his next drink.
How big does a dumb cane plant get?

Dumb cane plants are considered very fasting growing and will push out new growth all year round providing the indoor temperatures stay warm. The dumb cane can grow up to a metre tall in your home and over two metres in their normal outdoor habitat.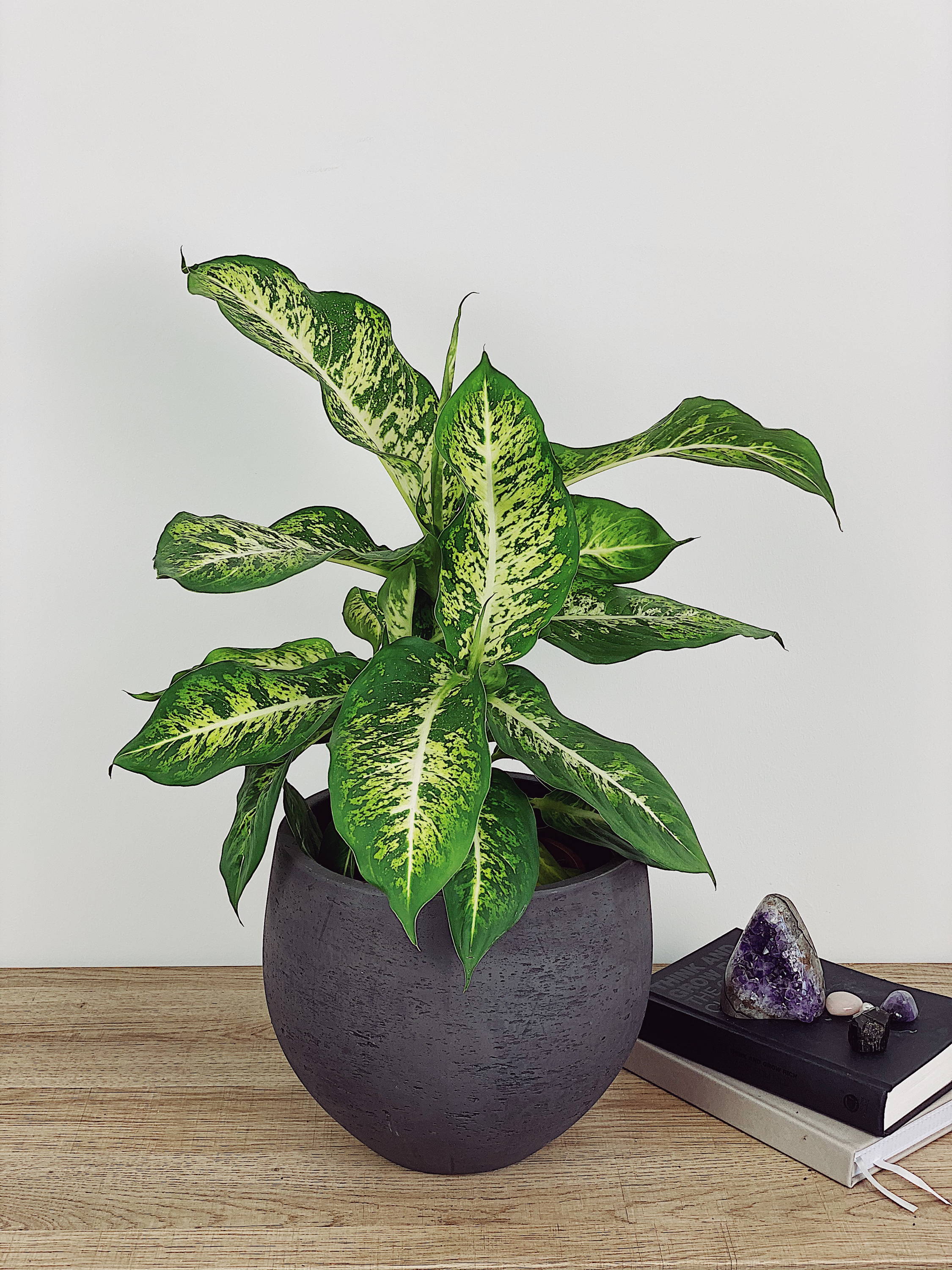 ​There is beauty in simplicity and Conrad has no bells nor whistles but is sure to be the centre of attention. His leaves can be toxic if ingested so keep him on a high table in the study or office. Conrad's air purifying magic touch will clean the toxins in the air while you are hard at work.
Complement Conrad's beauty with a power or knowledge crystal to help you conquer the working day.
We use a next day delivery service with one of our trusted couriers. Please allow a little bit of packing time. During COVID and busy times this can be up to 5 days.
Your personal information and data is secure with us. This is our website platform providers bread and butter. Uncompromised safety & security.
If you have received a damaged plant or within 15 days you have any trouble after following our care guidance we will offer you a replacement.
WE PLANT 5 TREES FOR EVERY ORDER
Our goal is to plant 1 million trees by 2025 to help save our environment.