ABOUT OUR DEVIL'S IVY ON A POLE
Hi, I'm Eddie but I'm also known as the Epipremnum aureum, golden pothos or rapunzel plant. My variegated foliage is full of different shades of green and is very fast growing, especially in the spring and summer months. I'm a natural climber and will scale any surface, which is why I love having a moss pole to support all my vines.
I come from the tropical South Pacific island of Mo'orea. Because of these tropical roots, I adore warm temperatures and a humid room. Don't worry if you can't provide me with plenty of light, as I'm actually a bigger fan of medium or filtered light. I'm also well equipped to deal with periods of drought and don't mind my soil drying out a bit, so if you're forgetful from time to time, I won't hold it against you!
I pride myself on my flexibility. No, I can't do the splits but I'll be happy almost anywhere you put me. If I had to choose, however, I'd opt for a bright office or room where I can really grow into my foliage.
Small height (including nursery pot) 50cm; pot diameter 15cm. (Fits a 16-18cm pot)
Big height (including nursery pot) 80-90cm; pot diameter 19cm. (Fits a 21-22cm pot)
XL height (including nursery pot) 120-130cm; pot diameter 24cm. (Urban XL Pot)
Eddie's aerial roots latch on to surfaces such as branches or moss poles. These aerial roots then develop to help strengthen Eddie's root system, allowing him to "climb" all the way up.
Eddie's foliage is the perfect way to add some greenery to your home or office without having to spend a lot of time on plant care.

QUICK DEVIL'S IVY PLANT CARE

Eddie keeps things relaxed and isn't one to complain if you forget to water him once in a while.

 I can tolerate lower light but I do grow faster in a brighter room.

I can go a few weeks without water; just allow my soil to dry out before watering me again.

I do prefer a humid climate but I can cope in rooms with lower levels of humidity.

You can fertilise me monthly in the spring and summer months. Do not fertilise me in the winter months.

FAST FACTS ABOUT EDDIE ON A POLE

The bedroom so he can help purify the air or in a drab office to add some colour.
THINGS WE ALWAYS GET ASKED

Is devil's ivy good for indoors?
We think Eddie's a fantastic indoor plant. It's because he's so easy going and actually pretty hard to kill. In fact, too much attention can be the biggest problem, so just, well, leave him alone!
While plants - like any living beings - need light to grow, Eddie will be fine in even a darkish room - making him perfect if your home is a little on the dingy site. Place him near a window for the best chance to see his gorgeous foliage grow and to ensure his variegation - those colourful spots on his leaves - stays bright.
Is devil's ivy easy to grow?

Yes! Eddie will soon be climbing all the way up the moss pole as he's prone to big growth spurts in spring and summer.
Is devil's ivy poisonous?
Yes. While Eddie's certainly a loveable guy, he's not too keen on kids or animals. If eaten by either, he can be poisonous. So keep him out of temptation on a high shelf.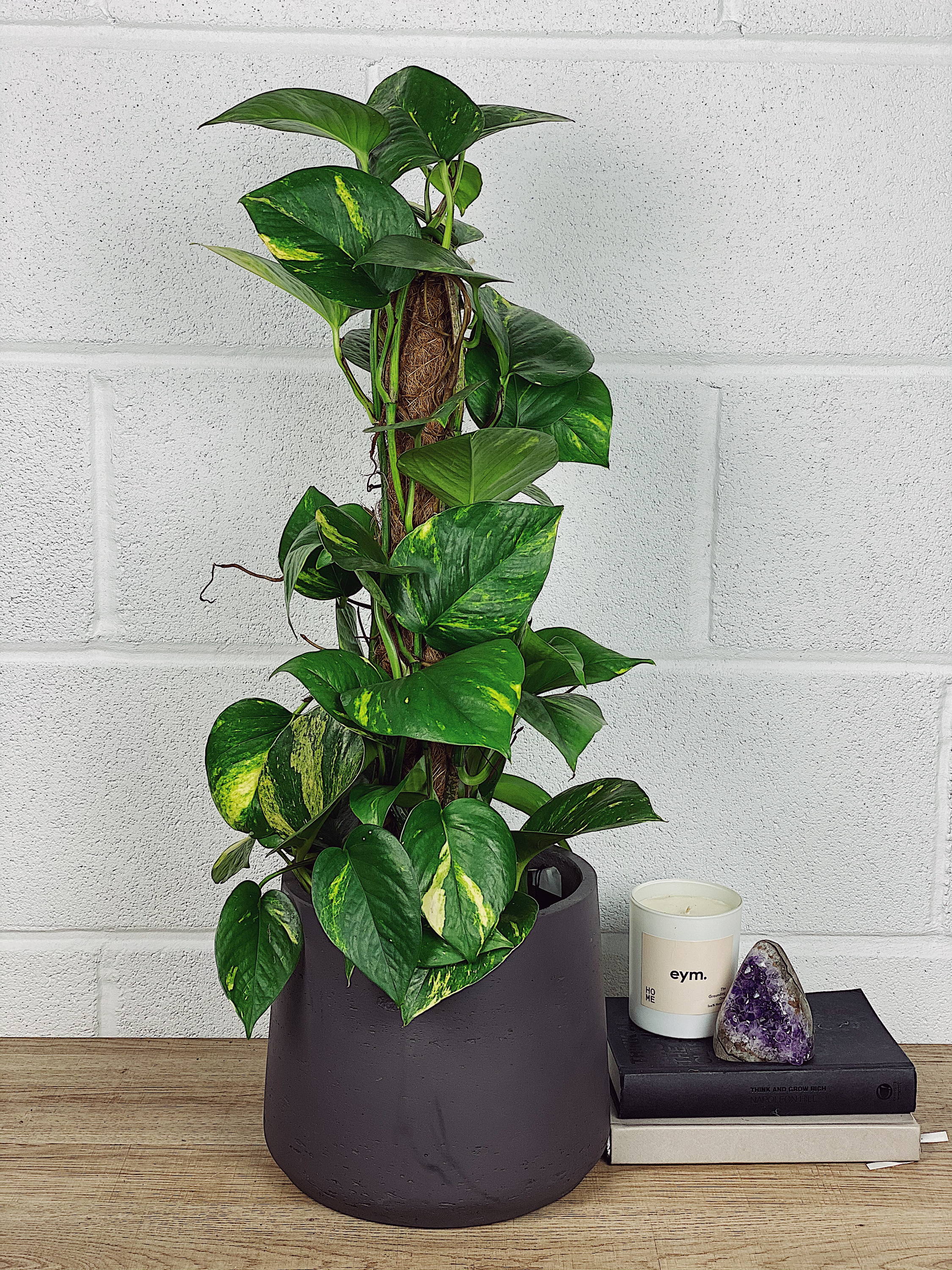 ​Eddie's climbing foliage can be appreciated in any corner of the home. He'll look his best on a dresser in a west or east facing bedroom and you'll be surprised what the morning sun can do for his foliage. If Eddie starts to get overgrown or messy you can snip off the excess leaves and use them - like in some sort of budget '90s horror film - to propagate a brand new Eddie.
Pair Eddie's climbing foliage with our healing crystal or grounding candle.
We use a next day delivery service with one of our trusted couriers. Please allow a little bit of packing time. During COVID and busy times this can be up to 5 days.
Your personal information and data is secure with us. This is our website platform providers bread and butter. Uncompromised safety & security.
If you have received a damaged plant or within 15 days you have any trouble after following our care guidance we will offer you a replacement.
WE PLANT 5 TREES FOR EVERY ORDER
Our goal is to plant 1 million trees by 2025 to help save our environment.