Hi, I'm Eddie the Epipremnum aureum. I'm more commonly known as the devil's ivy, golden pothos or even the Rapunzel plant. As you can see, I've incredible, variegated and fast-growing foliage that'll drape elegantly out of my pot to add a dramatic rush of colour to your room.
I'm native to a beautiful island in French Polynesia named Mo'orea. Coming all the way from these paradisiacal islands in the middle of the South Pacific, I much prefer a humid and warm environment - so you'll want to give me a quick mist every now and then. I'm the perfect indoor plant because I can handle rooms where there isn't an abundance of sunlight and I'll bounce back with a flourish if you ever forget to water me.
As you can see, I'm really adaptable to most conditions, whether it be in the home or office. You'll find my easy going approach and abundant - and free-flowing foliage - makes me a fab choice for beginners to plant parenthood.
Baby- Pothos height (Including nursery pot) 15cm; pot diameter 6cm. (Fits a 8cm decorative pot)
Small -Pothos height (including nursery pot) 25cm; pot diameter 12cm. (Fits a 13cm decorative pot)
Medium -Pothos height (including hanging nursery pot) 35cm; pot diameter 15cm. (Fits a 16-19cm decorative pot)
According to Feng Shui experts, Devil's Ivy is considered an energy cleansing plant that'll bring you positivity and good luck into your house.
The Devil's Ivy has magnificent leaves will grow quickly and you'll have long, luscious and draping vines in no time at all.

QUICK DEVIL'S IVY PLANT CARE

The Pothos is a houseplant who's about as relaxed as they come. His common name, devil's ivy, stems from the fact he's practically impossible to kill - and he'll stay green, even in low light.

The Devil's Ivy can tolerate a low or medium light, but will grow faster in a brighter room.

Allow the first few inches of the Devil's Ivy soil to dry out before you water it again. The Epipremnum Aureum is a drought tolerant plant that can go a couple of weeks without water.

The Pothos is happy with normal household humidity but it would prefer slightly higher levels of humidity. If you do see your Pothos leaf tips turn brown, just like most houseplants its probably asking for a mist of moisture.

Fertilise the Devil's Ivy once every month in the growth season, which is from March to September.

FAST FACTS ABOUT THE DEVIL'S IVY

The bedroom for the Devil's Ivy air purifying qualities.
No. The Devil's Ivy is poisonous to pets.
Yes. The Devils Ivy is one of the most air purifying plants.
THINGS WE ALWAYS GET ASKED

Is devil's ivy good for indoors?
Yes, the devil's ivy is a great indoor plant! All plants need some light to grow, however the Pothos doesn't actually need bright sun to thrive. The Devil's Ivy is the perfect plant companion if your home is a little on the darker side - although you'll see more growth spurts if you place your houseplant on a window to catch some light.
Is devil's ivy easy to grow?
The devil's ivy plant is one of the easiest indoor plants to grow. The Devil's Ivy will produce a lot of new growth in the spring and summer months and will quickly grow long, trailing foliage.
Is devil's ivy poisonous?
The Devil's Ivy is one of the houseplants that can be poisonous if ingested. You'll want to keep your Epipremnum Aureum on a high shelf away from any nibbling pets or young children.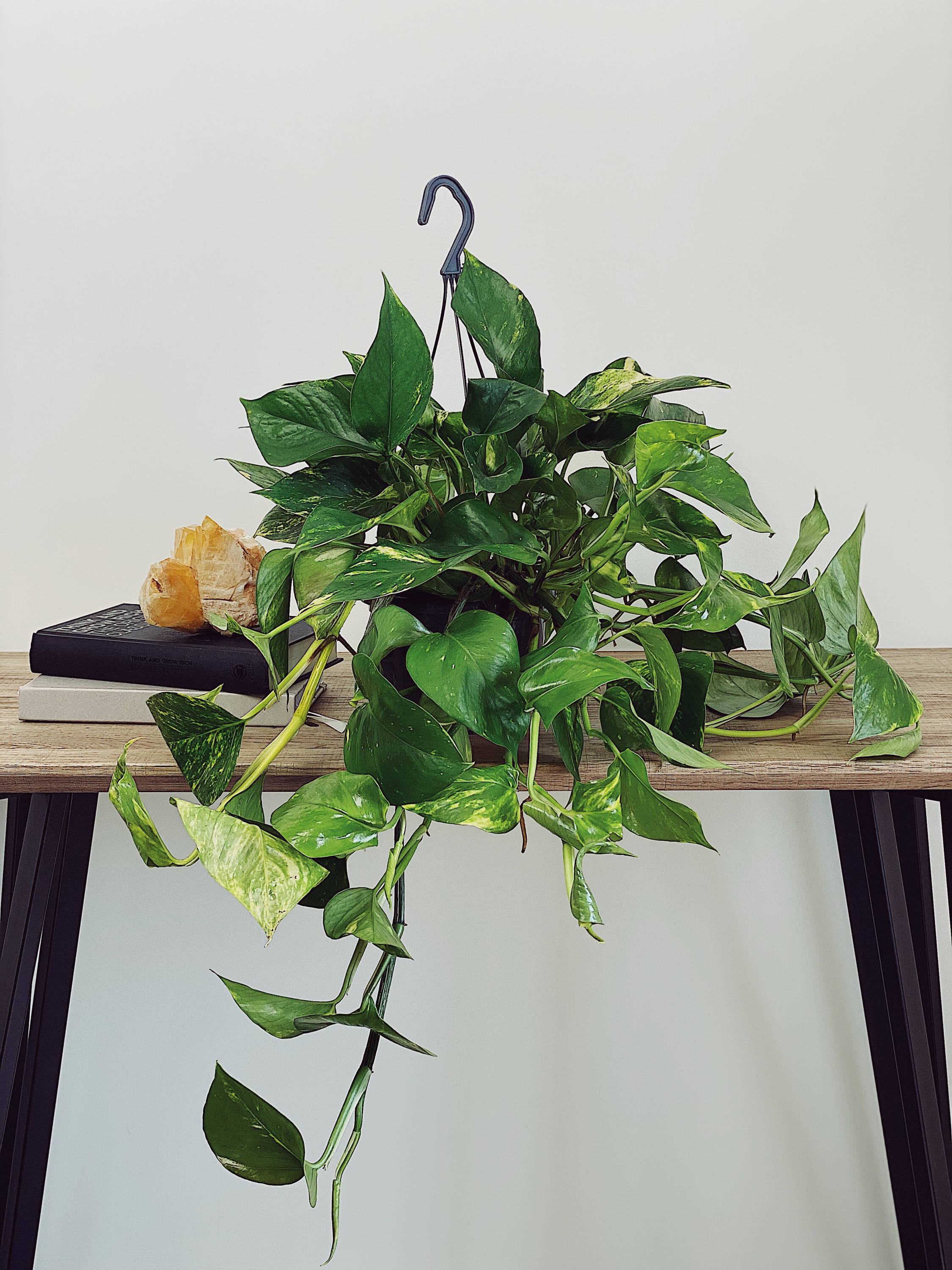 The Devil's Ivy trailing foliage should be appreciated from below. Take your Pothos to new heights by placing him in a hanging pot; you'll be surprised at how long his stems get. Devil's ivy will look good hanging from any shelf or mantlepiece, as his variegated leaves will add a burst of colour to a dark bedroom or kitchen.
Pair your hanging plant with our calm crystal or meditative candle for some welcome down time.
We use a next day delivery service with one of our trusted couriers. Please allow a little bit of packing time. During COVID and busy times this can be up to 5 days.
Your personal information and data is secure with us. This is our website platform providers bread and butter. Uncompromised safety & security.
If you have received a damaged plant or within 15 days you have any trouble after following our care guidance we will offer you a replacement.
WE PLANT 5 TREES FOR EVERY ORDER
Our goal is to plant 1 million trees by 2025 to help save our environment.