ABOUT OUR WHALE FIN SANSEVIERIA MASONIANA

Howdy! My name's Finn. While you might recognise me as being part of the sansevieria or snake plant clan, I'm actually pretty unusual. My common name is the whale fin plant - can you guess why?  
Ironically, while I might look like I'd be at home in water, I actually need very little. Hailing from Central Africa, I can go for long periods without having a drink, making me an excellent choice for the forgetful waterer.
Whether you're looking to add colour to a windowsill in your home or office, I'm the obvious candidate. After all, I need such little care that you could forget about me for weeks on end and I'd still carry on growing. Luckily, my striking leaf is likely to catch your eye more often than not, so I'm pretty sure I won't get overlooked..
Small height (including nursery pot) 25cm; pot diameter 10cm.
In the wild, the whale fin sansevieria can reach heights of over a metre and generally grows alongside other whale fin plants.
Finn's a low-maintenance, no fuss plant that'll look like a unique little sculpture on your windowsill.
Finn is one the easiest houseplants to care for. He won't object to any care conditions providing he's in a room with at least one window.

I can live low or medium light, but I'll grow faster in a brighter room.

Allow my soil to completely dry out in between watering. I'm very drought tolerant and can go up to six weeks without water.

I'm not picky: I can cope with low and high levels of humidity.

Fertilise me once every summer with a diluted fertiliser. Do not fertilise me in the winter months.
The bedroom is the best place for your sansevieria masoniana, where it'll purify the air while you sleep.
THINGS WE ALWAYS GET ASKED

How do you take care of a whale fin sansevieria?
Taking care of a whale fin plant is very easy. He'll be happy in low, medium and bright light, although it's important that he doesn't receive any direct sunlight for a long period of time as this could burn the tips of his leaf. He's very sensitive to root rot, so let his soil dry out completely before watering again.
How often should I water my whale fin sansevieria?
This entirely depends on how much sunlight your sansevieria masoniana gets on a daily basis. The basic rule of thumb is that plants in sunnier spots will need watering more frequently; that said, this type of snake plant prefers its soil to be on the drier side, so a water once a month in the summer should be sufficient providing the first few centimetres of soil feel dry to touch.
What are the benefits of having a sansevieria masoniana in my home?
We love the sansevieria masoniana because he's so damn adaptable. He'll survive in any part of the house and is one of the few houseplants that'll thrive even if you forget to water him for many months (oops!). You can rely on him to tolerate low lighting and drafty rooms and he'll do you a solid favour by purifying the air around you, too. Ultimately, the sansevieria masoniana is the perfect plant for those who are just starting their plant collection. Get the benefit of owning a tropical plant without all the fuss.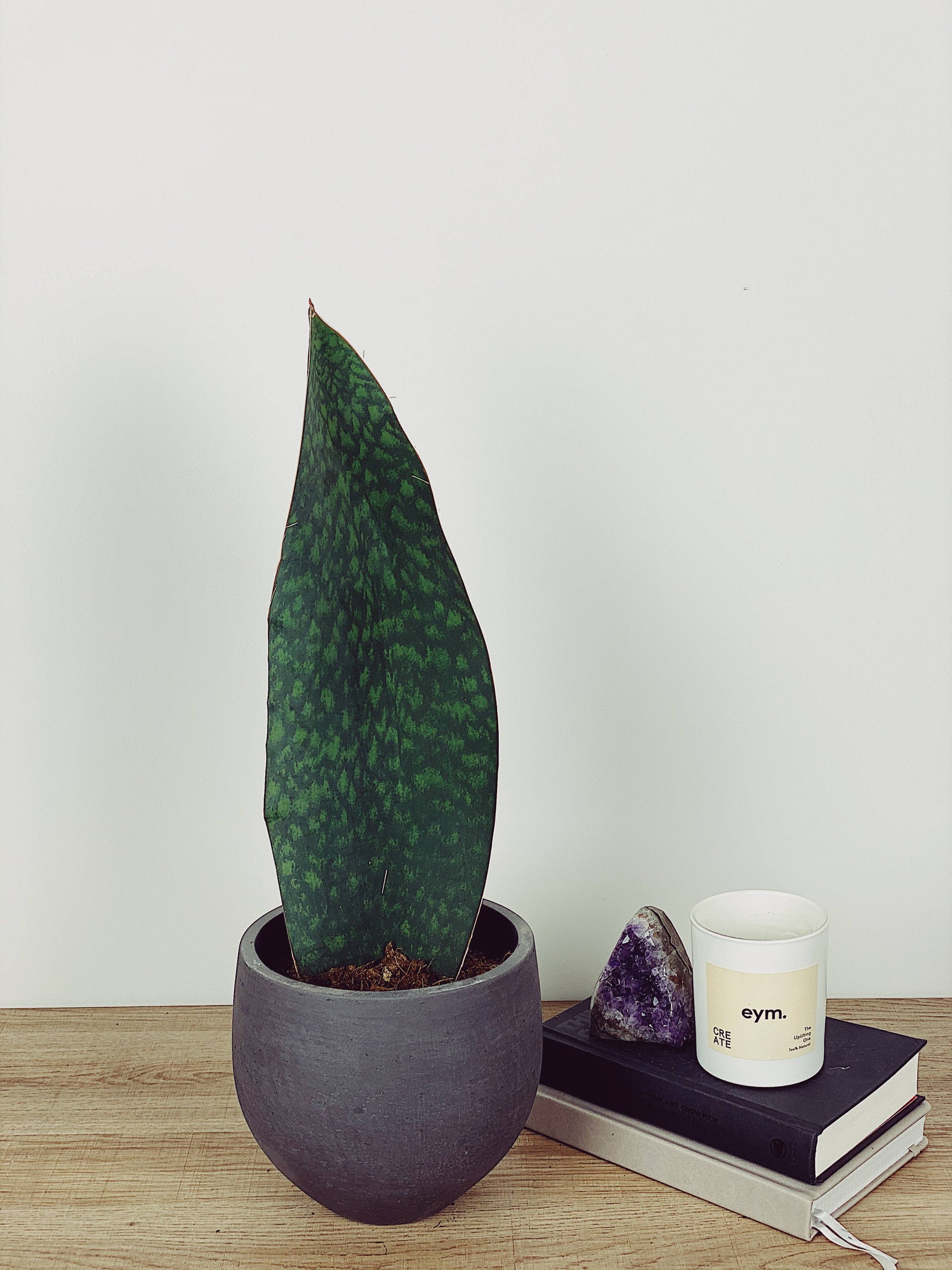 The whale fin is the perfect plant to place in a bedroom where he can remove household toxins from the air. Use a stool or side table to give Finn some height and he'll brighten up a corner of the room. Keep him away from any small children of pets as he is mildly toxic if ingested.
Pair this exotic plant with a joyful candle or love crystal for a relaxing evening atmosphere.
We use a next day delivery service with one of our trusted couriers. Please allow a little bit of packing time. During COVID and busy times this can be up to 5 days.
Your personal information and data is secure with us. This is our website platform providers bread and butter. Uncompromised safety & security.
If you have received a damaged plant or within 15 days you have any trouble after following our care guidance we will offer you a replacement.
WE PLANT 5 TREES FOR EVERY ORDER
Our goal is to plant 1 million trees by 2025 to help save our environment.