ABOUT OUR CHINESE EVERGREEN
Hi there! I'm Foxy, the Chinese evergreen. I'm the sort of plant that gets better with age - well, my natural silver highlights give me a salt and pepper look that pops when up against a dark wall. Fancy a calming influence in your home? Place me in a bright living room or a dark office and I'll stay chill. Trust me.
No wonder I'm a Quirky Plants' bestseller. I'm hard-to-kill, low-light tolerant and I look this good. My botanical name is Aglaonema, but really, all you need to know is that I'm from all across Asia, where I'm traditionally given as a gift to colleagues and friends because they see me as a symbol of good luck.
Start your plant collection with me; I'll be sure to bring you some good fortune in other parts of your life - or give me to a friend or colleague in need of a little luck.
Small height (including nursery pot) 30cm; pot diameter 12cm. (Fits a 13-15cm decorative pot)
Medium height (including nursery pot) 40-45cm; pot diameter 14cm. (Fits a 15cm decorative pot)
With proper care, the Chinese evergreen can bloom small white flowers that look similar to the flowers of the Peace Lily.
Foxy's beautiful foliage can liven up even the darkest parts of your home.

QUICK CHINESE EVERGREEN PLANT CARE

One of the best plants for the first time plant owner, Foxy thrives with a small drink every few weeks.

 I can tolerate lower light and prefer being kept out of bright light - it can actually cause my silver variegation to pale.

Let my soil dry out before you water me again. Once every few weeks should be enough in the summer.

I can tolerate normal household humidity. If you remember, give my leaves an occasional mist, but this is not essential for my survival.

I don't need much fertiliser as I'm a slow grower. Twice a year is enough; only fertilise me between the months of March and September.
A corner of a dark hallway or home office. Foxy will be fine in lower light.
THINGS WE ALWAYS GET ASKED

How do you care for an Aglaonema plant?

The Aglaonema plant is an easy plant to care for. Place him in a room with medium light or mostly shade. Check the first few inches of his soil every few weeks and only water if his soil is bone dry. Foxy can tolerate temperatures as low as 15°C and is not sensitive to a draughty hallway, so feel free to place him near a north facing window with less light as his tough foliage won't notice the difference.
How much light does a Chinese evergreen plant need?
The Chinese evergreen plant can tolerate medium to low light conditions. As with all plants, Foxy does need some natural light, so he'll want to be in a room with at least one window. He's the perfect winter plant and a shoe-in for a north facing window where daylight is limited.
Is the Chinese evergreen plant poisonous?
The Chinese evergreen plant can be mildly toxic if ingested. It's a good idea to keep him on a shelf or dresser away from any hungry pets or teething toddlers.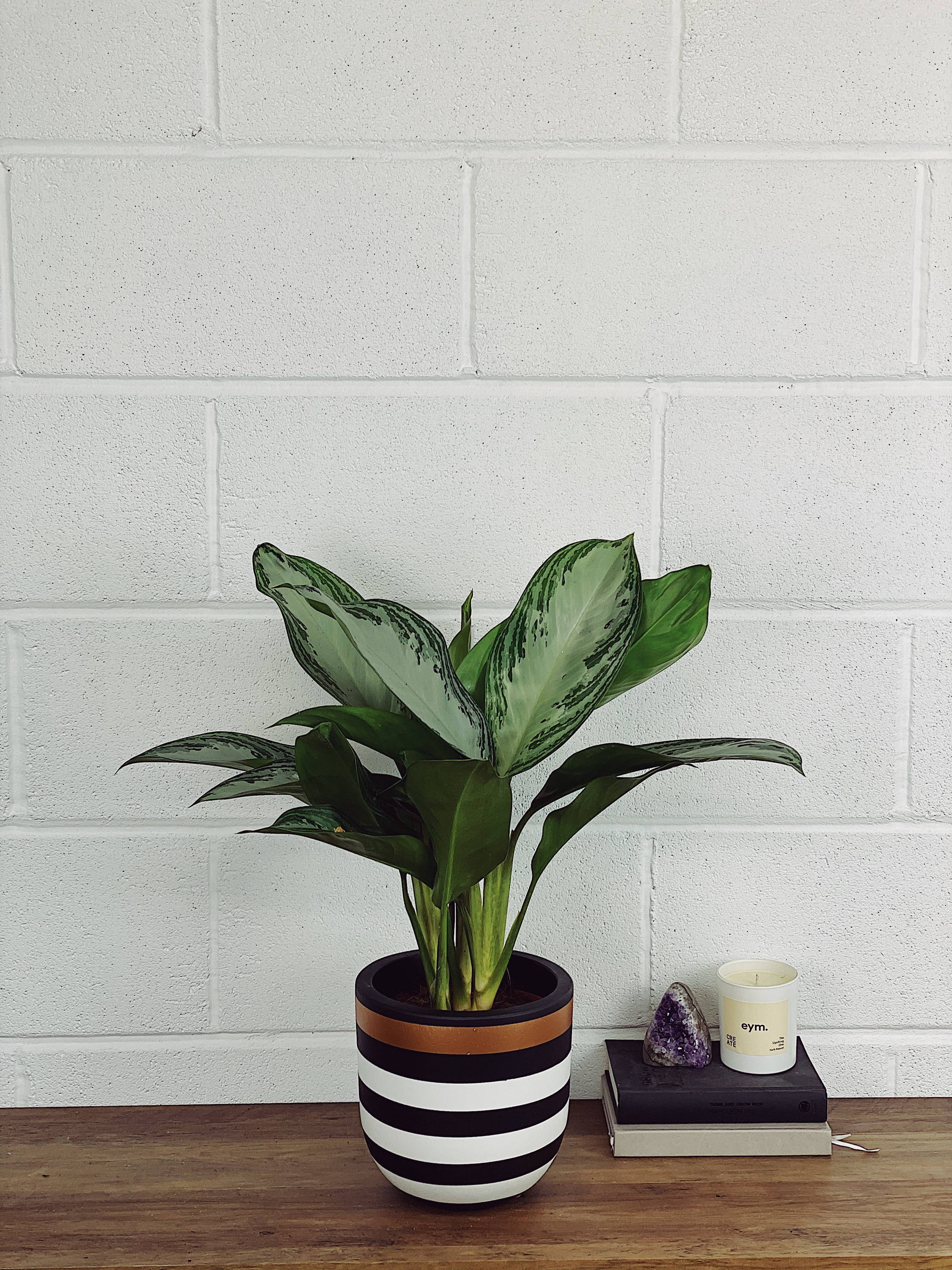 ​Foxy's variegated leaves can be used to brighten up a dark part of your home. Place him on a table in your entrance hall, where he'll be perfectly chill when it comes to the draft from the front door. He's also the perfect gift and can be given as a symbol of good luck to a friend.
Pair Foxy's bright foliage with the joy candle and the creativity crystal for some style and positive vibes.
We use a next day delivery service with one of our trusted couriers. Please allow a little bit of packing time. During COVID and busy times this can be up to 5 days.
Your personal information and data is secure with us. This is our website platform providers bread and butter. Uncompromised safety & security.
If you have received a damaged plant or within 15 days you have any trouble after following our care guidance we will offer you a replacement.
WE PLANT 5 TREES FOR EVERY ORDER
Our goal is to plant 1 million trees by 2025 to help save our environment.