ABOUT OUR ASPIDISTRA ELATIOR
Hi! I'm Ian, the variegated cast-iron plant. I don't have the most exciting leaves but I more than make up for it with the tough reputation I have made for myself. I'm one of the hardiest houseplants around and will grow without much care at all. I thrive on neglect so don't feel guilty about forgetting to water me for weeks at a time or leaving me in a dark corner where most plants would cry for attention. I'll soldier on, just fine.
For a tropical houseplant native to Taiwan and Japan, I'm much more laid back than you'd expect and will be perfectly happy in your home, without any need for fancy plant care. There's no need to place me next to a humidifier or mist my foliage; I'm easy peasie.
If you're just starting out as a new plant parent, looking for a gift for a plant beginner or wanting to spruce up a dark hallway or landing, then I'm the guy for you. For more easy-care plants take a look at Zoe, Foxy and Sammy.
Small height (including nursery pot) 50cm; pot diameter 13cm. (Fits a 14-16cm pot)
Medium height (including nursery pot) 60cm; pot diameter 14cm. (Fits a 16-21cm pot)
Big height (including nursery pot) 80cm; pot diameter 19cm. (Fits a 20-23cm pot)
The cast-iron plant was given its name by the Victorians for being the most indestructible indoor plant of the era.
Ian will not make a fuss even in the darkest parts of your home. Hold back on giving him a lot of water or too much sunlight and he'll reward you with slow and solid growth.

QUICK ASPIDISTRA ELATIOR PLANT CARE

Ian is one of the easiest houseplants to care for. He's not bothered by a drafty or dark hallway as he's a shade-loving houseplant.

I prefer a shadier spot but will tolerate medium light providing my leaves don't receive any direct sunlight.

Allow my soil to dry out in between each watering.

I'm happy in normal household humidity.

Fertilise me once or twice a year in the growth season only, from March to September.
A dark hallway or landing.
THINGS WE ALWAYS GET ASKED

Is the cast-iron plant poisonous?
The cast iron plant is not poisonous and is perfectly safe to have around young children and pets.
How long do cast-iron plants live?
With the right care, cast-iron plants can live decades; some have been known to live over 50 years! The most common reason for a cast iron plant not being able to thrive is due to overwatering. If you notice yellow edges on your plant this is a sign that you have watered him too much.
Why is it called a cast-iron plant?
The plant gets its name from being tough enough to survive any household conditions. They're slow growers which means Ian will only need repotting once every 3-4 years.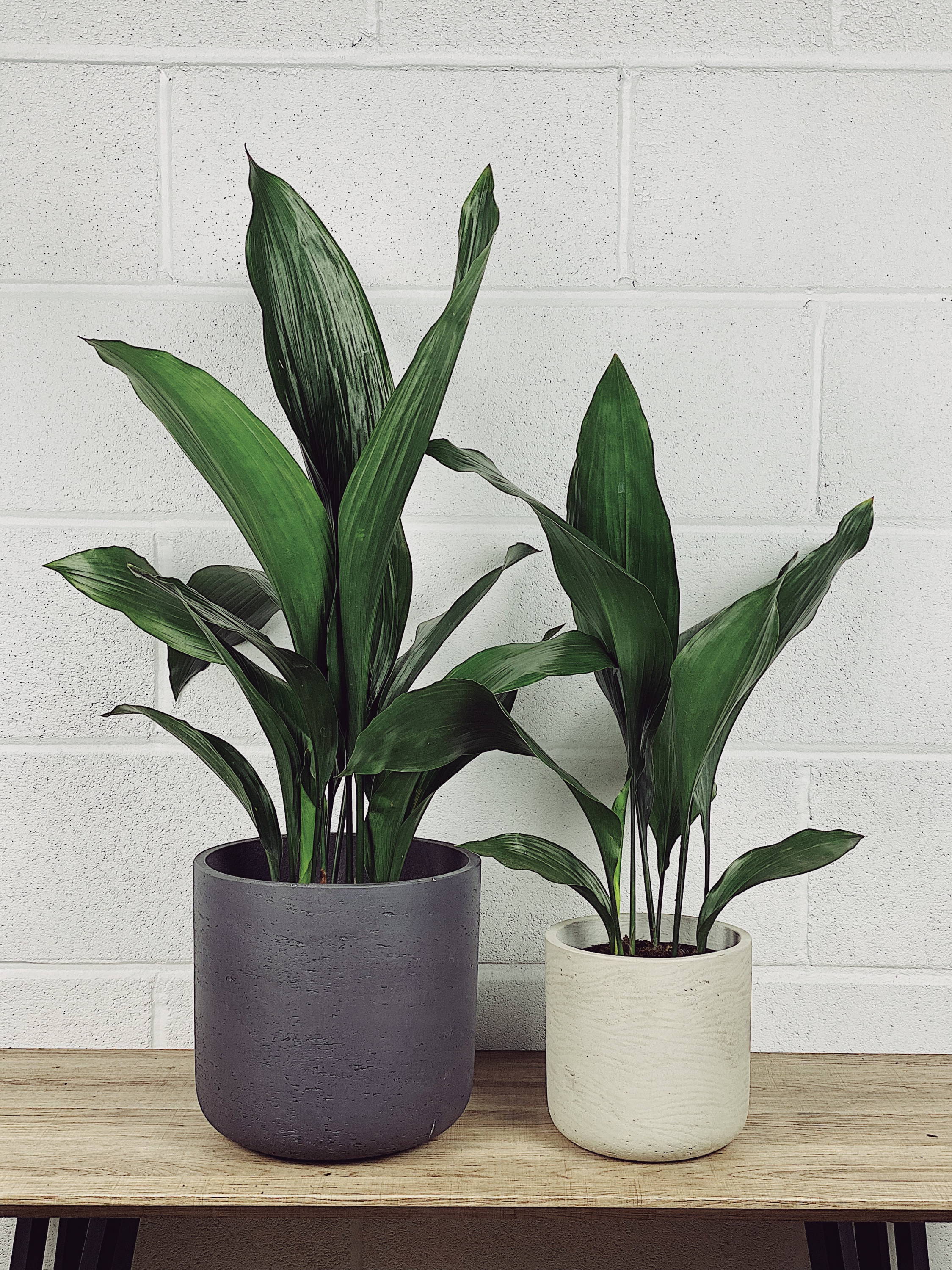 ​There's not doubt Ian will look good anywhere you decide to place him. He'll look good at the top of a staircase or next to your office desk and while his leaves aren't the most colourful or exciting, he's both smart looking and effortlessly reliable - which are great qualities in a houseplant.  
Feel as indestructible as Ian with the power and protection crystals.
We use a next day delivery service with one of our trusted couriers. Please allow a little bit of packing time. During COVID and busy times this can be up to 5 days.
Your personal information and data is secure with us. This is our website platform providers bread and butter. Uncompromised safety & security.
If you have received a damaged plant or within 15 days you have any trouble after following our care guidance we will offer you a replacement.
WE PLANT 5 TREES FOR EVERY ORDER
Our goal is to plant 1 million trees by 2025 to help save our environment.