ABOUT OUR FERN AND SCHEFFLERA ON A ROCK​
Hello, I'm Lara the Lava Rock. That's right, we're taking indoor gardening to the next level and growing plants on lava rocks. I'm different to your usual houseplants and can get all the water I need from my tray. All you'll need to do is keep my tray topped up with water and I'll only drink what I need. Are you impressed yet? My rock is porous and full of nutrients which helps my root system thrive. Once my root system has outgrown my rock, you can simply trim the ends off.
I'm usually found in warm, humid, forest beds in places like Southeast Asia and South America. Placing me in a spot that is high in humidity and well lit is very important for my growth. If you notice my foliage becoming very long and thin then I'm letting you know it's time for a sunnier spot. I love a humid environment and will thrive next to a humidifier or in a steamy bathroom. You can also mist my rock to keep my roots hydrated and fresh.
My exposed root system is sure to be the talk of the town. I think my rock makes me a style icon that deserves a prime spot in your home.
Height 30-35cm; Tray length 17cm.
The lava rock houses the perfect environment for tropical plants to grow on. In fact, many tropical plants are invasive in their natural habitat and can grow and attach themselves onto rock crevasses.
This plant is a style icon. There's no doubt she will attract the attention of friends and family.

QUICK LAVA ROCK PLANT CARE

Lara loves a sunny room with warm temperatures. She will thrive in any humid environment.

​I'm a sun loving plant and like a well lit room. Avoid any direct hot sun as this will burn and dry out my delicate foliage.

Once a week top up my tray with filtered or rain water.

I love a humid environment so it's good to place me near a humidifier. You can also mist my rock to avoid my roots from drying up.

Use a heavily diluted fertiliser in my tray from March-September. Do not fertilise me in the winter.
A bright conservatory or sunny bathroom where Lara can enjoy high levels of humidity.
THINGS WE ALWAYS GET ASKED

How do you take care of a lava rock plant?
Lara likes high levels of humidity so placing her near a humidifier or in a bathroom will be perfect for keeping her leaves fresh and green. She's a tropical plant and likes warmer temperatures and a sunny room. The best place for Lara is a west or east facing conservatory or bathroom. Avoid any direct sunlight as this could dry out her foliage and turn her leaves brown. To keep her rock moist, a frequent mist every 1-2 days will stop the roots from drying up and the plant from wilting it's leaves.
How often should you water Lara on a rock?
Lara is a very smart plant and will only drink what she needs from her tray. It's good to top up her tray weekly. Be sure to use filtered or rain water for her tray as tap water can cause white spots on her foliage.
The porous rock acts like a sponge and holds in moisture for the root system to stay hydrated. Plants with shallow root systems can grow and take hold into the pores of the lava rock. Due to the plant's thin roots they're able to thrive providing the lava rock stays moist and doesn't dry up. A frequent mist of the rock is advised to avoid the rock from drying up.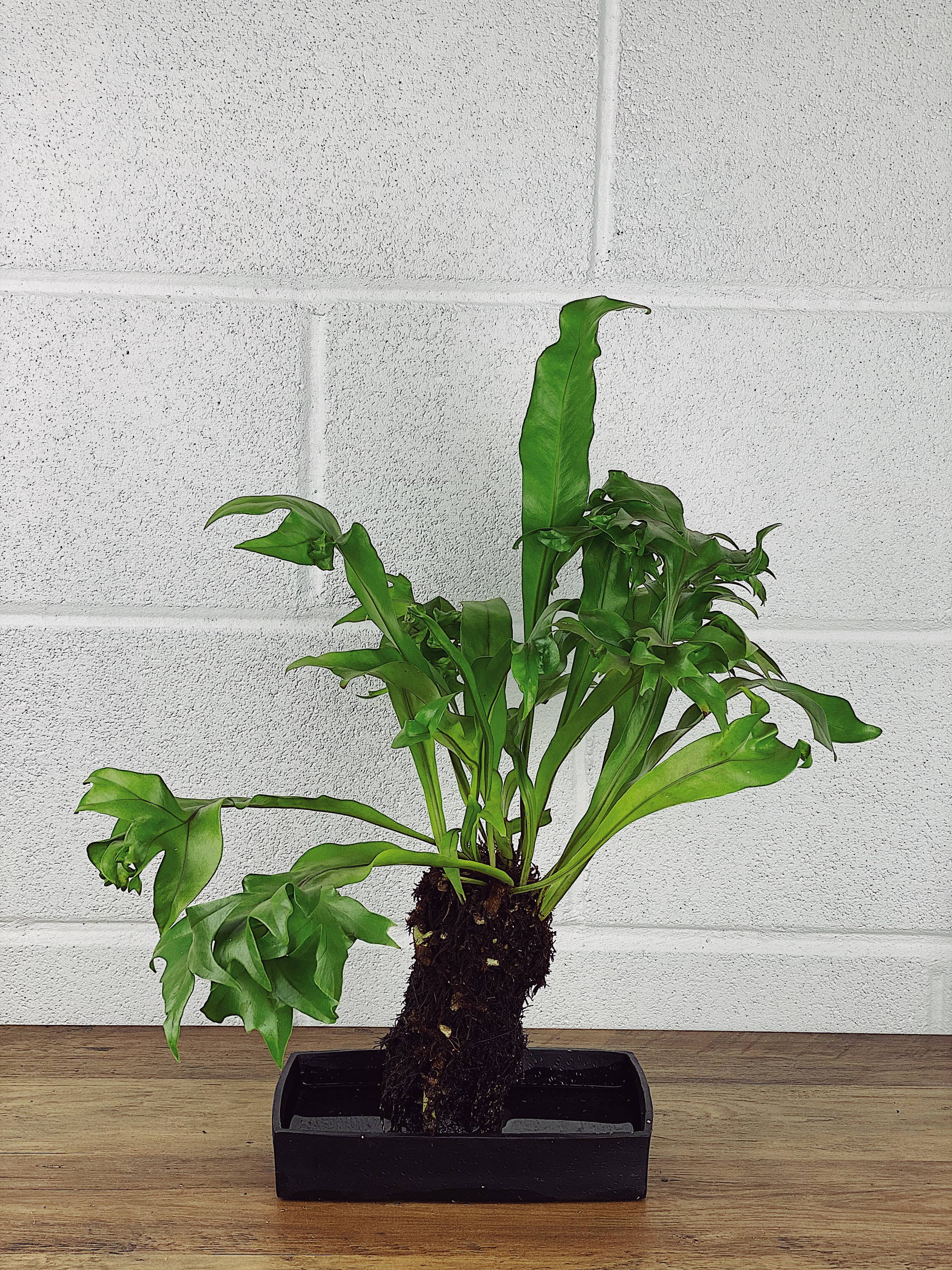 Style Lara in a sunny conservatory or bathroom. You can place her near other humidity loving plants for the extra boost or humidity or place her near a humidifier to ensure her foliage stays fresh and vibrant. She would also look stunning placed on a bay window or window sill for an east or west facing window. Keep her at least a metre away from any south facing window.
These fascinating plants deserve a beautiful crystal to match. Pair her with the ​envision​ or dragon stone ​crystal to keep you safe from negative energies and Lara free from nasty pests.
We use a next day delivery service with one of our trusted couriers. Please allow a little bit of packing time. During COVID and busy times this can be up to 5 days.
Your personal information and data is secure with us. This is our website platform providers bread and butter. Uncompromised safety & security.
If you have received a damaged plant or within 15 days you have any trouble after following our care guidance we will offer you a replacement.
WE PLANT 5 TREES FOR EVERY ORDER
Our goal is to plant 1 million trees by 2025 to help save our environment.