ABOUT OUR STRELITZIA REGINAE

Hey, I'm Roger. I'm a Strelitzia reginae, but you'll know me better as the orange bird of paradise. Want to know where I got my name? My dramatic orange flowers emerge and fan out from a beak-like sheath to produce a curious effect: I look like the colourful head of an exotic bird. In fact, I'm sometimes called the crane plant because of the way I resemble the feathered head of a crane. Either way, I am definitely a plant, and one that'll convert your home into a true tropical paradise.
In all, there are five species of Strelitzia, but you're probably only familiar with the two of us who survive indoors as potted plants. My sister, the white bird of paradise, thinks herself more glamorous than I, but I disagree. I bring a burst of colour to any room, although, if I'm going to be picky, I'd much prefer a warm conservatory or brightly lit space that mimics my home environment back in South Africa.  
At present, I'm a collection of emerald waxy leaves and I will take a few years to bloom. However, you can guarantee I'm worth the wait and my stunning flowers will light up your home for years to come.
Small height (including nursery pot) 25cm; pot diameter 12cm.
Big height (including nursery pot) 120cm; pot diameter 24cm.
Once fully mature, the bird of paradise can produce over 30 flowers during one growth season!
Roger's fan-like leaves are a sensational addition to any room and guaranteed to transport you to an instant warmer, tropical climate.

QUICK BIRD OF PARADISE PLANT CARE

Roger loves bright sun and will reward you with a lot of new growth over the summer.

 I prefer direct bright light, so place me near a big window.

I like my soil to stay moist, so water me wherever the first few centimetres of my soil are dry.

I can tolerate lower humidity but I thrive better in a humid environment.

To encourage my fast growth, fertilise me every two weeks in the spring and summer months.
The conservatory or a brightly lit room where I'll add a welcoming touch of green and, in a few years, my signature blooms.
THINGS WE ALWAYS GET ASKED

How do you take care of Strelitzia reginae?
The Strelitzia reginae is an easy care houseplant that loves bright direct sunshine. In the summer, you can place Roger in the garden where he will appreciate the long summer days. It's helpful to note that, as Roger is a tropical plant, he much prefers temperatures of above 20°C and will need to be brought inside over the winter months to avoid freezing. He can also get quite thirsty, particularly over the summer months, and prefers his soil to stay consistently moist. This might mean watering him twice a week in the summer and once every few weeks in the winter.
How tall does a bird of paradise plant get?
The bird of paradise can grow very big indoors but is more likely to reach its full height of two metres outside where he has enough sunlight to grow. He's a very fast growing plant and will need to be repotted once every year to help encourage larger growth.
Where does the bird of paradise flower grow?
At first glance, the flower will look like any other new leaf but, as it blooms, the dazzling orange will start to appear.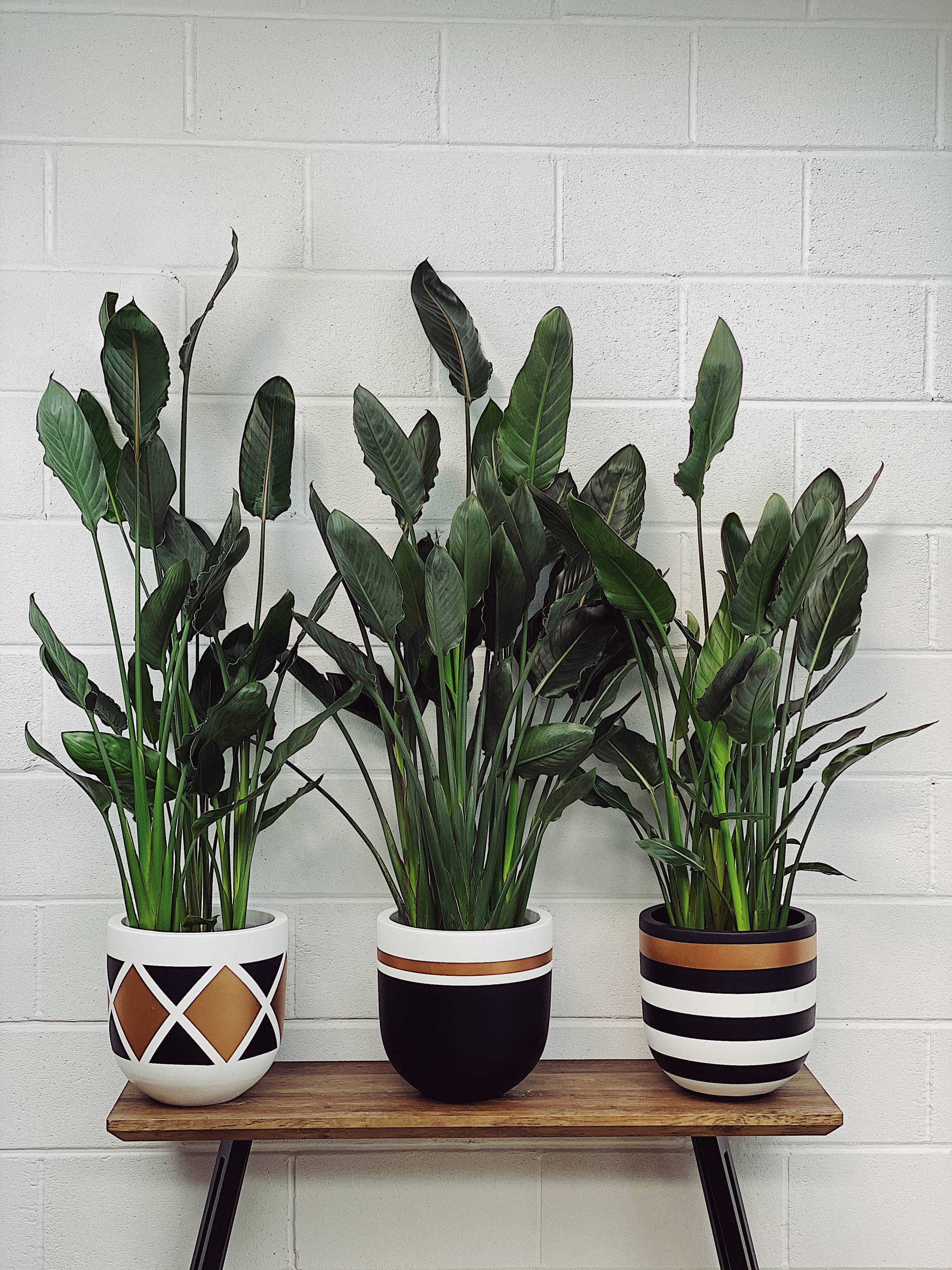 ​It's easy to style Roger as he will look good and be admired from any room in the house. Impress your guests - and keep Roger happy - by placing him on a table or stool in a sunny and hot room in your house. From this vantage, he'll sure to get the recognition he deserves.
Team Roger's beauty with the protection crystal and uplifting candle to bring a warm and happy atmosphere to your home.
We use a next day delivery service with one of our trusted couriers. Please allow a little bit of packing time. During COVID and busy times this can be up to 5 days.
Your personal information and data is secure with us. This is our website platform providers bread and butter. Uncompromised safety & security.
If you have received a damaged plant or within 15 days you have any trouble after following our care guidance we will offer you a replacement.
WE PLANT 5 TREES FOR EVERY ORDER
Our goal is to plant 1 million trees by 2025 to help save our environment.