Hello, I'm the coffea arabica or coffee plant. While it's pretty unlikely I'll ever give you coffee beans, I'm a hardy little plant that'll be a great addition to your home. My lush, glossy leaves look stunning when they catch the morning light and I'm at my happiest adding a dash of vibrant green to a room, all without taking up too much space.
I'm native to Ethiopia and just one of over 90 species of coffee plants grown around the world. If given enough sunshine in the growing season, it's possible that I will bloom small white flowers, which look very sweet and give off a lovely smell. In the wild, these would be pollinated to become the berries from which coffee beans are harvested, but you'll just have to imagine that step with a nice cup of shop-bought coffee instead.
I'm the perfect size to give as a gift or if you prefer to keep me for yourself, I'm the number one WFH colleague. Just place me on your desk and I'll keep you company.  
Baby height (including nursery pot) 20cm; pot diameter 9cm.
Small height (including nursery pot) 25cm; pot diameter 12cm.
The coffee plant has been grown and harvested for over 1,000 years and generally grows at over 900 metres above sea level.
The coffee plant is so glossy it almost looks like it has been polished and is the perfect size to be placed pretty much anywhere in your home!
While this plant isn't going to be producing beans, to keep it happy and healthy, it likes warm temperatures, moist soil and high humidity.

I prefer a well lit room full of indirect but bright light.

I like my soil to stay moist. Never let my soil dry out or get soggy.

I like a humid environment, so place me next to a humidifier or near other humidity loving plants.

Fertilise me with a diluted fertiliser every two to four weeks in the growth season. Do not fertilise me in the winter months.

FAST FACTS ABOUT COFFEE PLANT

The home office for subtle yet stylish decor.
THINGS WE ALWAYS GET ASKED

Can I grow a coffee plant in my house?

Yes, the coffee plant is an ideal indoor plant that likes warmer temperatures and filtered light. The plant is more likely to bloom flowers if given enough humidity and bright light.
How do you take care of a coffee plant?
The coffea arabica prefers brighter light, higher humidity and mild temperatures. Keep your coffee plant at least a metre away from any windows to avoid burning its leaves but to ensure that it's getting enough light. The best temperatures for your coffee plant is between 16°C to 21°C, while you can also place a pebble tray underneath its pot to keep humidity levels high.
Do coffee plants smell like coffee?
Not really. The smell of coffee comes from the roasting of the coffee beans, which come from small berries that grow once the plant has flowered. As it's pretty unlikely you'll ever be able to grow coffee berries on your plant, then sadly you won't ever get close to the beans - nor the smell of coffee.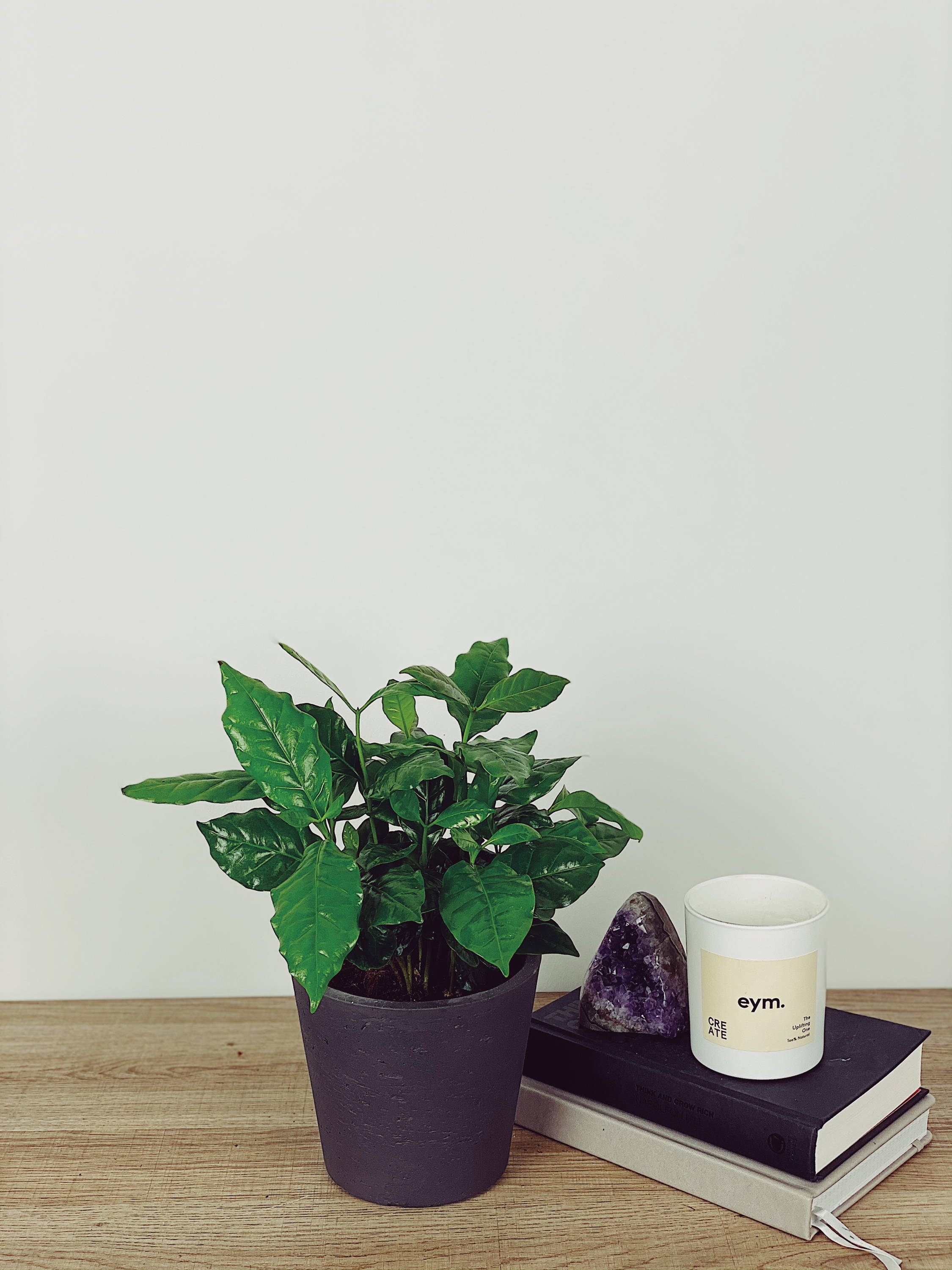 The coffee plant is the perfect plant for when you're looking to fill a small empty spot in your home or if you're running out of space (yup, we also own too many plants!). Place the coffee plant on any spot on a shelf, desk or bedside table for a dash of glossy-leaved colour.
Pair this coffee plant's gorgeous foliage with the sweet and compact clear Quartz and the joyful candle, which are two other perfect WFH companions.
We use a next day delivery service with one of our trusted couriers. Please allow a little bit of packing time. During COVID and busy times this can be up to 5 days.
Your personal information and data is secure with us. This is our website platform providers bread and butter. Uncompromised safety & security.
If you have received a damaged plant or within 15 days you have any trouble after following our care guidance we will offer you a replacement.
WE PLANT 5 TREES FOR EVERY ORDER
Our goal is to plant 1 million trees by 2025 to help save our environment.